Ninja 400 can do 0-60 mph in 4.14 seconds
Kawasaki's Ninja 400 was introduced in 2018 and replaced the hugely capable and popular Ninja 300 which itself was a replacement for the Ninja 250.
Likely this was Kawasaki's response to Yamaha's YZF-R3 which had the edge on the Ninja 300 in terms of engine performance and straight-line speed.
The decision to effectively design a big-bore version of the 300 was primarily to accommodate the ever-changing motorcycle learner laws and restrictions in many markets.
It was also a response to competitors offering faster and more powerful class alternatives for every growing engine capacity that afforded them more power.
The Ninja 400 engine was generally much the same as the 300 it replaced but got a significant capacity boost – up from 296 cc to a beefier 399 cc.
A 105 cc jump might not sound like a lot but for a smaller-capacity motorcycle, this is a massive boost that represents a 35% increase in engine size over the Ninja 300.
Peak claimed power (dependent on market) of 49 hp at the crank versus 35 hp at the crank for the Ninja 300 was a welcome boost to Kawasaki fans and those 300 owners looking to upgrade.
That jump in power is a 40% increase which is significant and all derived from an extra 105 cc
Not surprisingly, torque was up 40 % over the Ninja 300 to a claimed 28 lb/ft.
The larger engine ensured that the Ninja 400 was more tractable and was less dependent on gears and rpm to make effective overtakes compared to the Ninja 300.
It, therefore, meant that the Kawasaki Ninja 400 almost has that big bike feel courtesy of its larger engine that the 300 struggled to convey dues to that partly 296 cc engine.
Kawasaki Ninja 400 Dyno Curve
As you can see from the above dyno curve the new Ninja 400 makes a respectable 44 horsepower at 10,500 rpm which is impressive and not far off Kawasaki's claim of 49 hp at the crank.
As a rule, when power is transferred from crank to wheel the average chain-driven motorcycle will lose around 10-12 % of its power through transmission losses.
This loss is caused by friction and heat in the engine as well as the effort to actually spin the rear wheel.
This is often why we see rear wheel horsepower figures differ from the actual manufacturer's claims at the crank.
The Ninja 400 in terms of power sits right next to Honda's CBR500R as a competitor despite having a smaller capacity engine and is also closely matched with the RC 390
What is also impressive is that the little banging parallel twin produces more than 40 horsepower from 8000 rpm and carries this to 12,000 rpm.
Kawasaki Ninja 400 in-gear acceleration
That very expensive spread of power makes the Ninja 400 less shift-dependent as you can still make good progress without having to scream the engine to 12,000 rpm.
This is something that you really had to do on the 300 variant which was hard work and tiresome, especially if trying to keep friends on faster motorcycles in sight.
This wide spread of peak power also allows you to hold on to gears for a little longer in corners.
Additionally, the engine is relatively flexible because right from 3000 rpm the Ninja 400 is making more torque than the 300 Ninja does at peak.
Despite the Ninja 400s engine punching above its weight,t it is still best to keep the engine in the higher rpms if you want to make the fastest progress.
Ideally, rpm should be kept at no lower than 6000 rpm, though from 7000 rpm onward is where it works very well and delivers every good acceleration.
Ninja 400 in gear speeds at 5000 rpm
| | |
| --- | --- |
| Speed at 5000 rpm | Ninja 400 |
| Speed 1st Gear | 18.8 mph |
| Speed 2nd Gear | 26.8 mph |
| Speed 3rd Gear | 34.1 mph |
| Speed 4th Gear | 41.4 mph |
| Speed 5th Gear | 47.8 mph |
| Speed 6th Gear | 53.2 mph |
Due to the engine size and low gear ratios, rpm will always be relatively high in most real-world situations compared to larger-capacity motorcycles.
For a small engine it's actually not that buzzy though – for example, at 70 mph highway cruising speeds the Ninja 400 will be showing around 6600 rpm in sixth gear.
For comparison, a Yamaha YZF-R6 will show around 6400 rpm, and its little sister the Ninja 300 is quite a bit more frantic at around 7600 rpm.
You can actually use sixth gear at 70 mph on the Ninja 400 and overtake effectively while on the Ninja 300 you need to kick down a gear, especially in a headwind or up any kind of incline.
This meatier delivery and the less frantic engine are what makes the Ninja 400 feel like a 'big bike' and its performance hints at this too according to the numbers it puts down.
Kawasaki Ninja 400 Top Speed and Acceleration Review
Obviously, with more power and with a relatively light wet weight of 169 kg the little 400 is pretty quick and is a significant step up from the Ninja 300 which is also a little heavier at 172 kg.
The Ninja 400 does not quite have the legs of the bigger sister Ninja 650 but it gets remarkably close considering that it gives away a whopping 250 cc.
With a close-to-perfect launch the Ninja 400 can accelerate from 0-100 km/h in only 4.35 seconds and for the UK/US guys – that's 0-60 mph in 4.14 seconds.
It's still a little slower than one of its bigger capacity rivals the MT-07 and YZF-R7 though it is quite close considering the displacement disadvantage the 400 has.
For anyone that is a petrolhead of any persuasion knows that a sub 5 second 0-100 km/h 0r 0-60 mph time is significantly quick at any standard and is as fast, and in some cases faster than many hot hatches and sports cars.
A lot of smaller capacity motorcycles in this class can all accelerate to 100 km/h in around 6 seconds or under with the Ninja 300 at around 5.4, but as speeds increase their acceleration does start to relent.
Also to note that being a smaller capacity motorcycle with less than 50 horsepower, conditions play a larger role in the elapsed times that are achievable.
Though the Ninja 400 is still peppy above this speed as we can clearly see from its 0-100 mph time of 11.8 seconds which is a time that is mighty impressive, and over 6 seconds faster to the same speed as its little 300 sister.
60 mph to 100 through the gears comes up in 7.75 seconds whereas the Ninja 300 lags behind significantly at a lethargic 12.80 seconds.
To put this into perspective, the Ninja 400 can get from 0-100 mph faster than the Ninja 300 can accelerate from 60 mph to 100mph.
The standing start quarter mile comes up in 12.98 seconds @ 102 mph.
The terminal speed at the end of the quarter mile is slightly impacted by an inconvenient gear change at 100 mph and around 40 meters from the finish.
The Kawasaki Ninja 400 still betters one of its nearest rivals from KTM and is a fraction faster than the naked Z400 sister thanks to its full fairing.
Kawasaki Ninja 400 Top Speed is 116.7mph
With all smaller capacity lower power motorcycles seeking out their maximum speed requires a jockey-tuck and significantly long piece of tarmac.
To reach its ultimate top speed of 116 mph (186 km/h) the Kawasaki Ninja 400 needs 100 seconds and around 4.8 km
Though that would not be a fair analysis as the Kawasaki Ninja 400 can achieve 111 mph (180 km/h) is around 20 seconds at around 750 meters from a stop.
It is just that the last few mph require a significant amount of time and distance.
The Kawasaki Ninja 400 can achieve its top speed in fifth gear at a smudge under the redline if you stretch that gear out long enough.
Hooking 6th does not change anything, as the 400 can't really pull 6th to the redline at 129.8 mph and (209 km/h)
If we removed the mirrors and had a screen that offered better protection in a tuck, we could expect an extra few mph.
Additionally, most of these bikes will get some bolt-ons. A good exhaust system, fuelling sorted, and performance filter could see the little Ninja hitting a real 124 mph (200 km/h) top speed without a doubt.
Some of the race machines with bolt-on modifications are hitting 130mph which is remarkable!
Not everyone will get top speeds and times like this due to the Ninja 400 still being a relatively low-powered motorcycle.
To achieve optimum times like this the stars really must align, and it is necessary for the rider to be light (65kg) or less and for conditions to be close to perfect.
A 10-20 kg rider weight difference plus even a moderate headwind or unfavourable conditions, in general, will significantly hinder acceleration and top speed ETs.
After all the Kawasaki Ninja 400 only produces a little over 40 horsepower so is affected to a greater extent by varying weight or conditions, that would not impact a much more powerful motorcycle to the same extent.
The Ninja 400 is an exceptionally good learner motorcycle, economical with cheap motorcycle insurance, while also being a very capable sportbike even for more experienced riders.
It has good straight-line performance that is a significant step up over the Ninja 300!
But you may also be looking at other class competitors such as the YZF-R7, Honda CBR650R full power, or the restricted CBR650R and little sister CBR500R.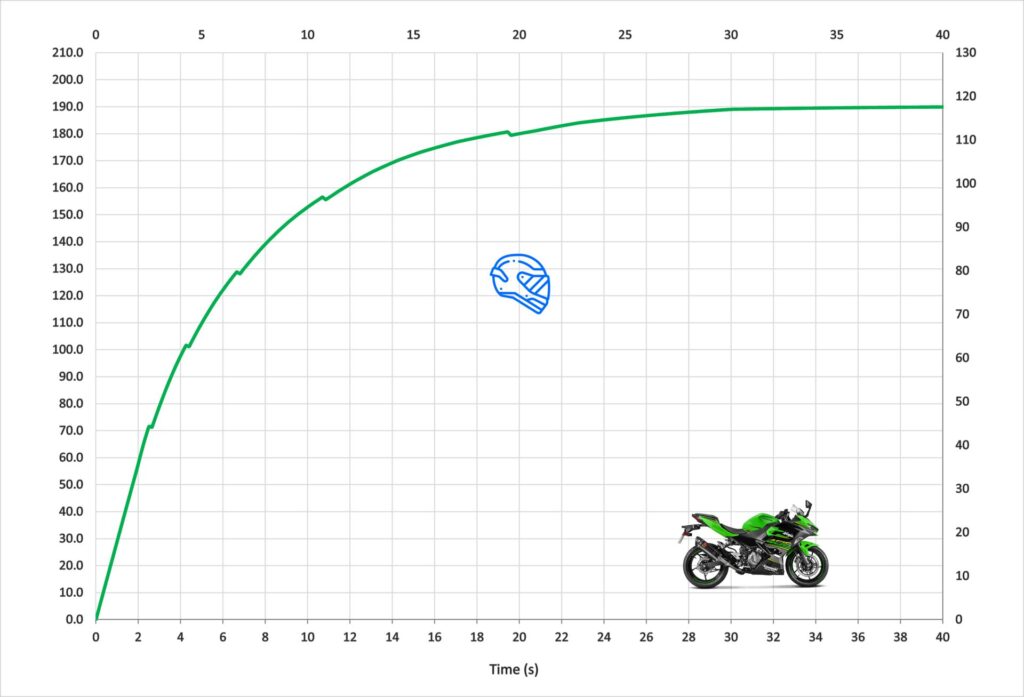 Kawasaki Ninja 400 vs Yamaha YZF-R3 HERE
Kawasaki Ninja 400 Acceleration

Speed

Time

0-10 mph

0.62

0-20 mph

1.24

0-30 mph

1.87

0-40 mph

2.49

0-50 mph

3.28

0-60 mph

4.14

0-70 mph

5.39

0-80 mph

6.83

0-90 mph

8.93

0-100 mph

11.90

0-110 mph

17.51

SS/QM

12.98/102 mph

SS/KM

25.12/114 mph

SS/Mile

36.73/115 mph

Top Speed

116.7 mph
Kawasaki Ninja 400 Specifications
Kawasaki Ninja 400

Engine

Engine type

4-stroke, 2-cylinder, DOHC, liquid-cooled

Capacity

399 cc

Bore x stroke

70.0 x 51.8mm

Compression ratio

11.5:1

Maximum power

49 HP 10500 RPM

Maximum torque

28.0 lb-ft @ 8,000 rpm

Lubrication system

Wet sump

Clutch type

Slipper and self-servo wet multiplate clutch with hydraulic control

Ignition system

Digital Advance

Starter system

Electric

Transmission system

Constant Mesh, 6-speed

Final transmission

Chain

Chassis

Frame

Semi-double cradle, high-tensile steel

Front suspension system

41mm Telescopic fork/4.7 in

Rear suspension system

Bottom-link Uni-Trak®, swingarm adjustable preload/5.1 in

Front brake

310mm semi-floating single disc

Rear brake

220mm single disc

Front tyre

110/70×17

Rear tyre

150/70×17

Dimensions

Wheelbase

1,370 mm

Wet weight (including full oil and fuel tank

168 kg

Fuel tank capacity

14 litres