Yamaha MT-07 0-60 mph 3.73 Seconds
Yamaha scored when they released the MT-07 as it has been hugely popular with first-time and experienced riders of all ages.
Yamaha likely took a leaf out of Suzuki's book after Suzuki's massive success with the SV650.
This is a bike that was light and powerful, had an evocative twin-cylinder engine that made all of the right noises and punched hard when asked.
While mimicking the general theme of Suzuki's SV650 engine, Yamaha went a slightly different route with the less favourable parallel twin engine configuration.
Interestingly, just like their TRX850 from the 90s and even Yamaha's current Flagship YZF-R1, and MT-10….
Yamaha changed the firing order of 689 cc parallel-twin water-cooled engine resulting in a change of the sound that injected more character from what are normally arguably bland-sounding engines.
While it is not quite as delightful as a sporty L-twin in my opinion, the 270° firing order gives the engine an incredibly unique character that is very enjoyable.
Yamaha's 'Crossplane' design sees the crank pins offset from each other by 90°.
Simply put this layout reduces the inertia caused by the pistons, connecting rods and cranks, allowing the rider to feel more of the torque generated by combustion.
It feels 'lumpier' and more 'characterful' and certainly more desirable than a conventional parallel 2 engine.
Most importantly at least for me is that it sounds considerably nicer than a typical parallel twin.
Stock, the 689 cc engine is not the best sounding, and at idle and low speed it's a bit cement mixer sounding!
But work, load and drive the engine hard and it becomes appealing and guttural. With a free-flowing exhaust, they do sound pretty apocalyptic anywhere in the rpm range.
Yamaha MT-07 Dyno Curve
The Yamaha MT-07 engine performance is particularly good for the class, though it's not the most powerful.
The Yamaha MT-07 occupies many classes depending on your region and licencing laws but would mostly be compared to motorcycles directly in its class
These motorcycles include but are not limited to the SV650X, Z650 or CB650R but would also be compared against larger bikes including Yamaha's own FZ8 and MT-09 as well as Suzuki's GSR 750 and so on.
The Yamaha MT-07 is up against a whole host of bikes but holds its own quite respectively.
As mentioned, engine performance is not class-leading in terms of outright power, nor can it compete against larger bikes that the MT-07 is often compared with.
If you have ever ridden an SV650 then you'll know generally what to expect from the MT-07, though the MT-07 actually makes more power and torque through the range and only loses out to the SV650 between 8000 rpm and 10000 rpm.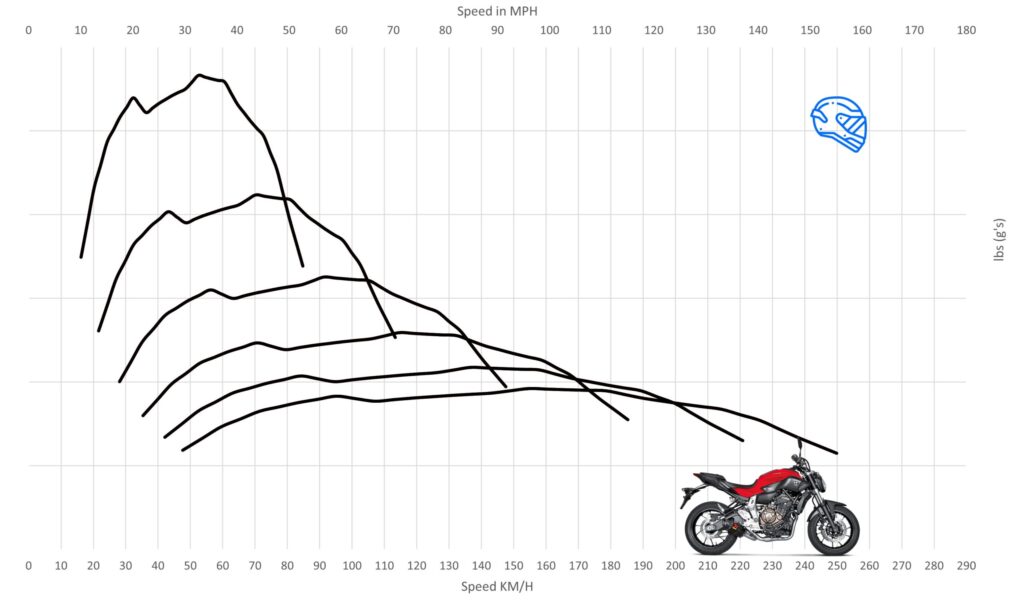 Yamaha MT-07 Thrust Curve
Think of the Yamaha MT-07 as a 'gruntier' and less rev-dependent version of a Suzuki SV650 with in-gear performance awfully close.
This is true even if the Suzuki SV650 has slightly lower overall gearing the monster engine of the MT-07 makes up for it.
Peak power for the Yamaha MT-07 is a very respectable 70 hp delivered at 9000 rpm and with peak torque coming in at 47 lb/ft at 6500 rpm. These are solid numbers.
Speeds in each gear at 5000 rpm
| | | | |
| --- | --- | --- | --- |
| Speed at 5000 rpm | MT-09 | MT-10 | MT-07 |
| 1st | 29.3 mph | 32.9 mph | 25 mph |
| 2nd | 39 mph | 39.3 mph | 33.6 mph |
| 3rd | 48.2 mph | 46.4 mph | 43.7 mph |
| 4th | 56.5 mph | 54.1 mph | 54.8 mph |
| 5th | 65.5 mph | 61.9 mph | 65.4 mph |
| 6th | 75.2 mph | 68.4 mph | 73.9 mph |
Peak power is a little down on the SV650 and many of its rivals such as the CB650R and its dressed sister that shares the same engine – the CBR650R.
But, due to the YamahaMT-07's great spread of power and torque, the engine never feels lacking on most of the kind of roads that you'll be riding on alone, or with your friends.
As a matter of fact, in most normal riding situations the Yamaha MT-07 engine feels a lot more potent than its rivals, and can even punch harder than some larger capacity motorcycles that make more power.
Here we compare the CBR650R with the MT-07

Yamaha MT-07 Acceleration Review
Now to the interesting part.
The Yamaha MT-07 is a solid performer with particularly good acceleration below 100 mph.
Like all motorcycles with this class of power that are also unfaired, unfortunately, they do not have the power or the aerodynamics so will never set the world on fire above 100 mph.
But anything under a ton and there is more than enough acceleration performance to match most bikes and embarrass most sports cars.
After many attempts, the Yamaha MT-07 will accelerate from 0-60 mph in only 3.73 seconds!
It would be a bit faster if it were not for the gear change into the second needed to hit 60 mph.
We must not forget to mention the fact that it wants to constantly wheelie which makes launching it very fun but a little difficult to hit those optimum ETs.
The Yamaha MT-07's 0-100 km/h time is achieved in 3.85 seconds.
The Yamaha MT-07 keeps pulling well and hits 100 mph in only 8.14 seconds which is going some for this class of motorcycle.
With a great launch, light rider and stars aligned, the MT-07 can creep under twelve seconds for the quarter-mile sprint
Our best time was a fantastic 11.973 and scoring a 115.8 mph terminal speed.
Very impressive for a motorcycle that is considered learner friendly and is naked, though dipping under 12 is absolutely the optimum with a lightweight rider and a perfect launch and shifts etc.
Most average-weight competent riders will be in the mid to high twelves and at around 110 mph terminal speed.
You also have to resit revving out the MT-07 in each gear if you want to achieve the most optimum acceleration numbers.
Yamaha MT-07 top speed is 133.6mph
Keep feeding the MT-07 gears and eventually, you will hit a top speed of 133.6 mph.
You will have to make yourself very small though with elbows in, as there is very little in the way of protection from the elements. Above 100 mph it does become a real struggle to hold on.
Also remember, as the Yamaha MT-07 is a naked motorcycle, your top speed results may vary depending on how large you are, how effective your tuck is, and if you have favourable or unfavourable conditions.
Again, for best acceleration results you should not rev out the MT-07 motor at or close to the redline as you'll hurt your acceleration times.
On a stock motor, you should change up between 9700-9800 rpm in the first 3 gears and 9500 rpm in 4th and 5th.
This is important as power tails off drastically to the point where you produce more acceleration thrust changing up a gear which is demonstrated by our below thrust curve where you can see overlap between gears.
Yamaha MT-07 is a strong performer that makes the best of its 70 hp. It is an incredibly fun machine that will put a smile on your face while also being a worthy weekend scratcher.
Yamaha MT-07 Acceleration

Speed

Time

0-10 mph

0.60

0-20 mph

1.20

0-30 mph

1.80

0-40 mph

2.42

0-50 mph

3.05

0-60 mph

3.73

0-70 mph

4.56

0-80 mph

5.44

0-90 mph

6.70

0-100 mph

8.14

0-110 mph

10.36

0-120 mph

13.49

0-130 mph

22.04

60-120 mph

9.75

60-130 mph

18.31

SS/QM

11.97/115.8mph

SS/KM

22.698/130mph

SS/Mile

32.864/133.2mph

Top Speed

133.8mph
Yamaha MT-07 Specifications
Yamaha MT-07

Engine

Displacement:

689c

c

Engine type:

2-cylinder, 4-stroke, liquid-cooled, DOHC, 4-valves

Compression:

11.5 : 1

Bore x stroke:

80.0 mm x 68.6 mm

Fuel system:

Injection

Cooling system:

Liquid

Gearbox:

6-speed

Transmission type

Chain

Chassis

Frame type:

Stee

l diamond

Front Suspension

41mm KYB telescopic forks, no adjustment, 130mm travel

Rear suspension:

KYB shock with linkage, adjustable for preload and rebound damping, 130mm travel

Front tyre:

120/70-ZR17

Rear tyre:

180/55-ZR17

Front brakes:

Double disc

Rear brakes:

Single disc

Weights and Measurements

Wet weight:

182kg

Seat height:

805 mm

Overall height:

1090 mm

Overall length:

2085 mm

Overall width:

745 mm

Wheelbase:

1400 mm

Fuel capacity:

14.00