The Ninja 400 goes up against the YZF-R7
It may not be fair to compare these two motorcycles due to their very different engine capacities and prices. That won't stop those interested in buying either of these machines from wanting to know how they compare.
Both machines target new riders and experienced riders. The Yamaha YZF-R7 does come in a restricted version with less power that perhaps makes for a fairer comparison while the Ninja 400 is full power.
For now, we compare the Kawasaki Ninja 400 with the full-power version of the YZF-R7.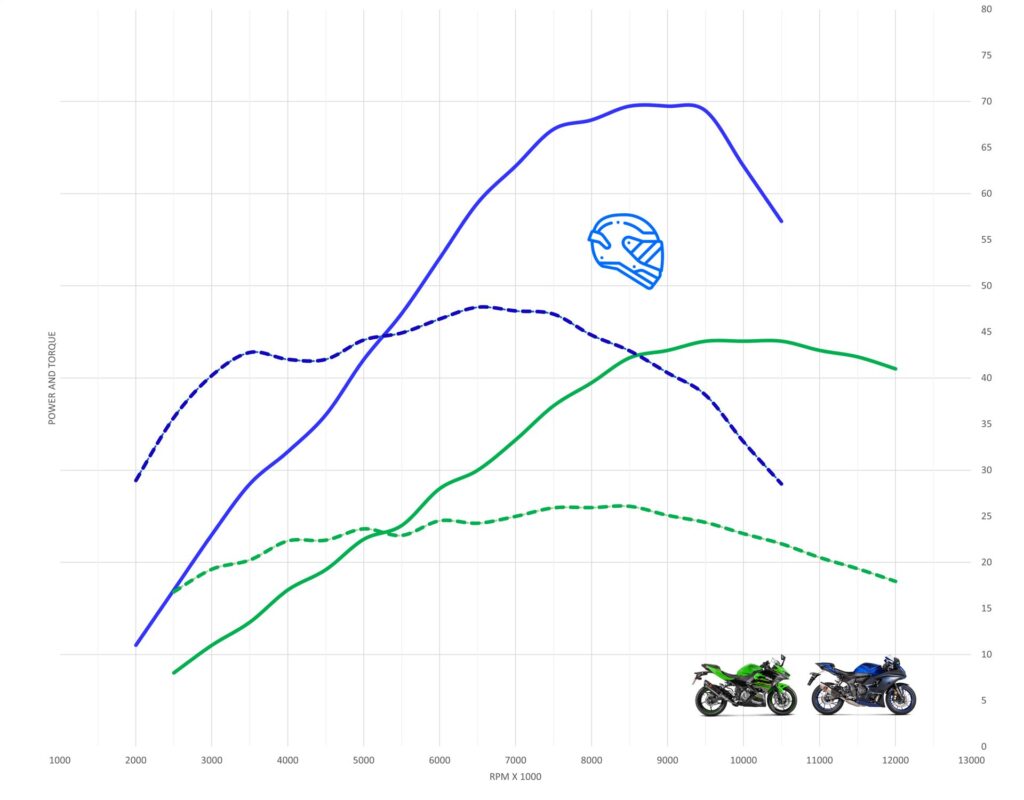 Ninja 400 vs YZF-R7 on the dyno
— Ninja 400 — YZF-R7
Many entry-level and budget motorcycles come with two cylinders. They are compact, light and cheaper to manufacture.
L-Twins and Parallel Twins are what we predominately get but today parallel twins are becoming much more popular.
Both of these motorcycles are parallel twins though have different engine capacities.
Kawasaki Ninja 400 Engine
Kawasaki's Ninja 400 is powered by a 399 cc liquid-cooled 4-stroke 8-valve DOHC parallel-twin. Kawasaki claims 49 horsepower at 10,000 rpm with peak torque of 28ft/lb produced at 9000 rpm.
At the rear wheel, we see a healthy 44 horsepower produced at 10,000 rpm.
What the on-paper specifications do not show is how impressive the Kawasaki Ninja 400 engine is, as It produces very close to its peak power over a very wide rpm range.
For example; the Ninja 400 produces more than 40 horsepower from a little over 9000 rpm all the way to 12,000 rpm and beyond.
This wide powerband makes gear choice less important comparatively and can also mean that outright acceleration versus similarly powered motorcycles can be faster due to less drop-off in power upon gear change.
Peak torque is 25 ft/lb at 8500 rpm. Impressively the Ninja 400 produces more than 90% of its peak torque from as low as 4000 rpm where it linearly builds to its peak.
This fantastic spread of power and torque is a great achievement for a high-revving engine and is a testament to the skills of Kawasaki's engineers.
The Ninja 400 genuinely feels like a larger-capacity engine.
There are a few peaks and troughs evident on the dyno curve but in reality, these go unnoticed when riding. Instead, power build-up is very smooth.
By virtue of its capacity, the Kawasaki Ninja 400 is an engine that likes to rev. Though despite its size, its power delivery is very sporty without it being totally dependent on high rpm to move.
For a conventional firing parallel twin, it does not sound too bad. When right up at 11,000 – 12,000 rpm it can sometimes almost sound like a four-cylinder engine.
Yamaha YZF-R7 Engine
Like the Ninja 400, the Yamaha YZF-R7 has a very similar engine configuration. It's just larger and is powered by a 689 cc Liquid-cooled, 4-stroke, DOHC inline twin-cylinder.
The firing order is different and as result, the YZF-R7 sounds closer to a 90 L-twin. Most would agree that the YZF-R7 is nicer sounding.
Yamaha claims 75 horsepower at 8750 rpm and 50 ft/lb at 6500 rpm for the YZF-R7.
At the rear wheel, this equates to 69 horsepower and 47 ft/lb. Peak power is produced between 8500 and 9500 rpm and peak torque at 6500 rpm.
The YZF-R7 engine produces strong torque from 3000 rpm and above, with the engine being a little lumpy below.
From as little as 3500 rpm the YZF-R7 makes an impressive 42 ft/lb, a figure that is only 5 ft/lb off the peak of 47 ft/lb.
Just like the Ninja 400 there is a great spread of torque.
There is a slight dip at 4000 rpm but it's not really noticed when driving in any gear from that rpm. The engine then picks up strongly at 5000 rpm and surges pretty hard between 6000 and 7500 rpm which is where peak torque is.
Beyond 8000 rpm the YZF-R7 engine starts to lose a little steam as torque tapers off. Then from 9000 rpm torque falls off a cliff.
It does not hold onto its power as well as the Ninja 400 does.
While the YZF-R7 can rev relatively high, it's an engine that excels most in the midrange with 5000 t0 8000 rpm being the sweet sport.
Though you can tap into that extra rpm and get more acceleration, beyond 9000-900 rpm changing up a gear would net you more acceleration.
R7 vs Ninja 400
If we compare the engines of both. It is clear to see that the Yamaha YZF-R7 engine is significantly stronger in terms of peak power and torque, as well as anywhere in the rpm range you chose.
The YZF-R7 has around 50% more power and 85% more torque than the Kawasaki Ninja 400.
There just is not anywhere in the rpm range where the Ninja 400 gets close. And as the rpm gets higher the advantage to the YZF-R7 becomes greater except beyond 9500 rpm.
This of course nothing to do with the Ninja 400 engine sucking bad, but all down to the engine capacity disadvantage the Kawasaki Ninja 400 has.
The Kawasaki Ninja 400 concedes 290 cc to the YZF-R7 as result the YZF-R7 has a 73% larger engine capacity.
Despite the Yamaha YZF-R7 having a 73% larger engine it only makes 50% more power though does make 85% more torque.
The reason why the YZF-R7 only makes 50% more power while having a 73% larger engine is down to the little Ninja 400 being at a higher state of tune.
This enables it to produce its power higher up the rpm range and also ultimately have a higher rpm limit.
The higher you rev an engine, generally the more power it will make.
The YZF-R7 by motorcycle standards is not that high revving. It may rev past 10,000 rpm but it makes its peak power a lot lower than that.
The YZF-R7 has a narrow-bore long-stroke engine and is designed by Yamaha specifically to have more bottom and midrange rather than crazy revs and high power.
It's an engine that is very much designed to work well at lower speeds and at any rpm and any gear.
Yamaha could have designed a shorter stroke higher revving engine, something similar to the Aprilia RS 660.
If that were the case it would potentially add costs as well as it not quite fitting in the entry-level class it was designed for if it made 100 horsepower plus.
The Ninja 400 is a high-revving motorcycle, though as its engine is only 400 cc if it was a longer stroke engine that produced its power lower down the rpm it would probably produce 10 horsepower less than it does.
That would not be sufficient in such a competitive class. Kawasaki ensured that the Ninja 400 could rev high and make decent power, but also worked hard on not sacrificing midrange and bottom end.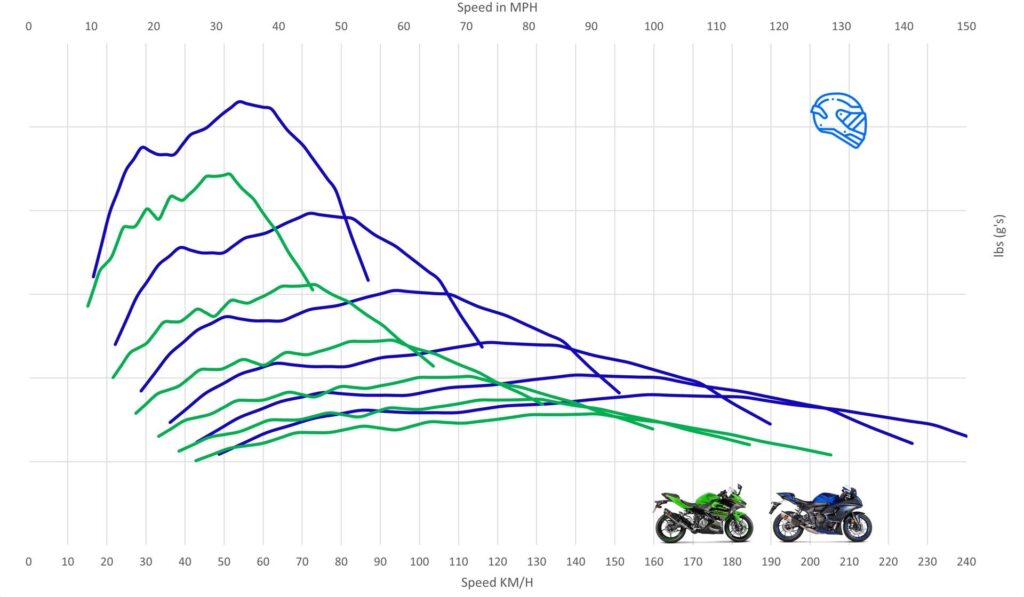 Ninja 400 vs YZF-R7 in-gear acceleration
— Ninja 400 — YZF-R7
In the real world and on the road, the advantage that the Yamaha YZF-R7 engine has is not as wide as the dyno curve would initially suggest.
As the little Kawasaki Ninja 400 is a smaller engine. By default, it has to run lower gear ratios as it does not have the torque of a larger engine.
Additionally to this, as the Kawasaki revs to 12,500 rpm and not 10,500 rpm like the Yamaha YZF-R7, it can run even lower gear ratios to make up for its lack of torque because that high can still command decent top speed in each gear.
If you have read any other articles on the site you may have learnt that gear ratio plays an integral role. They translate the torque from your engine to the rear wheel.
For the most part, engine torque is not translated from the engine to the wheel in a 1:1 ratio.
If we just look at a dyno curve comparing two engines and simply translate what we see on the graph to assumptions on the road we will be deceiving ourselves.
Gears are a multiplier of torque, They take engine torque and multiply it.
For example, if gear two's ratio is twice as long as the ratio of gear one, it will have half the thrust/acceleration as gear one but twice the max speed potential.
Gears are used to accelerate the motorcycle to its top speed.
Motorcycle engines generally have six gears because engines do not produce enough torque over a wide enough rpm range to be able to use 1 gear to take us from 0 to the maximum speed.
Sure, there are motorcycles that if you slip the clutch enough, you can accelerate in sixth gear from a stop, and all the way to its top speed, but acceleration is poor due to the gear being too long, and our multiplication of torque sometimes being in the negative, instead of positive.
What if we make a super low gear ratio and have only one gear? We can but the top speed potential of the motorcycle is reduced.
This is because the theoretical top speed in each gear is limited by how fast the engine can spin the gear. And this is dictated by the maximum rpm of the engine.
Kawasaki Ninja 400 can rev around 2000 rpm higher than the YZF-R7. As mentioned the Ninja 400 has to run lower gears than larger capacity motorcycles because it has less torque.
But because the Ninja 400 can rev to 12500 rpm and is not limited to 10,500 rpm it can run even lower gears without sacrificing the theoretical max speed in each gear.
If the Kawasaki Ninja 400 had a rev limit of 10,500 rpm and had the same gearing, it would lose top speed in each gear.
If it wanted to achieve the same top speed in each gear as the 12,500 rpm variant, it would have to run longer gearing and then lose thrust and acceleration in each gear.
You can see in the below table the speed differences in each gear comparing the Ninja 400 with the YZF-R7.
Speed in gears at 5000 rpm
| | | |
| --- | --- | --- |
| Speed at 5000 rpm | YZF-R7 | Ninja 400 |
| Speed 1st Gear | 25.6 mph | 18.8 mph |
| Speed 2nd Gear | 34.3 mph | 26.8 mph |
| Speed 3rd Gear | 44.7 mph | 34.1 mph |
| Speed 4th Gear | 56.1 mph | 41.4 mph |
| Speed 5th Gear | 66.9 mph | 47.8 mph |
| Speed 6th Gear | 75.7 mph | 53.2 mph |
The YZF-R7's fourth gear is a very similar ratio to the Ninja 400's sixth gear because at 5000 rpm their speed is almost the same.
On average the YZF-R7s gearing is around 35% longer than the Ninja 400.
Having lower gearing the Ninja 400 means it can claw back some of its deficit in rear-wheel torque because its lower gearing provides a higher multiplication of its torque than the longer gearing of the YZF-R7.
On the road, despite the Ninja 400s much lower gearing, unfortunately, in this particular case and up against the YZF-R7 there is no replacement for displacement.
At every speed and in every gear the YZF-R7 has a distinctive acceleration advantage.
The Ninja 400 courtesy of that lower gearing is revving much higher if we compare each gear at the same speed as the YZF-R7.
Generally anywhere between 1000 and 3000 rpm higher. The latter as the speed and gears go up and get higher.
In isolation, thanks to that wide spread of torque, the Ninja 400 will pull respectively from as low as 4000 rpm in all gears, even top. Up against the YZF-R7 of course the little Ninja 400 will feel very flat and buzzy.
You'll really need to dance on the gearbox to keep the YZF-R7 from completely disappearing after any short burst of acceleration.
If the Ninja 400 is kept one gear lower than the YZF-R7 where possible, it's actually closely matched from a roll-on until the Ninja 400 has to change up.
Up against the Ninja 400 the YZF-R7 engine does not have to work hard. It's a lazy engine even in isolation where you can quite easily short shift at 6000 to 7000 rpm and still makes rapid progress.
Thanks to that extra 290 cc, on the YZF-R7 you could even shift up as low as 5000 rpm, and the Ninja 400 wouldn't get too far ahead.
In the company of similar-sized engines, the Ninja 400 could tap into its respectable midrange and bottom end but up against the much more powerful and larger engine of the YZF-R7, you really must use everything the little screaming 398cc engine has to offer.
What this often means is that you have to keep the engine singing between 8000 and 12000 rpm and surprisingly the Ninja 400 has enough poke to keep the YZF-R7 honest if below 80-90 mph.
Sure, on faster and more open roads with longer stretches from corner to corner, the YZF-R7 will get away without much effor.
But on the type of roads where these motorcycles come into their own, typically tight and twisty roads the Ninja 400 can keep the YZF-R7 in check as they both blast from one corner.
You will have to really work for it though on the Ninja 400, using all those revs and all that power while the YZF-R7 rider can afford to be lazy, and use higher gears than are optimum on corner exits.
In the lower gears, the YZF-R7 is massively more accelerative, but in fourth and fifth gears it is surprisingly close considering the massive capacity and torque advantage that the YZF-R7 has.
From a top gear roll-on at any speed, of course, the YZF-R7 pulls away from the Ninja 400, but it's not like you would imagine, considering that the Ninja 400 gives away 290 cc and 27 ft/lb of torque.
And as you can guess, this is because the Ninja 400s six gear is much lower than the YZF-R7s.
Lightness helps the Ninja 400 claw back its power and torque disadvantage
What also helps with the available thrust/acceleration is the fact that the Ninja 400 is around 20 kg lighter than the YZF-R7.
Motorcycles are fast because they are light, and having a 20 kg weight advantage does have a dramatic effect on acceleration both outright and in-gear.
A scenario does exist where a very heavy rider on a YZF-R7 could potentially lose in a top gear roll-on against a very light rider on the Ninja 400. It has probably happened sometime in someplace!
To summarise, it goes without saying that the Yamaha YZF-R7 engine is superior in every application. Its superiority is 100% due to its 290 cc engine advantage
What's impressive is that the Kawasaki Ninja 400, thanks to its high revving engine, low gearing and lightweight package means can get closer to the performance of the Yamaha R7's engine than the on-paper numbers would suggest.
If you enjoy working for your speed the Ninja 400 is great fun and in capable hands can upset larger motorcycles.
Up against the Ninja 400, the 689 cc Yamaha YZF-R7 engine is a gruntymonster.
Its thumping torque means that it does not need to work as hard, you can be lazier with gear selection and the engine will dig deep and drive out of a corner or past that slow-moving traffic.
The Ninja 400 can handle most situations very competently though you just got to work that engine a little more.
Both are great fun for different reasons.
Acceleration through the gears – Ninja 400 vs YZF-R7
— Ninja 400 — YZF-R7
When it comes to straight line performances we know already that the Yamaha YZF-R7 is a faster accelerating motorcycle.
Bu from 0-30 mph there is very little in it between the two motorcycles.
Who wins will be more down to the skill of the rider rather than the more capable motorcycles.
In perfect conditions with an optimum launch then the YZF-R7 will have the edge but for most riders, it may be easier to launch the Ninja 400 as it's much less wheelie prone.
The Yamaha YZF-R7 is very excitable in first gear just like its sibling the MT-07. They share the same engine and chassis after all and have similar character and performance.
The Yamaha YZF-R7 is a little less wheelie prone compared to the MT-07 mostly because of the riding position which pitches the rider's position a little more forward due to lower handlebars.
So it's easier to fluff a launch on the YZF-R7 and hurt your time with an unwanted wheelie.
It's more straightforward on the Ninja 400 with the only risk to your ETs if engaging the clutch with the rpm too low and bogging a little.
The clutch should be slipped at around 8000-9000 rpm while keeping the revs at that point and no lower until the clutch is fully engaged at around 30 mph.
Both machines are quite close from 0-60 mph
The Yamaha YZF-R7 on the other hand, thanks to that very torquey engine is less fussy at what rpm or speed you get the clutch fully engaged.
Wherever you decide to dump it or slip it, you just have to have the throttle control to have the front wheel hovering rather than looping.
Get the launch for both motorcycles right, and the Ninja 400 will accelerate from 0-60 mph in 4.07 seconds which is a remarkable time though the Yamaha YZF-R7 is seven-tenths faster at a mesmerising 3.27 seconds.
Most average riders will be hitting 0-60 mph in five seconds on the Ninja 400 and four seconds plus on the YZF-R7.
With these optimal times, the YZF-R7 is quite a few bike lengths ahead as they hit 60 mph with the gapping really starting from around 30 mph.
From 60 mph the Kawasaki Ninja 400 will be just getting into third gear while the Yamaha YZF-R7 is powering through second gear.
As quick as the Ninja 400 is, that extra 30 horsepower that the YZF-R7 has begins to exert its dominance very quickly.
From this point (60 mph) onward, the few bike lengths lead that the YZF-R7 already has, is extended at a rapid rate as it starts to convincingly gap the Ninja 400.
Despite frantic screaming 11000,12000 rpm shifts the Ninja 400 can't compete.
From behind, 0-100 mph for the Ninja 400 arrives in 12.58 seconds. This is objectively quick by any standard and is not too far behind Kawasaki's own Ninja 650.
The YZF-R7 manages 0-100 mph in 7.88 seconds and with a 4.7-second advantage over the Ninja 400.
A fraction after the Ninja 400 hits the ton it crosses the quarter mile in 13.02 seconds with a terminal speed of 101.2 mph.
The Ninja 400's available acceleration is most prominent below 100 mph. From 100 mph and especially as it changes into fifth gear acceleration starts to taper off a little.
As the YZF-R7 crosses the quarter mile in 11.64 seconds at 116 mph the Ninja 400 is around 55 metres behind and charging at 96 mph
When the Ninja 400 crosses the quarter-mile mark, the Yamaha YZF-R7 has extended that lead by another 5 metres to around 60 metres and travelling at around 120 mph.
The Ninja 400 already had lost the race once both passed 60 mph, with the YZF-R7 gapping the Ninja 400 easily. As time and speed rise the gap just becomes larger.
It's at this point where you must make yourself small and position yourself in a good tuck as that 44 horsepower starts to struggle a little.
The YZF-R7 manages a 20 mph higher top speed than the Ninja 400
It takes a little over a mile from a standing start for the Kawasaki Ninja 400 to hit its top speed of 118.3 mph with that last 10 mph taking an additional twenty seconds.
In most circumstances other than on an empty highway, the Ninja 400 will hit a real 110 mph in a reasonable time, though the speedometer will be showing around 120 mph.
As the Ninja 400 only has 44 horsepower at the rear wheel. Your size and weight as well as the conditions will have a significant effect on performance compared to a more powerful motorcycle.
Above 100 mph, unlike the Ninja 400, the YZF-R7 still has some decent acceleration to offer.
Once into sixth gear at around 125 mph, just like the Ninja 400, to eke out that last bit of top-end speed on the YZF-R7 you need to be in a decent tuck.
The YZF-R7 will hit a real 130 mph in a little over 18 seconds but needs another fifteen plus seconds to realise its top speed of 139 mph.
For both motorcycles, you have to work hard for their top speed. A windy day with unfavourable conditions and if you are not in an efficient tuck will make or break it for both motorcycles at silly speeds.
In the end, it was a no-brainer. The Yamaha YZF-R7 was always going to be the faster of the two.
Despite this, it is interesting to compare. Many riders might be weighing up the two and want to see how both machines compare even if the comparison is a little like apple versus oranges.
Ninja 400 vs YZF-R7 acceleration and top speed
| | | |
| --- | --- | --- |
| Speed | Ninja 400 | Yamaha YZF-R7 |
| 0-10 mph | 0.56 | 0.34 |
| 0-20 mph | 1.13 | 0.96 |
| 0-30 mph | 1.69 | 1.48 |
| 0-40 mph | 2.23 | 2 |
| 0-50 mph | 3.17 | 2.54 |
| 0-60 mph | 4.07 | 3.27 |
| 0-70 mph | 4.56 | 4.1 |
| 0-80 mph | 7.20 | 5.07 |
| 0-90 mph | 9.25 | 6.35 |
| 0-100 mph | 12.58 | 7.88 |
| 0-110 mph | 18.98 | 10 |
| 0-120 mph | N/A | 12.86 |
| 0-130 mph | N/A | 18.26 |
| 60-130 mph | N/A | 14.72 |
| SS/QM | 13.02/101.2 mph | 11.64 @116 mph |
| SS/KM | 25.226/115.5 mph | 22.15 @ 134 mph |
| SS/Mile | 36.690/117.5 mph | 32.03 @ 138 mph |
| Top Speed | 118.3 mph | 139 mph |