The Fazer 600 will launch from 0-60 mph in 3.41 seconds
The middleweight entry-level road motorcycle class is hugely competitive and has been for a number of years. Today we have many new and existing models to choose from and have never had it so good.
Back in the late 90s and early thousands, the entry-level middleweight class that evolved into what we have today was in its infancy.
There were a number of new motorcycles that all offered that bang-for-buck do-it-all street performance that was perfect for new or experienced riders.
We had the Suzuki SV650, Bandit 600, Honda Hornet and Ducati Monster to name a few.
Before the MT-07 which is a motorcycle that has been a best seller for Yamaha for many years, we had various other middleweight naked offerings though none as successful as the Yamaha FZS600 Fazer, a bike that was Yamaha's take on the middleweight naked entry-level class.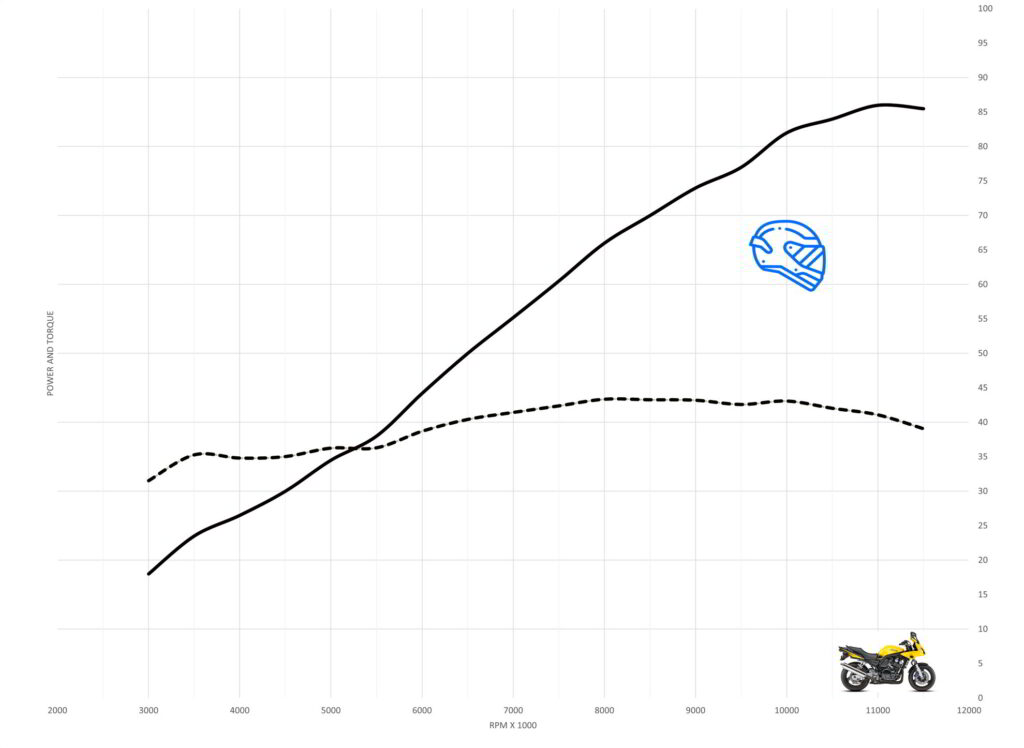 | | |
| --- | --- |
| Power | Torque |
| 86 hp @ 11,100 rpm | 43ft/lb at 8200 rpm. |
Just like many naked motorcycles today the Yamaha FZS600 Fazer is powered by an engine donated from a Supersport motorcycle.
Before we were ever graced by the Yamaha YZF-R6, in the mid to late 90s Yamaha's flagship Supersport motorcycle was the YZF600 Thundercat. A great motorcycle in its own right that was overshadowed by the Honda CBR600.
This was an era when even the motorcycle engines of some of the more radical motorcycles were well suited for road work.
Despite being high output and high rpm they often provided good bottom and midrange power along with enough top-end to do as they were intended, which was to go fast when you needed to get a move on.
This is not something we can say about a lot of current Supersport motorcycle engines of today, which are peaky and lack stomp for road riding applications.
The same engines are then repurposed into a naked motorcycle that is designed to live on the road and negotiate slower speed and lower rpm duties.
They are often 'tuned' for more torque but still lack where it is needed due to the limitations of their inherent design. A design that is high rpm and high output courtesy of their oversquare short-stroke configuration.
Yamaha's original FZS600 Fazer got gifted an engine from the Thundercat. This is an engine known for being a great all-around engine suited for the road.
Unlike many newer Supersport engines that came after, the YZF-600 Thundercat engine is a relatively long-stroke engine like others of the era. While many Supersport engines post were all chasing more rpm and thus more peak power at the expense of bottom and midrange power.
Once repurposed in the Fazer 600 the 599 cc Inline four engine was also returned a little by Yamaha to provide even bottom and midrange power and torque.
These tweaks were effective, though it was at the cost of a little peak horsepower.
The original Thundercat engine had a claimed peak horsepower at the crank of 100 horsepower and 48 ft/lb of torque. The Fazer 600 is down 5 horsepower at 95 at the crank, while peak torque is also a little less at 46 ft/lb claimed.
The Fazer 600 though was stronger than the Thundercat everywhere pretty much and only lost out above 10,500 rpm.
At the rear wheel due to transmission losses, the Yamaha FZS600 Fazer produces 86 horsepower at 11,100 rpm with torque peaking at 43ft/lb at 8200 rpm.
These numbers may not seem that impressive against the new 600s but the peaks do not tell the whole story. But against modern motorcycles in the same class, the Yamaha FZS600 Fazer is right up at the pointy end.
The spread of power and torque that the engine delivers is one of the best for any 600 cc inline-four for the past twenty-plus years. It stomps the much more recent FZ6R as well as pretty much anything else with the same capacity and number of cylinders. Only perhaps losing out in some circumstances to the MT-07, Trident, SV650 and Z650.
The available torque and drive from 3000 to 5000 is decent considering that this is a 600 cc inline-four, but where the Fazer 600 engine really shines is from 5500 rpm all the way north of 11,000 rpm which presents a very wide and useable powerband that is great on the road.
Pretty much most motorcycles with 600 cc derived fours really need at least 8000 pm showing on the dial before they will move with any enthusiasm. Some are better than others, though none really drive well from as low as a Fazer 600. We need to look at 600 cc plus inline four-cylinder engines for the Fazer to be matched or beaten.
Yamaha FZS600 Fazer Dyno Curve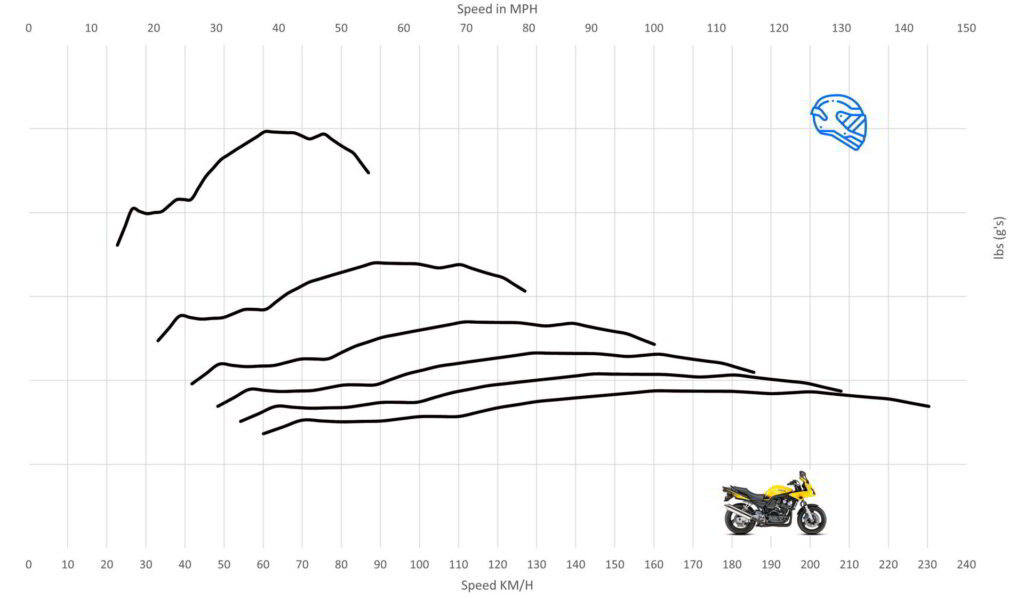 Yamaha FZS600 Fazer In Gear Acceleration
When riding the Fazer 600 you could be mistaken for the engine being larger than 600 cc, perhaps a 650 or even 750.
The Fazer 600 provides similar in-gear performance to the CB650R but does beat it out from around 10,000 rpm up top and in first gear.
The choice of gearing is what really complements Fazer's great engine and spread of power and torque.
Yamaha took what was already a good road engine, made it even better for the road and geared it to work well on the road too.
Both the perfectly mated engine and gears come together to create an engine that responds well in any gear and almost at any speed.
Sure, if you jump off a litrebike, all 600s, even those like the Fazer 600 with a great engine will all feel a little underwhelming and flat in comparison.
But you soon familiarise yourself and learn to appreciate what the Fazer 600 engine has to offer. Jump on another 600 and they will feel a little flat compared to the Fazer 600.
Despite the Fazer's ability to be lazy with gears and rpm, being a 600 inline-four, of course, it thrives on revs and loves to be screaming in the upper ends of the tacho.
| | | |
| --- | --- | --- |
| Speed at 5000 rpm | Yamaha FZS600 Fazer | Honda CB650R |
| Speed 1st Gear | 23.5 mph | 25.4 mph |
| Speed 2nd Gear | 34.3 mph | 33.1 mph |
| Speed 3rd Gear | 43.2 mph | 41.3 mph |
| Speed 4th Gear | 50.1 mph | 50 mph |
| Speed 5th Gear | 56.1 mph | 56.9 mph |
| Speed 6th Gear | 62.2 mph | 64.2 mph |
There are no peaks or troughs in the Fazer's power delivery, just butter soft and smooth responsive drive the moment you open the throttle thanks to those lovely Mikuni carburettors.
As mentioned, the Fazer will work great at sensible speeds and rpm but also likes to play and will drive pretty hard from 5500 rpm onward and really charge at 8000 rpm and beyond.
The Yamaha Fazer 600 is geared quite low, in particular first and second gears. This makes blasting around town fun and effective.
The third is a great gear too, with enough acceleration and range to make it very usable, as will take you all the way to around 100 mph, but still provide plenty of oomph from as little as 40 mph, perfect for blasting between slow and medium speed country bends without having to constantly work the gearbox like on some competitors.
Overtaking on the highway is a breeze too. Sixth gear will do the job at 70 mph effectively. That's because your rpm sits at a little below 6000 rpm, and right where the engine is about to come on cam.
Of course, being a 600, despite the grunty engine if you are really in a rush the Fazer will benefit more with a lower gear but for safety when executing an overtake, sixth gear will get the job done.

Yamaha FZS600 Fazer Acceleration through the gears
Fast forward twenty-plus years and motorcycles in this class are no faster than the Fazer. In fact, the Fazer 600 holds its own against many and beats out all of the twin-cylinder naked bikes in the same class, including Yamaha's own MT-07, a motorcycle that has arguably led the class and has one of the best engines.
The Fazer 600 appears modest and grown up but she can move pretty well when you ask.
The clutch is smooth and responsive ensuring that the Yamaha Fazer 600 is pretty easy to launch. Wheelies are not an immediate issue at all thanks to the precise throttle response and silky smooth and accurate delivery of power.
It will wheelie if you ask but thanks to the above they never become unwanted when trying to launch very quickly from a dig.
unlike many other 600 cc four-cylinder motorcycles of similar capacity, the Fazer 600 is not too fussed at what rpm you use for that 0-60 mph sprint.
You can even get the clutch dumped as low as 5000 rpm and drive it hard in first gear and still achieve close to optimum times with little chance of bogging down as you would normally expect for a high revving 600 cc four-cylinder when asking for banzai acceleration at such low rpm.
Ideally, 7000-8000 rpm is the most effective point in the rpm to slip/dump the clutch if you want the absolute best ET times.
The Fazer 600 will launch from 0-60 mph in 3.41 seconds and 0-100 km/h in 3.56 seconds.
Most 600s cc four-cylinder sportbikes and naked bikes can hit 60 mph in first gear, but due to the Fazer 600s low first gear relatively, and the fact that it revs a little lower than some other 600s, unfortunately, it can't quite hit 60 mph in first gear so requires a change into second.
This does cost the Fazer a little and could be up to 0.2 to 0.3 seconds quicker without the required gear change.
The gearbox is probably the Fazer's weakest part of its arsenal. It is clunky and slow like many Yamaha's of that era. When in a hurry for second gear it's not uncommon to get a false neutral if you are not very firm and committed with your change.
Once into second gear, it is plane sailing from there on. Take each gear to around 11,500 to 12,000 rpm and rinse and repeat with clutchless changes.
Sometimes when not using the clutch changing up a gear as quickly as possible, the gearbox can be stubborn and not snick into the next gear and needs a few tries, ruining the timed run in the process. You have to be very precise and well-timed closing the throttle and kicking into the next gear while doing it all as quickly as possible.
When you're in to third and charging, the Fazer 600 would have cracked the 0-100mph sprint in only 7.79 seconds and the quarter mile in 11.62 seconds @ 117 mph. That's faster than the CB650R and MT-07.
The Fazer 600 does 141 mph top speed
The Fazer 600 is pretty rapid up to a real 130 mph or around 145 mph on the speedometer but when push comes to shove an will actually show around an indicated 160 mph flat out but the real top speed is actually 141 mph!
Yes, the speedo lies…. generally around 10% for many motorcycles and brands with some exceptions.
The 141 mph top speed for the Fazer 600 is more than respectable. It's a naked motorcycle but thanks to the bikini fairing and good screen and roomy cockpit it provides good protection from the elements that help it right up top with a few extra miles per hour.
Yamaha FZS600 Fazer Top Speed And Acceleration

Speed

Time

0-10 mph

0.45

0-20 mph

1.00

0-30 mph

1.63

0-40 mph

2.05

0-50 mph

2.57

0-60 mph

3.41

0-70 mph

4.11

0-80 mph

5.20

0-90 mph

6.31

0-100 mph

7.89

0-110 mph

9.60

0-120 mph

12.52

0-130 mph

17.49

0-140 mph

37.95

60-130 mph

14.07

SS/QM

11.62 @ 117 mph

SS/KM

22.07 @ 135 mph

SS/Mile

31.83 @ 139 mph

Top Speed

141 mph
Yamaha Fazer 600 Specifications
Yamaha FZS600 Specifications

Capacity

599cc

Bore x Stroke

62×49.6mm

Engine

Inline four DOHC, 16v, liquid-cooled

Power

95bhp 11,500rpm

Torque

45.8lb-ft @ 11,000rpm

Transmission

6 speed, chain final drive

Average fuel consumption

48mpg

Tank size

18 litres (20 litres and 22 litres)

Max range to empty (theoretical)

190 miles

Reserve capacity

30 miles

Rider aids

None

Frame

Tubular steel

Front suspension

41mm telescopic forks

Front suspension adjustment

Spring preload post 2000 models

Rear suspension

Monoshock

Rear suspension adjustment

Adjustable spring preload

Front brake

2 x 298mm discs, four-piston calipers

Rear brake

245mm disc, two-piston caliper

Front tyre

110/70 – ZR17

Rear tyre

160/60 – ZR17

Rake/Trail

24°/88mm

Dimensions

2080mm x 710mm 1180mm (LxWxH)

Wheelbase

1415mm

Ground clearance

n/a

Seat height

790mm

Kerb weight

205kg