Ducati Monster 0-60 mph in 3.44 seconds
First introduced in 1993. That's how long the Ducati Monster has been with us. Some of you reading are no doubt younger than the Monster range.
Ducati arguably introduced the "naked bike" concept to the world.
Fast forward to today, and the lineage of Monster models, spanning both the past and present, is nothing short of extensive.
From the Monster 400 to the Monster 1200. I have lost count.
Speaking in terms of engines, the most recent 2023 Monster (unveiled in 2021) pays homage to the original M900 in certain aspects, though the similarities largely end there.
Regrettably, the distinctive trellis frame that had become iconic is no longer a defining feature, and the once bold and unmistakable Monster shape and stance, though still perceptible, have been toned down significantly.
Undoubtedly, the new Ducati Monster definitely is an attractive motorcycle; however, it's evident that the most recent iteration has adopted a leaner and more streamlined posture in comparison to Monsters that came before it.
Additionally, it presents a notably compact profile and boasts a narrower build when juxtaposed with any prior Monster model.
At initial sight, you wouldn't guess that the Monster is a literbike. (more or less)
Being the latest and greatest Monster, and while the engine shares a similar capacity to the original M900, the new Ducati Monster is much more powerful and has a suite of technology that in 1993 was not even a pipe dream.
Ducati Monster Dyno Curve
Powered by the same 937cc Testastretta 11° L-twin engine that's in the Ducati Supersport, and kicking out the same claimed peak power of 110 horsepower, the new Monster is 30 horsepower up on the original, albeit with a small 37 cc capacity advantage.
The new Ducati Monster has around the same peak power output as Ducati's 916 Superbike of the day back in the mid-90s.
Yet this Monster would be considered a "mid-range" motorcycle that is suitable as an upgrade to a first big bike.
How times have changed?
On the dyno, the power and torque curve looks very similar to the original 916 but this 2023 Monster actually puts out a little less, despite the claimed peak power figures being very similar for both motorcycles.
This is likely because back in the 90s, power claims from Ducati were more often aligned with rear wheel numbers as opposed to crank figures which have been the default for other manufacturers
It seems that for a number of years, Ducati has now claimed peak horsepower figures from the crank for all of their motorcycles.
| | |
| --- | --- |
| Power/Torque | Ducati Monster Power & Torque |
| Power | 96hp @ 9,100 rpm |
| Torque | 61 ft/lb @ 6000 rpm |
For our Monster, we have a peak figure of 97 horsepower produced a little over 9000 rpm with the Monster holding onto that peak until the 10,500 rpm limiter.
Against other class rivals the new Monster sits somewhere in the middle in terms of its power.
Torque peaks at 61 ft/lb at both 6000 and 8000 rpm.
61 ft/lb may not sound like a heap of torque for an 'almost' litrebike L-Twin, though it is broadly spread and never lacking anywhere.
Delivery is smooth for a big L-Twin though the engine does pick up with some enthusiasm from around 5500 rpm than the graph would suggest.
Ducati Monster Thrust Curve
On the road, the engine feels very much like the dyno chart would allude to. Which is plenty of drive anywhere in the rpm range in any gear.
The Ducati Monster is geared very nicely for the road, though it is geared the same as its faired sibling the Supersport 950.
Being a naked bike sharing the same engine as the Supersport 950, I would have expected the Monster to have perhaps one tooth extra at the rear sprocket, but it doesn't actually need it.
This is because the Supersport is already geared perhaps lower than would be expected.
So that explains why Ducati kept the gearing the same. And it is the correct choice.
How everything translates on the road is very much on par with the Supersport, which makes sense because they have the same powerplant and gearing, though the Monster 950 is lighter.
The power and torque of the Ducati Monster is put to great effect on the road.
Speed in gears at 5000 rpm
| | | |
| --- | --- | --- |
| Speed at 5000 rpm | Ducati Monster | XSR900 |
| 1st Gear | 28.2 mph | 29.3 mph |
| 2nd Gear | 39.5 mph | 39 mph |
| 3rd Gear | 49.7 mph | 48.2 mph |
| 4th Gear | 58.9 mph | 56.5 mph |
| 5th Gear | 66.7 mph | 65.5 mph |
| 6th Gear | 72.7 mph | 75.2 mph |
It is not necessary to worry about what gear you are in. The new Monster's engine will just dig in and drive you out of any situation confidently.
Fourth gear at a little over 30 mph with the tacho under 3000 rpm is still doable, though a little chuggy.
But nowhere near as bad as many previous Ducati's or some other big L-Twins that really want to be above 3000 rpm at all costs.
The sweet spot for vibe-free drive is over 3500 rpm.
If you're lazy, you don't need to be concerned about what gear you are in, as long as you are 3500 rpm and above, the Ducati Monster will provide good drive.
With any engine, there is of course a sweetsport.
For the Ducati Monster that's 5000-10000 rpm. This is where you'd be when riding enthusiastically or chasing down your mates on some twisty roads.
This is the environment where the Monster is very effective and very much at home.
200-horsepower Superbikes will not get away from you because of their significant power advantage.
The Ducati Monsters 100 horsepower is all useable all of the time.
It's only on the faster roads where that 100 horsepower might lose sight of those 200 horsepower motorcycles but you'd really have to be riding on the side of 'silly'.
Out on the highways, of course, and only a few cc short of being a litrebike, there are no issues overtaking.
Some riders prefer to sit in fifth gear on some (on paper) more capable motorcycles because they're not quite as responsive in sixth gear when presented with a regular highway overtake.
The Monster is just fine in top gear showing around 4800 rpm, and will rival, and beat many faster and more powerful motorcycles from that typical 70-90 mph overtaking speed range.
Of course, keep it wide open for longer than the Ducati Monter will be quickly dispatched but not before the intended job (overtake) is completed.
Ducati Monster Top Speed and Acceleration
The Monster 950 is not the most powerful Monster we've seen so we can expect it not to be the fastest.
Probably more interesting would be how it stacks up against rivals such as the Yamaha XSR900 or MT09 or KTM's 790 and 890s.
With any motorcycle that you haven't ridden, it takes a little time to acclimatize to the clutch and throttle.
This was probably a little easier before the electronic revolution.
Additionally, FI systems are still not as good as carbs for preciseness.
This is made much worse by throttle restrictions for noise and emissions. It ensures that the throttle feels vague, inaccurate, and doughy.
This can be a little annoying when trying to launch a motorcycle hard with the aim of achieving optimum ETs.
The Ducati Monster throttle is no exception. You also have to open the throttle at what seems like 1cm of travel before anything happens, and that's minus the throttle slack.
After 5-10 launches you do eventually get used to it.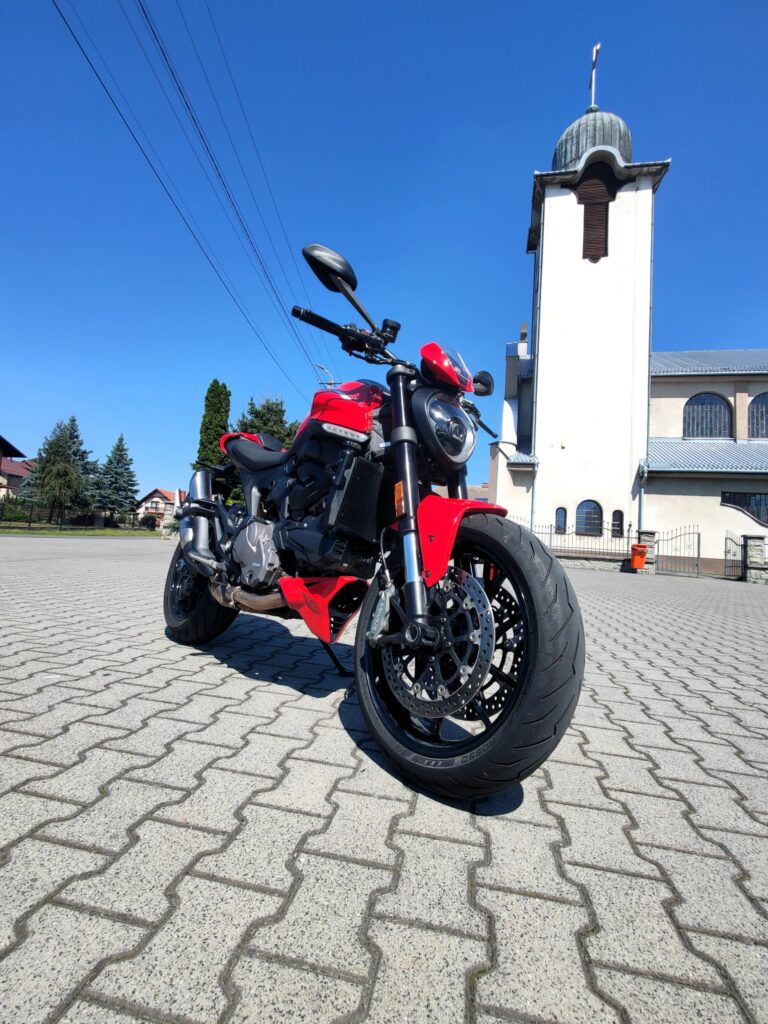 Wheelie control is off and TCS is set to lowest or off. We did not have a great surface to work with for our times so experimented with TCS on also.
Just like the Ducati Supersport the Monster can't hit a real 60 mph in first gear. More like 59 'point' something at the rpm limiter.
Due to this, the 0-60 mph time could have been better.
The Ducati Monster also did not like going from first gear to second gear using the quick shifter. Instead opting for a false neutral.
It didn't matter if you were gentle or firm with the gear change.
This happened for at least half of all the runs that took place and ruined a good few of them.
Once used to the throttle and clutch, the Monster was not too difficult to launch.
You could dump the clutch at low rpm and drive it, or hover rpm at higher, and slip and times were very similar. So it was mostly about preference.
What was more unpredictable were the wheelies in first gear. Very likely a consequence of the strange dough throttle response.
In the end, the very best 0-60 mph run achieved for the new Ducati Monster 950 arrived in 3.44 seconds with less than optimum shift into second gear.
The sprint from 0-100 km/h is 3.58 seconds.
There is definitely more in it.
For example, if the Ducati Monster's first gear was just slightly longer or it revved a few 100 rpm higher 3.20 from 0-60 mph seconds easily achieved.
But for now, 0-60 mph in 3.44 seconds was our best time.
Ducati Monster 0-60 mph in 3.44 seconds
Once you're into second gear, things settle down, and it's straightforward from there on, and you just feed it gears.
The QDucati quickshifter now works faultlessly and there is no real danger of hitting the limiter as the Monster eats up the gears.
The Ducati Monsters 0-100 mph time is 7.46 seconds. There is just not enough power to dip into the 6s like some rivals.
To achieve the best time from 0-100 mph you must take third gear almost to the limiter where you'll be able to hit 100 mph without losing time changing into fourth gear.
Ducati Monster 0-100 mph in 7.46 seconds
Ducati Monster Quarter Mile mph in 11.33 seconds
From 100 mph you just wind out fourth gear all the way to the redline at which point the Ducati Monster would have passed the quarter mile in an impressive 11.33 seconds with a terminal speed of 118 mph.
On the best run, I actually let off just a fraction before. Also, there were many slightly slower runs with higher terminal speeds.
You'll also note that the best Quarter Mile time had a slightly slower 0-60mp time than our best time. Both were done at different times.
Again, the Ducati Monster has a little more in it. Possibly even high tens if all stars align and if we were at lower altitudes.
But nonetheless, low 11s is impressive for a 100 horsepower naked motorcycle making the Ducati Monster at least as quick as many rivals but not the fastest.
The recently tested Yamaha XSR900 for example has the edge on the Monster thanks to its extra power up top, though for the most part, and anywhere below ten tenths they are as quick as one another.
It's only when you use that last 1500 rpm of the XSR900 is where its advantage makes itself known.
Ducati Monster Acceleration through the gears
The Ducati Monster (no surprise) is a naked bike and it's small.
There is not much room on the seat to get a really good tuck for any wild top-speed runs. There is also no screen or even a dinky faring to provide some relief from the wind.
You just have to do your best to shrink your body and keep your pointy bits out of the wind.
The Ducati Monster is geared very sensibly. Gearing has a great compromise between acceleration, highway cruising, and top speed should that be your thing.
Unlike some rivals, where their sixth gear is sometimes a little too long and they have no chance of winding top out.
Ducati Monster Top Speed 140.9 mph
The Ducati Monster can almost kiss the limiter in top gear. I am sure with better conditions it would be more than possible.
After a few runs the Ducati Monster managed to hit a top speed of 140.9 mph.
The Ducati Monster gets there in a reasonable time but in most situations when you blat it through the gears a real 130 mph will be the most people will see unless you have a very clear road ahead.
The Ducati Monster Speedo overreads by around 7% which is a little lower than many Japanese motorcycles.
So that true 140 will be around 150 mph on the tacho.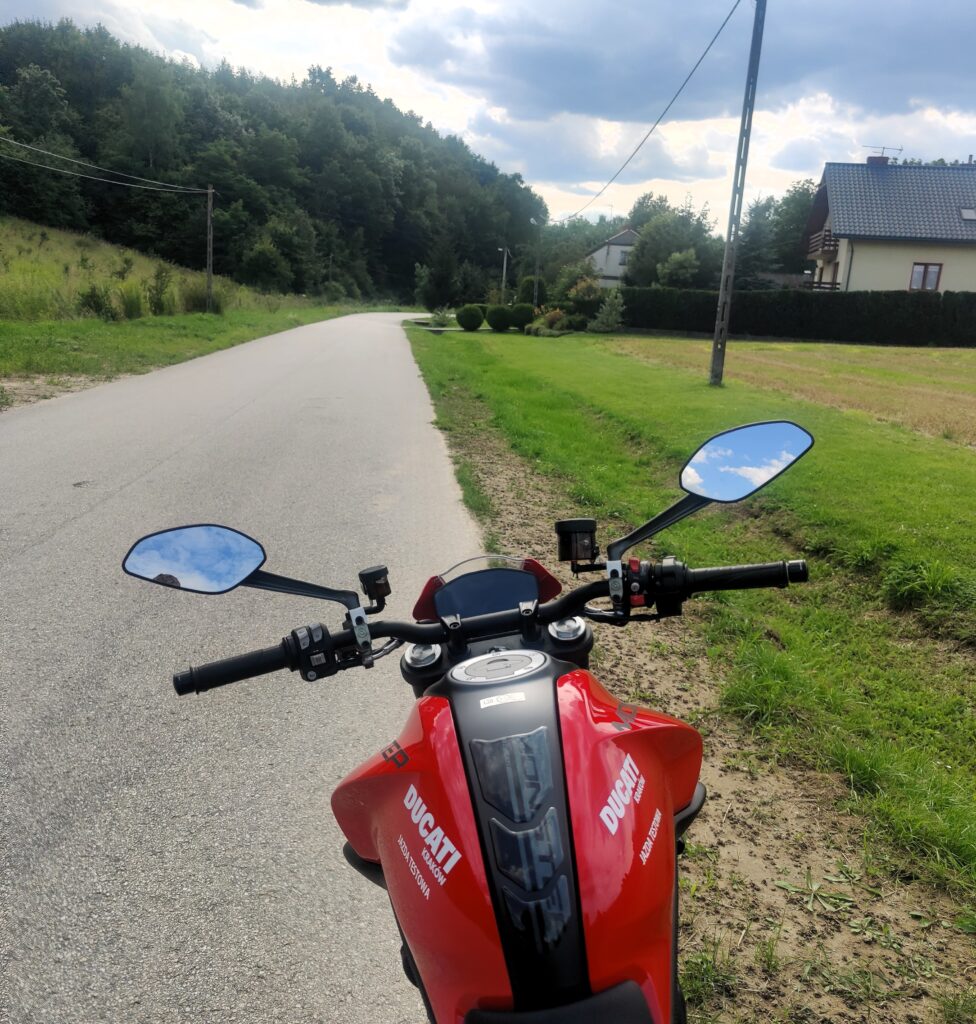 All in all, the Ducati Monster is a quick motorcycle. Accelerating to 120 mph the Monster is close to many Supersport 600s but will dominate them in terms of punch in the vast majority of situations
Against its rivals, it's somewhere in the middle in terms of balls-out acceleration and engine performance.
Ducati Monster Top Speed & Acceleration
Speed
Time
0-10 mph

0.52

0-20 mph

1.02

0-30 mph

1.49

0-40 mph

2..01

0-50 mph

2.53

0-60 mph

3.44

0-70 mph

4.10

0-80 mph

5.08

0-90 mph

6.06

0-100 mph

7.46

0-110 mph

9.05

0-120 mph

11.35

0-130 mph

14.90

0-140 mph

27.00

60-120 mph

7.91

SS/QM

11.33 @ 118 mph – 11.36 @ 121 mph

SS/KM

21.60 @ 139 mph

SS/Mile

31.245 @ 140.9 mph

Top Speed
140.9 mph