Yamaha XSR900 0-60 mph in 3.26 seconds
Yamaha's XSR900 is one of the 'other' Yamaha road motorcycles powered by that truly awesome 847 cc three-cylinder engine found in the MT-09 among a few.
The Yamaha XSR9000 is perhaps not as popular in terms of overall sales as the MT-09, and is arguably a little softer looking but don't let that fool you, as it's every bit the hooligan motorcycle just like the MT-09!!
That's because it's literally the exact same motorcycle albeit dressed a little retro to appeal to the more fashion-conscious hooligan who also has a darker more menacing side.
So, with that in mind, the Yamaha XSR900 is every bit as mad as its MT-09 sibling so can we expect very much of the same in terms of engine performance and acceleration?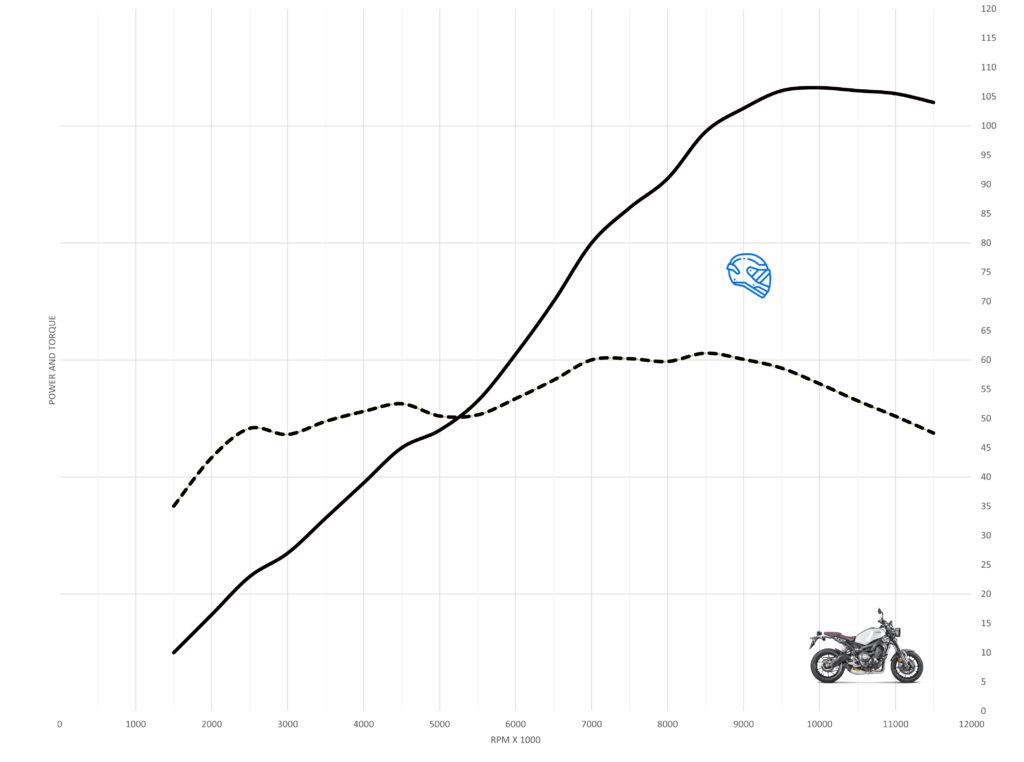 Yamaha XSR900 Dyno Curve
The XSR900 engine is the same as that of the somewhat legendary Yamaha MT-09 engine.
Like its sibling, It's an 847cc four-stroke triple that is liquid-cooled, with an 11.5:1 compression ratio.
It has twin overhead cams and a total of 12 valves (four per cylinder ), and a six-speed gearbox with a slipper clutch to aid those aggressive downshifts.
Numbers are no different, with a Peak claimed power figure of 115 horsepower delivered at 10,000 rpm.
Peak torque is a strong 65.5 ft/lb at 8500 rpm.
| | |
| --- | --- |
| Power/Torque | Yamaha XSR900 Power & Torque |
| Power | 106hp @ 9,800 rpm |
| Torque | 61 ft/lb @ 8,500 rpm |
Those claimed numbers do not sound all that impressive for an 847 cc engine but the on-paper numbers do this peach of an engine very little justice.
Dynos vary of course, as do conditions and correction factors used, though our Yamaha XSR900 kicks out a decent 106 horsepower at around 9,800 rpm and 61 ft/lb at 8,500 rpm.
These numbers are in the average to lower average end of what these machines put out as stock.
Some Yamaha XSR900s can approach 110 horsepower or more and 120 horsepower with a suitable exhaust system and ECU tune.
We try to use stock motorcycles where possible but our Yamaha XSR900 is fitted with a VERY LOUD SC-Project Decat system.
That's accompanied by a not-so-optimum ECU flash tune, so could have made much more power.
While a little less smooth versus a stock machine power and torque are more or less the same despite the mods so we should expect similar performance.
Despite the SC-Project and not-so-good ECU flash, the power delivery felt very similar to stock in all power modes though a little fluffy/jerky low down regardless of the power mode used.
The pops and bangs were of course very addictive.
Minor annoyances aside, the engine is exactly as expected from this masterpiece of a triple!
Delivering punching power anywhere in the rpm and picking up really nicely and eagerly from a little over 5000 rpm where it kicks with aggression and surges forward.
From that point the Yamaha XSR900 ' moves' and howls like some kind of demonic V12 racecar from a bygone era all the way to 11000 rpm plus thanks to that bonkers SC-Project.
Having ridden a stock Yamaha XSR900, they still sound great but an aftermarket exhaust is a must.
It is very addictive to rev out, and one of the most impressive 100 horsepower engines ever, regardless of machine or era.
It's a true gem of an engine and Yamaha should be proud of their fine creation.
What we have here is a sub 1000 cc engine that for most of the time provides 1000 cc performance.
The rumors of the Yamaha YZF-R9 are an exciting thought. We can assume if true we'd get the even more punchy 900 cc version which would be fantastic in a sports bike.

Yamaha XSR900 in-gear acceleration
Just like its sibling the MT-09, this is the area where the Yamaha XSR900 really shines.
It has a great combination of a punchy engine accompanied by a set of gear ratios that perfectly compliments its performance, and where the Yamaha XSR900 is primarily going to be used…
Which is on the road!!
We often hear that trope where people say "You don't need more than 100 horsepower".
While I do not necessarily agree with that statement in all circumstances, The MT-09 and Yamaha XSR900 probably put up the strongest case supporting that claim.
Technically yes, they both make a little more than 100 horsepower but they are close enough and punch way above their weight in most situations.
What makes the 100 (106) horsepower of the Yamaha XSR900 so effective, is the spread of torque which comes courtesy of that top-tier 847 cc tripe engine.
Also, the engine is not too large that it can't still rev high so it is also still exciting to thrash as power does not die a death as the revs get to the last quarter of the tacho.
100 horsepower from a 600 cc engine is a completely different experience and will feel quite a bit slower 95% of the time.
This is because the 600 cc engine just does not produce the same power and torque lower in the rpm. This is due to its smaller capacity and extremely short-stroke design.
The 600 cc engine will need to be showing five digits on the rpm tacho as a minimum to move anything like the Yamaha XSR900 can at only half the displayed rpm.
The Yamaha XSR900s engine is just the right size (capacity) and state of tune to be grunty but also playfully be reeved up the tacho too without running out of puff.
What all of this means on the road is that your gear choice is not something you need to worry about whatsoever.
Running in fourth and fifth gear on tight winding country roads is easily done.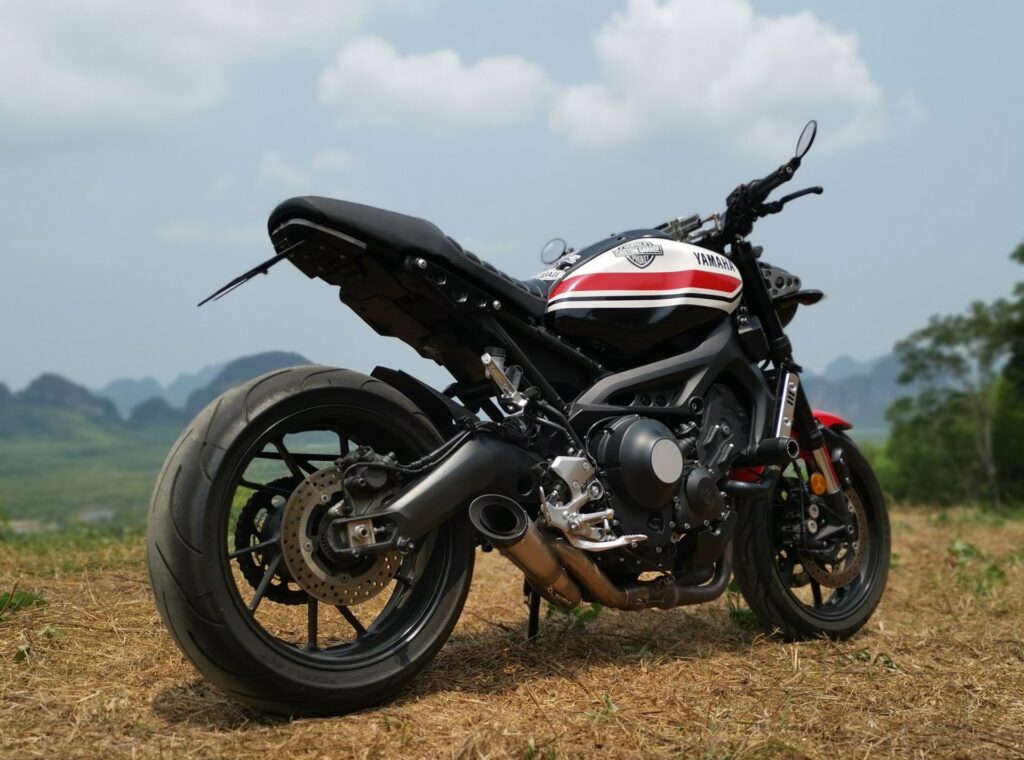 The Yamaha XSR900 engine will just dig in, and deliver torque to pull you out of any corner with enough urgency to ensure that you do not need to kick it down another gear.
You can be super lazy!
If you want to ride it like a 600 and use the gears and rpm, you can and it won't complain, as the Yamaha XSR900 engine is a joy to thrash between 6000-11000 rpm.
Often engines that are very torquey are less fun to rev out, as their power and torque tales off faster than engines that are more rev happy.
| | |
| --- | --- |
| Speed at 5000 rpm | XSR900 |
| 1st Gear | 29.3 mph |
| 2nd Gear | 39 mph |
| 3rd Gear | 48.2 mph |
| 4th Gear | 56.5 mph |
| 5th Gear | 65.5 mph |
| 6th Gear | 75.2 mph |
The Yamaha XSR900 engine strikes a very good balance between punching torque and chasing high rpm thrills.
In more relaxed settings such as the highway at legal speeds in top gear, the Yamaha XSR900 pulls just as hard as many larger-engined motorcycles.
So you can use sixth gear all day long and just treat it like a twist-and-go scooter.
Even if you drop your speed down to 40 mph the Yamaha XSR900 will easily pull you right back to highway speeds in what seems like only a few seconds.
The Yamaha XSR900 like some other punchy engined motorcycles will even pull away from the lights effortlessly in top gear with not too much clutch slip.
Yamaha XSR900 Acceleration and top speed
The Yamaha XSR900 on the surface may look a little soft and friendly and if judging by looks alone, you wouldn't think that it was as fast as it is.
Due to the compact size of the Yamaha XSR900, to the uninitiated, it could easily be mistaken for a 500 cc parallel-twin commuter motorcycle.
But thanks to that wonderful 847 cc triple engine we have Supersport rivaling performance up until a point.
The Yamaha XSR900 will even give older litrebikes a run for their money up to 130 mph and will stomp them point to point.
We are not in our usual geographic location for our performance testing, a location that is at sea level and is not humid providing almost optimal conditions for speed testing.
Instead, we are in a hot and humid climate and trying to extract optimal numbers on very slippery poor road surfaces.
Still, the Yamaha XSR900 felt very accelerative and more like a sports bike in the way it gets up and goes despite the heat and humidity no doubt sapping some engine power.
Like the first-generation Yamaha MT-09, you have to turn off the very intrusive and basic TCS system.
TCS on the newer versions of both the Yamaha XSR900 and Yamaha MT-09 is much more capable but with our (older) bike even on the lowest settings, it's way too intrusive, even at the best of times.
This is made worse by the very poor and slippery surfaces we had to deal with which made launching this lively motorcycle optimally very difficult.
Normally, the issue with both the Yamaha MT-09 and XSR900 is controlling their liking of wheelies!!
This is because they both really like to lift the wheel in first and second gear with very little encouragement!!
For the Yamaha XSR900 for our acceleration testing, it was lighting up the rear wheel and spinning that was the challenge and main problem.
This is despite piping-hot tyres and high asphalt temperatures that would normally be conducive to exceptional grip.
After many attempts battling mad wheelspin and wheelies, surprisingly the Yamaha XSR900 managed to hit 0-60 mph in only 3.26 seconds and 0-100km/h in 3.38 seconds.
These times would be great even in optimal conditions.
To avoid the rear tyre lighting up and stepping sideways, you just have to go a little softer from 0-10 mph than would be optimal.
This of course will hurt the 60ft time but it's the only way to get ETs close to the best possible on such a slippery asphault.
(Good 60 ft times are very important for achieving the best quarter mile times).
For a good 0-60mph run with the Yamaha XSR900, you must stretch out the first gear close to the rpm limiter!
If you change up at around 10,000 rpm you run the risk of not hitting 60mph / 100 km/h so your (unnecessary) gear change will impact the time.
The 0-60 mph time of 3.26 seconds is a little slower than the MT-09 but no doubt in better conditions and in our usual geographic location a sub-three second 0-60 mph is easily doable.
In fact with a little more time even with the heat and humidity and greasy asphalt a sub-three-second 0-60mph time could have been on the cards.
The Yamaha XSR is also a little faster than one of its main rivals the Ducati Monster.
Yamaha XSR900 Quarter Mile 11.15 @125.5mph.
Down the quarter mile, the Yamaha XSR900 impresses again despite the unfavorable conditions, managing an 11.15 with a terminal speed of 125.5mph.
I did see a couple of 127 mph terminal speeds but with slightly slower quarter-mile times.
During a few of the 0-60 mph times if I had continued on to the quarter-mile time probably would have dipped into the tens anyway.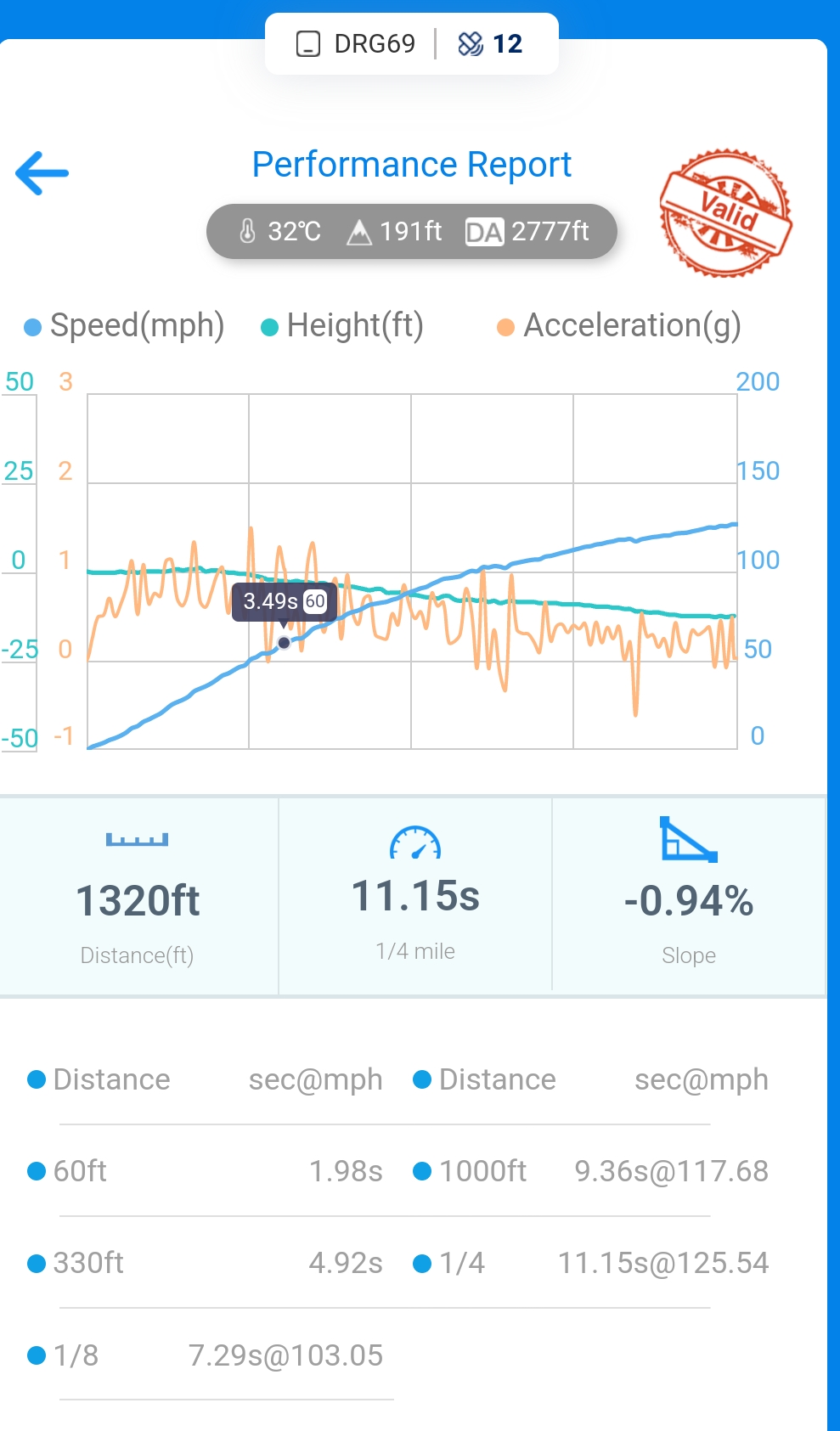 Again, sub eleven seconds times are definitely possible, and approaching 130 mph terminal speed but conditions did not allow for it due to the necessity to be gentle off the line to avoid provoking severe wheelspin.
The sprint from 0-100mph was registered in 6.48 seconds and the 60-130mph time was achieved in 9 seconds flat.
I'll emphasize again, in more favorable conditions we could expect to see the Yamaha XSR900 around 0.5 to 0.6 seconds faster for both of the above benchmarks with numbers resembling the MT-09.
You don't buy a Yamaha XSR900 for its top speed credentials but she'll still get you up there where you can play with some of the bigger motorcycles.
Yamaha XSR900 Top Speed 144 mph
As stock, these Yamaha XSR9000s will barely crack a real 130 mph (140mph on the speedo) due to restrictions!!
With the annoying nannying restrictions removed like our model, the Yamaha XSR900 can stretch its legs and use all of its power and rpm in the last two gears.
Being a naked motorcycle there is no escaping the wind, unfortunately!
All you can do is make yourself as small as you possibly can, slide your bum as far back and tuck your elbows in, and hope for the best.
Thankfully the Yamaha XSR900 is actually pretty roomy and you can mold yourself into a decent and effective tuck.
The Yamaha XSR900 gets up to its top speed of 144 mph pretty quickly but in the end, the lack of good aerodynamics eats into its power and it has no more to offer.
144 mph on a naked bike is more than enough I think.
Anything below a real 130 mph is where the Yamaha XSR900 shines the most, with it biting at the heels of many bigger and more powerful motorcycles.
While outright 600s are just as quick, the Yamaha XSR900 will always win from A to B blasts every time thanks to that accessible grunt while the 600 riders are scrambling for a lower gear to stand a chance.
Sure they'll eventually take out the Yamaha XSR900 in the top end but how often are we there?
99% of the time the Yamaha XSR900 eats Supersports and many more motorcycles that it really has no right to given that it's a middleweight motorcycle.
Yamaha XSR900 Top Speed And Acceleration

Speed

Time

0-10 mph

0.36

0-20 mph

1.21

0-30 mph

1.62

0-40 mph

2.17

0-50 mph

2.69

0-60 mph

3.26

0-70 mph

4.02

0-80 mph

4.71

0-90 mph

5.63

0-100 mph

6.48

0-110 mph

7.61

0-120 mph

9.11

0-130 mph

12.37

0-140 mph

17.15

60-130 mph

9.00

SS/QM

11.15 @ 125.5 mph

SS/KM

20.96 @ 142 mph

Top Speed

144 mph