Triumph Trident 660 does the quarter mile in 12.00 seconds
A look at the Triumph Tridents 660's engine performance, top speed, and acceleration.

Triumph Trident 660 Dyno Curve
The new Triumph Trident 660 is powered by an all-new 660 cc Inline tripe engine that is based upon the 675 cc engine from the Street Triple 675.
Those of you that wanted the same Street Triple 675 cc engine might be left a little disappointed, as the new Trident engine is quite a bit down on power with 80 horsepower claimed at the crank, which is around 26 horsepower less than the Street Triple 675.
It's not all bad, as often naked versions of superbikes or supersport bikes come equipped with 'detuned' versions of their sportsbike donor engines, though this is not always ideal for the road bias application of the naked motorcycle using those engines.
This is often because Sportbike engines are tuned for max power at very high rpm. Detuning them for more mid and bottom range or installing heavier components or less aggressive cams can only do so much to take the power from the top and redistribute it to where a road rider would want it most.
Depending on the motorcycle brand or model we've seen mixed success at this. Certainly, very high rpm engines such as those from 600 cc sports bikes do not detune very well.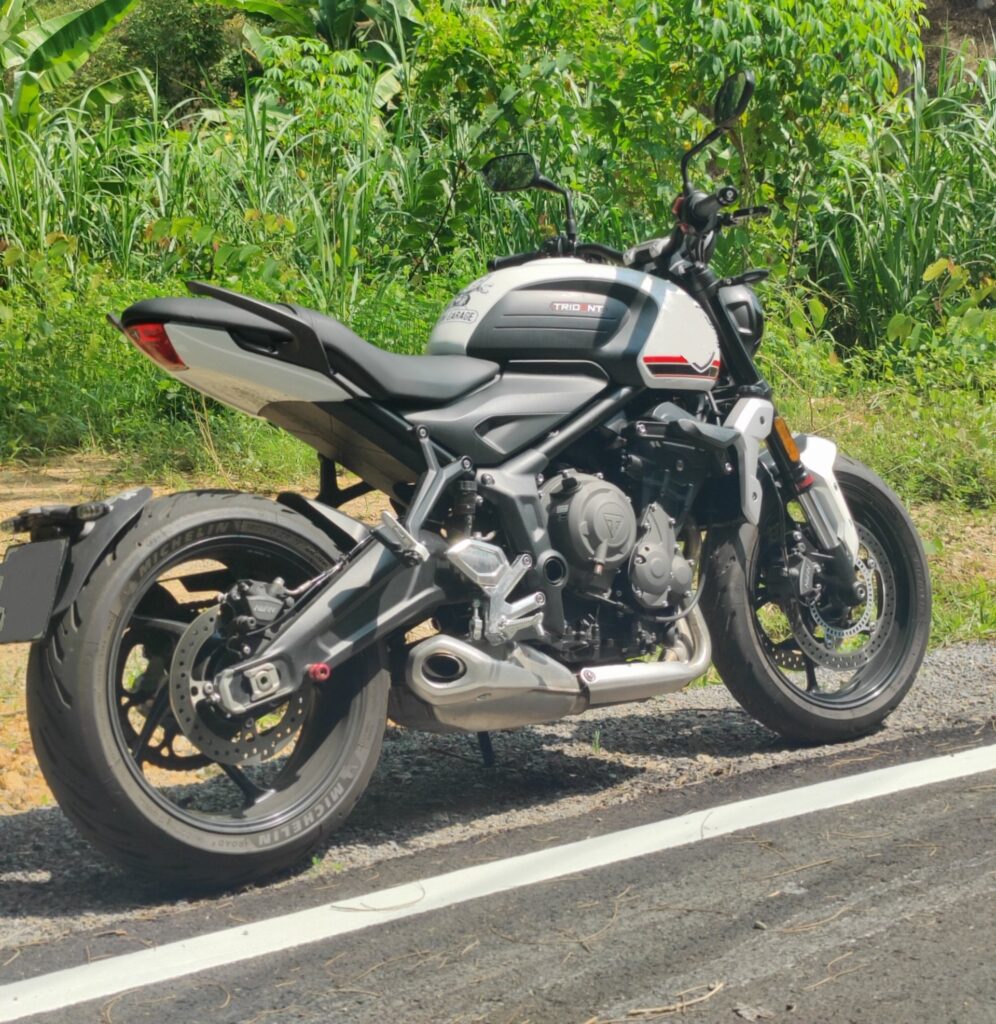 The better option is to design an engine specifically for the road rather than a reworked race engine. This is what Triumph has done for the Trident 660, designing an engine perfectly suited to the road.
If we look at the dyno curve the Trident 660 peaks at 75 horsepower at the rear wheels, literally right at the rpm limiter, and produces 44 ft/lb pretty much between 6000 and 8000 rpm.
There is a nice bulge of torque between 3500 and 4500 rpm which is really where you want it for accelerating from lower speeds without needing higher rpm or lower gears.
The Triumph 660 engine produces more than 40 ft/lb of torque from 3500 rpm and all the way to 9000 rpm which makes for very accessible acceleration which is great for riding on the road which is the Trident 660s natural habitat.
Triumph Trident 660 Thrust Curve
The Trident 660's power and torque curve is perfectly suited for the road and is complemented greatly by Triumph's choice of gearing, which is very low and has a road bias,
This is the case in particulate the first four gears while the remaining two gears are conventionally geared for highway work with rpm not too high when cruising at highway speeds of 60-70 mph.
This choice of gearing does make the best use of that 75 horsepower and the Trident's meaty spread of torque.
The Trident'a engine feels relatively explosive in the first 4 gears regardless of the speed and rpm you find yourself at.
In the lower gears, the fuelling can be a little unpredictable at times with small throttle inputs resulting in the Trident surging forward.
When you want to get a move on, you do have to be quick with your left foot as you'll be hitting the limiter effortlessly when charging through the gears due to that very short gearing.
The engine/gearing package is most effective in town and on the slower twisty stuff sub 80 mph where the Trident punches with authority.
It accelerates from almost any rpm in any gear, unlike any other motorcycle in this class, except for perhaps the Yamaha MT-07, which is a motorcycle that has been the grunt monster of the class since 2014.
I'd bet that the Trident 660 would trade blows with the MT-07 for roll-on performance in most gears!
Though the MT-07 does feel a little livelier which is more likely to do with the Trident 660 having softer part-throttle openings that make it more user-friendly. But as mentioned fulling can be a little unpredictable.
Just like the MT-07 highway overtakes are effortless and do not require dropping down a gear to get the job done effectively.
At highway speeds, rpm sits nicely at a little over 5000 rpm.
If you're in rush to get the job done, as you accelerate to around 75-80 mph and approach 6000 rpm the Trident produces peak torque just as you're at the north end of your overtake, so the acceleration picks up and feels eager the more you twist.
You can of course drop it down to fifth if you are extra impatient at which point the rpm will jump right to where peak torque is, so you're covered.
Of course, you could go faster in fourth and even third but would lose time clicking down the gears, so fifth or sixth is the go and provides more than enough overtaking acceleration.
In fifth or sixth gear between 50-70 mph, the Triumph Trident engine picks up and accelerates like a much bigger motorcycle.
On the road, the Trident is more willing in any gear at any speed than say a Honda CB650R and some others in the class.
The four-cylinder CB only has the edge above 8-9000 rpm but that's not necessarily a good thing if road riding is more your thing than chasing top-end acceleration.
On country roads, you can run in fourth and fifth gear and have more than enough acceleration from corner to corner.
The Trident 660 will happily pull fourth gear from 20-30 mph tight bends.
Just for the noise of the 660 cc Triple, it's tempting to run lower gears and higher rpm, but it's really not necessary to punch from corner to corner, rather short shifting and using that fat torque.

Triumph Trident 660 Acceleration
Motorcycles in this class are not meant to set records when it comes to top speed and acceleration, though that does not mean that they are not fast and capable of laying down some respectable times while putting a grin firmly on your face.
The Triumph Trident 660 is not as fast as a Street Triple 675 nor is it the fastest accelerating in its class, but it still performs very well in a straight line and will humble some sportscars 10 times its price off the line.
To get the best acceleration results/times out of the Triumph Trident 660, as a pilot you must change up gears right at the rpm limiter.
This is because the Trident 660 continues to make power right until the limiter kicks in. This has been typical of many Triumphs over the years.
Most motorcycles will produce power after they have made their peak, meaning that it's not so crucial to change gear at exactly the right moment, with the limited punishing you if you get it wrong,
Timing this right or getting it wrong by changing up too early will make the difference between laying downs those optimum times or not.
The Triumph Trident's very low gearing does make it very accelerative off the line, though the gearing (being as short as it is) can hurt some of the specific times – such as the sprint to 60 mph and the sprint to 100 mph, which are some of the more popular benchmarks.
This is because the Trident requires a gear change to hit 60 mph and just hits 100 mph right at the rpm limiter in fourth gear.
Many competitor motorcycles can hit 60 mph in first gear and 100 mph in third gear, and don't make their peak power right at the rpm limiter, so have a little more flexibility when changing up a gear without the risk of impacting times too much.
You also have to control wheelies! This is due to the Trident's strong torque and very low gearing, meaning it will happily point for the sky as no entry-level naked bike has the right to.
But more often than not the annoying and overly sensitive TCS will spoil the fun and cut the power if you leave it on.
Triumph Trident 660 accelerates from 0-60 mph in 3.43 seconds
If you get it right the Triumph Trident 660 will accelerate from 0-60 mph in only 3.43 seconds and 0-100 km/h in 3.56 seconds.
You must literally kiss the rpm limiter in second gear to hit 100 km/h. If you change up too early, you'll add a few unwanted tenths to your 0-100 km/h time.
If you don't change up at the exact right time by stretching the rpm all the way to the limiter, you'll be more likely to be in the low four-second range for the 0-60mph and 0-100 km/h sprint.
It's not easy to break into the sub-four seconds on the Trident 660 and took too many attempts, as it is very easy to hit the rpm limiter in the first few gears.
Also, the throttle is very fluffy and inaccurate off tick-over when trying to get your rpm right for launching.
The clutch also, while easy does not have the best feel or a bite that is pronounced enough to really launch hard from a dig. It's too easy to go soft from 0-10 mph or spin the rear if you dump the clutch too aggressively.
All of the above will hurt the quarter mile time too if all changes up to fifth gear are not precisely made 'just' before the rpm limiter kicks in. Again hitting the limiter is just too easy meaning lots of mid 12 seconds runs.
With that in mind, string a good launch together and the Triumph Trident 660 will hit a twelve-second flat quarter mile with a terminal speed of 111 mph. (Corrected)
It's a hard motorcycle to get good times out of for sure.
Most of the 0-60mph times were in the mid-four-second range and some in the five-second range due to rpm limiter hits and fluffing the start because the clutch is not communicative enough.
Forget good launches with the traction control on, as any aggressive clutch work will have the TCS kick in and almost every 0-60 mph time will be mid-fours and low 5s.
With the option of an accessory quick-shifter and all else being equal, a sub-twelve-second time is possible but would not be easy. So of course you'll need every gear change to be clutchless.
The Triumph Trident 660 gets to 120 mph pretty briskly at which point acceleration tapers off and you are forced into a racer tuck to accelerate beyond and to its top speed
Being a naked motorcycle and while small, is a little wider than some other naked motorcycles due to the tank width.
Of course, there is no screen or protective fairing to cocoon the rider from the elements.
Due to being a compact motorcycle this also makes it a little harder to make yourself small if you are above average height when in pursuit of a top-speed attempt.
Either way, if you hold on tight enough in a decent tuck with decent conditions the Triumph Trident 660 will top out at a very respectable 127 mph.
Probably a little over 130 mph is possible if you're a little smaller and if the conditions are perfect.
127 mph is not class-leading but beats out the Z650 but lags a little behind the MT-07 and the CB650R.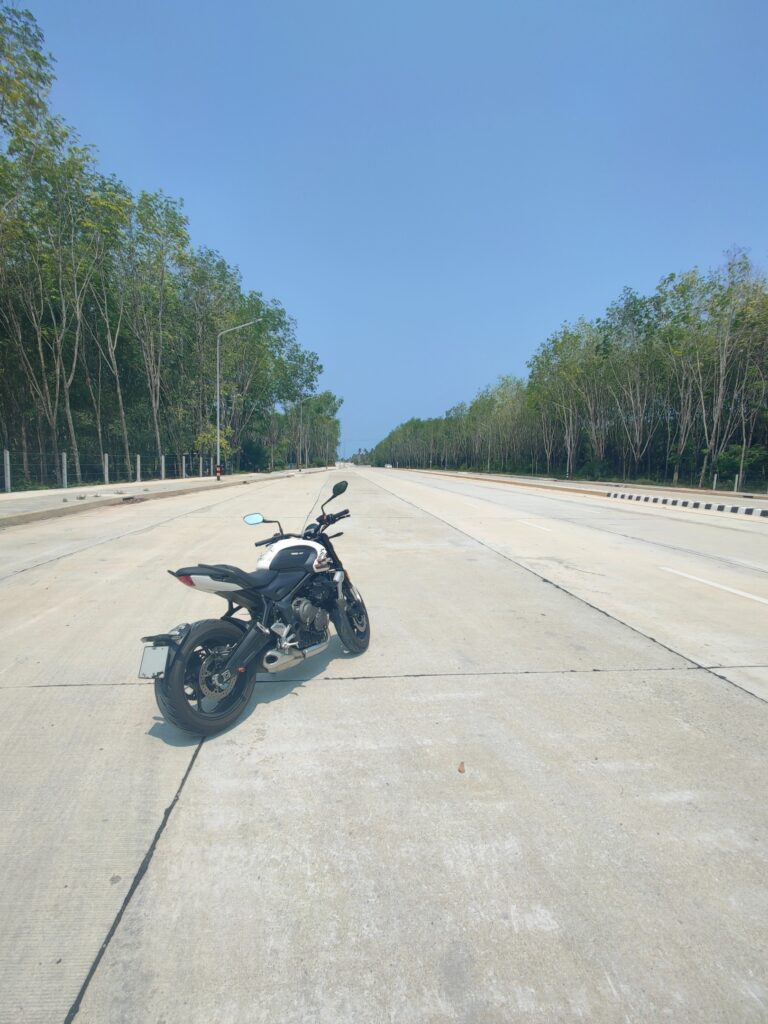 Triumph Trident 660 Top Speed And Acceleration

Speed

Time

0-10 mph

0.39

0-20 mph

0.99

0-30 mph

1.57

0-40 mph

1.99

0-50 mph

2.76

0-60 mph

3.43

0-70 mph

4.41

0-80 mph

5.41

0-90 mph

6.91

0-100 mph

8.90

0-110 mph

11.43

0-120 mph

16.70

60-130 mph

N/A

SS/QM

12.00 @ 111 mph

SS/KM

23.10 @ 124 mph

SS/Mile

33.80 @127 mph

Top Speed

127.8 mph