08-10 Kawasaki ZX-10R Quarter Mile 10.21 @ 147 mph
Kawasaki's 08-10 Gen 3 ZX-10R was a slight return to the original from the softer more grown-up 06-07 model that replaced the first generation ZX-10R.
The Gen 3 ZX-10R got its attitude back, both in appearance and also in the way it rides. It was pointier and even more compact and of course, it had more power too and was very much like the original.
The 2008-2010 Kawasaki ZX-10R is one of the last great analogue motorcycles and is the most powerful too.
Honda and Suzuki continued making analogue motorcycles right up until 2016, while competitors added new machines that embraced new tech derived from MotoGP, such as traction and wheelie control.
Technically, the Gen 3 ZX-10R did kind of have a rudimentary traction control system that measured unexpected spikes in rpm, that would then retard the ignition, though It was not invasive and many that have ridden and owned a ZX-10R would admit that they never noticed any interventions. Neither have I.
The ZX-10R did meet Euro 3 emissions of the time so does have some noise, and emissions restrictions, though fundamentally the Gen 3 ZX-10Rs engine is not softened by tech and nor did it have too many nanny restrictions like many new motorcycles that came after it.
2008 was pre-BMW S1000RR, and in the absence of the BMW, the 08 ZX-10R was the fastest accelerating motorcycle of the time, even beating out the Hayabusa and ZX-14R from 0-150 mph and 0-180 mph sprints in the hands of some testers.
In terms of engine performance, it was ahead of the other Japanese manufacturers with the closes rival being the 2008 Yamaha YZF-R1.
08-10 Kawasaki ZX-10R Dyno Curve
On paper, the Gen 3 Kawasaki ZX-10R was technically the first two-hundred horsepower production motorcycle.
Kawasaki could arrive at that magic double-ton figure if taking the ram air effect into consideration.
Not all other motorcycle brands included ram air in their official power claims, so some rivals of the time may have been closer to the 200 horsepower mark than their claims would suggest.
As if the outgoing ZX-10R which produced a claimed 175 horsepower needed more power, though Kawasaki thought it necessary in light of emerging threats of new and faster motorcycles from rival brands.
To hit that 200 horsepower Kawasaki made various revisions to the engine, such as a higher compression ratio, and reshaped and hand-crafted combustion chambers. Secondary fuel injectors located above the throttle bodies enabled better throttle response and titanium valves and camshaft profiles with higher lift.
Additionally, the airbox and flow to it were redesigned improving efficiency over the older model.
These tweaks to the engine brought power up from the old model to a whopping 200 horsepower produced at 12,500 rpm.
If we discount the ram air effect, peak power is a more modest 188 horsepower. But still impressively 13 horsepower up on the 06-07 Gen 2 ZX-10R.
Measured on the Dyno and excluding ram air, the Gen 3 ZX-10R produces 165 horsepower at 12,400 rpm with peak torque at 76 ft/lb and 9000 rpm.
Compared to the previous Gen 2 ZX-10R, the new model got a little more power in the last 1000 or so rpm, and holds onto that extra power for longer, though at the cost of power and torque through the entire rpm range.
ZX-10Rs prior to the 08 models were not leaders in the class for their bottom and midrange but were strong.
But with the trend toward chasing more and more peak power has come at the cost for each new generation of the ZX-10R in the mid and lower rpm.
The Gen 1 ZX-10R had a stronger bottom and midrange than the Gen 2, and now we see the Gen 3 become a little weaker in that regard also with the model it replaces. This trend continued with the Gen 4 2011 model too.
The Gen 3 Kawasaki ZX-10R engine is pretty flat and 'chuggy' below 4500 rpm but clears up nicely from 4500 rpm and produces more than 60 ft/lb of torque that is smooth and progressively trends up.
Against rivals though, between 4500 rpm and 7000 rpm the ZX-10R is between 5ft/lb and 10 ft/lb down, though from 7000 rpm the Ninja 10R really wakes up and provides just as much of not more thrust.
From 9000 rpm upward the engine is truly ballistic not far behind some of the latest machines.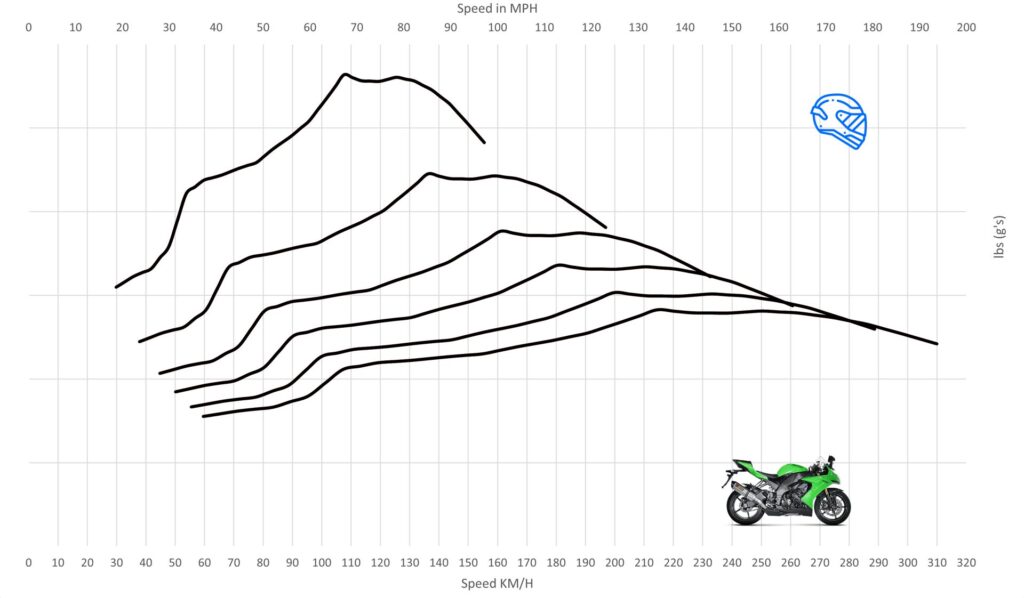 08-10 Kawasaki ZX-10R in-gear acceleration
In 2008 the ZX-10R against its rivals of the time had the weakest engine pretty much anywhere below 8000-9000 rpm.
Typically, motorcycles with a weaker spread of power and torque will often run lower gearing to compensate. This was the case for the Yamaha YZF-R1 from 2004.
That R1 revved higher than the previous R1s and was the highest-revving litrebike at the time.
It produced considerably more power than the 02-03 R1 it replaced but at the cost of mid and low-end courtesy of that new short-stroke engine.
Kawasaki's approach was the opposite. Having the least flexible engine didn't stop Kawasaki from running the longer gearing than rivals in all gears.
The Gen 3 ZX-10R engine being weaker comparatively below 9000 rpm, and combined with the long gearing ensured that the Kawasaki ZX-10R felt a little more wanting on the road.
In-gear roll-on from mid or low rpm is not explosive like the 08 Honda CBR1000RR or 2008 GSX-R1000.
For example, lining up in second gear at any speed below 100 mph against any of its rivals would have the ZX-10R dead last.
Same result for any gear at any speed where rpm is below 9000 rpm.
If you have no experience with the other machines or any other 1000 cc motorcycle, the ZX-10R and its roll-on performance feel just fine and still provide objectively more than enough acceleration to get past traffic.
Speed in gears at 5000 rpm
| | | | | |
| --- | --- | --- | --- | --- |
| Speed at 5000 rpm | 08 ZX-10R | 07-08 YZF-R1 | 08 GSX-R1000 | 08 CBR1000RR |
| Speed 1st | 37.1 mph | 35.9 mph | 36.2 mph | 35.3 mph |
| Speed 2nd | 47.1 mph | 44.1 mph | 45.2 mph | 45.4 mph |
| Speed 3rd | 55.6 mph | 51.6 mph | 54.1 mph | 53.9 mph |
| Speed 4th | 62.3 mph | 59.8 mph | 61.8 mph | 60.6 mph |
| Speed 5th | 69 mph | 66.7 mph | 68.2 mph | 66.5 mph |
| Speed 6th | 74.1 mph | 71.7mph | 73 mph | 71 mph |
In saying that though if you let rpm drop below 4500 rpm in a gear higher than second, there really isn't enough acceleration available. You must go a gear lower and bring the rpm up above 4500-5000 rpm.
In top gear at highway speeds your rpm will be at around 5000 rpm and safe from that dip in torque/thrust.
From 70 mph in sixth gear, despite the Kawasaki being the slowest in the class from that speed in top, you have more than enough to zip past slow-moving traffic.
Out on country bends if you really want to power from corner to corner you must use the gearbox more often and run at least one gear lower than rivals if you want to accelerate as quickly as them.
You can't be lazy and leave the ZX-10R in a gear or two higher and get the same results as rivals.
Unless you are really flying it's not always possible to have the ZX-10R engine screaming at 9000 rpm, which is where it provides exceptional drive.
This is because with the long gearing speeds start to get a little silly.
For example, 9000 rpm in second gear is almost 90 mph. There are not many bends on the road where you'd be wanting to exit at 90 mph.
But 90 mph in second gear at 9000 rpm is right in the sweet spot for the ZX-10R.
But you may want to accelerate from a 50 mph bend in second gear and the ZX10R doesn't drive nearly as hard as rivals.
You'd want to be in first gear but that gets a bit wild and high-side-inducing.
Pretty much all owners fix this with a larger rear sprocket, ECU flash or Power Commander and set it up on a Dyno.
This generation of ZX-10Rs responds exceptionally well to tuning, many making 180 plus at the wheels, and with a fat torque increase everywhere below 9000 rpm. Combine both and the Gen 3 is transformed.
08-10 Kawasaki ZX-10R acceleration through the gears
The 09-10 ZX-10R might be more than a decade old but it puts out numbers not far off the latest machines.
It took Yamaha and their R1 until 2015 for a Japanese brand to beat the ZX-10R for outright acceleration.
Of course, the BMW S1000RR in 2010 dethroned the ZX-10R as the fastest accelerating motorcycle.
Though the Japanese were caught napping enabling the Gen 3 ZX-10R to remain the fastest Japanese Superbike.
After Yamaha, we had to wait until 2017 for Suzuki and Honda to get their act together and release more updated machines that were more powerful.
The Gen 3 ZX-10R is about as fast as a 2017 CBR1000RR stock for stock. Very impressive.
We have no wheelie control to help us launch this missile though the long gearing does actually help a little.
The clutch is not very nice at all and is very grabby and unpredictable.
08-10 Kawasaki ZX-10R 0-60 mph 2.99 seconds
Lots of revs and progressive slipping don't work too well with the Gen 3. Instead, an aggressive clutch dump at around 5000 to 6000 rpm and then driving first gear hard while trying to avoid wheelies is what works.
It's a little way out of its peak thrust but there is just enough drive from 5000-6000 rpm to accelerate well and put down some decent times.
The Gen 3 ZX10R will start to wheelie in first gear really easy as you pass through 7000 rpm at around 50 mph.
The key is to let off slightly and get back on it, with the rear brake covered for good measure.
As you get to 9000 rpm, it's peak wheelie territory with the wheel in the air as you cross off a 0-60 mph sprint in a great time of 2.99 seconds!
It's hard graft though, and mid-threes being what most will get unless you really know how to launch a motorcycle. The Gen 3 is not an easy motorcycle to launch.
At this point, it's tempting to short-shift into second gear to keep the ZX-10R behaving because at 9000 rpm and above the Gen 3 ZX-10R wants to flip and have you off the back if you're not precise with your right hand.
With some subtle throttle control and the front wheel hovering a few inches off the ground, drive it all the way to an indicated 13,000 rpm and shift.
You'll show 100 mph in first gear on the speedo but real speed is a little lower due to the optimistic overread.
The Gen 3 ZX-10R can't quite hit the ton in first gear, but the moment you are into second gear 0-100 mph arrives in 5.52 seconds.
Even on a flat smooth road, the ZX-10R can sometimes look for the sky too when you hook second, though only if you're aggressive and use the clutch when shifting.
Of course, any bumps will have the wheel lifting so you can either just back off the throttle for a fraction, or a slight dab of the rear brake.
The moment you are into third gear the Gen 3 ZX-10R would have accelerated from 0-200 km/h in only 7.44 seconds. Pretty mind-boggling.
It's rock solid in third gear, just feed her the remaining gears with 13,000 rpm gear changes and the quarter mile will flash by in 10.21 seconds @ 147 mph and 0-150 mph in 10.78 seconds.
0-180 mph a nudge under 20 seconds at 19.76 seconds and a little over a kilometre from a dig.
08-10 Kawasaki ZX-10R top speed 189 mph
The 0-180 mph time could be quicker if it were not for the ZX-10R's tiny frontal area. It makes the bike very slippery and is great for top speed but only if you are about the size of Danny Pedrosa.
It's almost impossible for an above-average height rider to properly tuck and get elbows out of the wind.
Despite this, the Gen 3 ZX-10R hits its limited top speed of 189 mph effortlessly. Even without the restriction, it would hit the rpm limiter a little after.
It could probably pull higher gearing for an even higher top speed but you would only achieve this with sprocket change and this would make the lower gears longer and harm the in-gear acceleration which is already weaker than competitors.
08-10 Kawasaki ZX-10R Speed And Acceleration

Speed

Time

0-10 mph

0.51

0-20 mph

0.97

0-30 mph

1.42

0-40 mph

1.99

0-50 mph

2.10

0-60 mph

2.99

0-70 mph

3.63

0-80 mph

4..05

0-90 mph

4.70

0-100 mph

5.52

0-110 mph

6.14

0-120 mph

6.83

0-130 mph

7.87

0-140 mph

8.86

0-150 mph

10.78

0-160 mph

12.00

0-170 mph

14.71

0-180 mph

19.76

60-130 mph

4.78

SS/QM

10.21 @ 147 mph

SS/KM

18.24@ 178 mph

SS/Mile

25.59@ 187 mph

Top Speed

189 mph