The 02-03 YZF-R1 does the quarter mile in 10.52 seconds
We'll take a look at the 02-03 Yamaha YZF-R1s engine performance, top speed, and acceleration.
The 02-03 Yamaha YZF-R1 is the third iteration of the first generation Yamaha YZF-R1.
It's powered by a revised version of the same engine equipped in the original 1998 YZF-R1 with the most significant addition being fuel injection.
The 1998 YZF-R1 and its engine dominated upon release but were overshadowed and knocked back to second place after the release in 2001 of the first-generation Suzuki GSX-R1000.
Honda also released the Honda CBR954RR in the same year as the 02-03 Yamaha R1 with very similar claimed power figures.
In terms of power and acceleration, the 02-03 Yamaha YZF-R1 ended up competing for second or third place instead of retaking its crown.
02-03 Yamaha YZF-R1 Dyno Curve
Claimed power from the 998 cc inline-four is 152 horsepower delivered at 10500 rpm which is 2 up on the previous versions and claimed torque at a thumping solid 78 ft/lb at 8500 rpm.
On the dyno, the 02-03 Yamaha YZF-R1 made comparable power to the previous R1s at 133 horsepower and 72 ft/lb of torque, though did lose a little urgency between 6000-8000 rpm.
Previous R1s had chassis that were overwhelmed by the instant power on tap and as a result, was a wild ride.
Yamaha Improved the chassis of the 02-03 model and softened the power delivery whilst also sacrificing a little grunt in the midrange as described.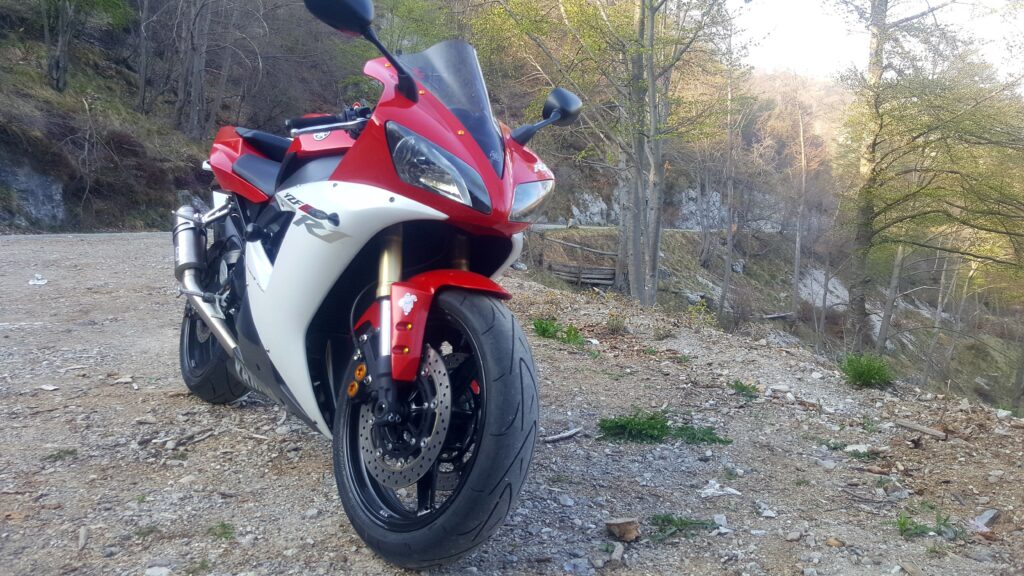 Despite this, the engine is still extremely potent though it is much smoother, and power is delivered more linearly than before.
From 3000 rpm to the rpm limiter, the delivery is strong but quite flat with no obvious surges as it comes on cam.
There is a little dip evident on the dyno graph at around 7000 rpm, but this goes unnoticed on the road.
The little surge after it recovers is also not noticed.
Instead, if you drive the R1 in any gear from below and through 7000 rpm all you feel is a linear drive that progressively gets stronger as the rpm piles on.
The engine on the 02-03 Yamamah YZF-R is certainly not wild like the previous versions but does feel a little slower and less willing but most of that is down to it being smoother and more linear than being objectively weaker.
02-03 Yamaha YZF-R1 Thrust curve
The 02-03 Yamaha R1s gearing is the same as the 2000 and 2001 models but slightly different from the 1998 and 1998 models.
All Yamaha YZF-R1s of this generation, their first gear is pretty spicy. it's a gear that is low and hard to use in anger as it will wheelie like a lunatic from as little as 3000 rpm if you crack the throttle abruptly.
First and second gears are quite widely spaced, so if you're blasting around town using either, it often doesn't feel right with first gear being too low and second gear a little too long.
It of course is not an issue in normal riding situations but is not as ideal as some rivals when getting a move on.
Once you are up to speed the response from the engine is fantastic regardless of the gear that you are in.
In-gear speeds at 5000 rpm
| | | |
| --- | --- | --- |
| Speed at 5000 rpm | CBR954RR | 00-03 ZX-9R |
| 1st | 33.1 mph | 32.2 mph |
| 2nd | 46.1 mph | 42.7 mph |
| 3rd | 55.7 mph | 53.3 mph |
| 4th | 63.6 mph | 62.2 mph |
| 5th | 69.3 mph | 69.1 mph |
| 6th | 74.8 mph | 75.7 mph |
If you are at legal highway speeds the pull-in-top gear from 60-70mph is instant and sometimes you may even think that you are in fourth or fifth gear.
This is because the pick-up is simply extremely good.
| | | |
| --- | --- | --- |
| Speed at 5000 rpm | 02-03 YZF-R1 | K3 GSX-R1000 |
| 1st | 34.3 mph | 35.3 mph |
| 2nd | 46.5 mph | 46.2 mph |
| 3rd | 57.1 mph | 56.4 mph |
| 4th | 64.3 mph | 65.5 mph |
| 5th | 71.4 mph | 72.8 mph |
| 6th | 76.8 mph | 78.5 mph |
There is very little need to change down a gear in almost any situation, as the motor is very strong everywhere and provides all the grunt that you would ever need for overtakes or blasting from one corner to the next.
Equally, the instant grunt is very satisfying.
If compared to newer Superbikes the 02-03 Yamaha YZF-R1 can offer similar and in some cases better performance below 8000 rpm in some gears.
As rpm exceeds 8000 rpm, the 02-03 Yamaha YZF-R1 loses out massively in the top-end to pretty much any Superbike post-2004.
Still, the 130-plus horsepower top-end is ballistically quick like you'd expect from any litre Superbike.
02-03 Yamaha YZF-R1 acceleration and top speed
With broadly the same peak power output as previous versions, we can expect similar acceleration times from the 02-03 Yamaha YZF-R1.
Like the original that is not equipped with wheelie control or TCS, the 02-03 Yamaha YZF-R1 does require a degree of skill to get the best ET times. T
his is because, with 130 plus horsepower, lightweight and a low first gear ratio, the 02-03 Yamaha YZF-R1 is very keen to lift at any point in first gear.
You can launch it in two ways, one being a more aggressive clutch dump at around 4500 to 5000 rpm.
Then you drive it hard once the clutch is engaged and hold on for dear life right up to around 11,000 rpm.
Alternatively, you can be less aggressive with the clutch and slip at around 8000 rpm until your speed fully matches your rpm.
Then nail it again to at least 11000 rpm or as close to the limiter as possible and then change gear.
The clutch feel is not as nice as some other motorcycles and the gearbox is more clunky. It does require a firm kick to engage the next gear, especially when changing into second gear.
You must be firm with the gear change if you want to avoid a false neutral.
As with all motorcycles without quickshifters, clutchless changes are a necessity, but the Yamaha YZF-R1 gearbox can complain sometimes and not engage the next gear consistently.
Whatever method you choose get it right and the 02-03 Yamaha YZF-R1 will launch from 0-60 mph in only 3.07 seconds.
Because first and second gear is spaced wide apart, for the best times, as already mentioned you must stretch first right to around 11,000 rpm, then clutchless change into second.
Changing up any earlier will mean your times will suffer as there is no point in second gear where more thrust available than in first gear.
If you change into second gear before, say at 10,000 to 10,500 rpm you run the danger of rpm dropping to 7500 rpm or below in second gear which is out of where peak torque and thus peak thrust is at.
String it all together and 0-100 mph comes up in a blistering 5.66 seconds which is comparable to most 1000 cc Superbikes of the last 20 years.
This is because the 30-50 horsepower advantage the newer Superbikes have can't really be realised sub 100 mph.
YZF-R1 60-130mph time in 5.99 seconds.
The Dragy 60-130 mph time is dispatched in a very impressive 5.99 seconds. To achieve that time you have to attempt in first gear.
You can do it in second gear and you'll get a more consistent time but a little slower due to starting in a higher gear. You'll also save time because you skip a gear change.
If out in the wiled and roll racing it's probably easier to start in second gear unless you can control the likely wheelie you'll get from starting in first gear.
It's a little after 100 mph, and once into third gear which is where the 02-03 Yamaha YZF-R1 starts to show its age and horsepower deficit compared to newer Superbikes.
But it still charges extremely hard and a little time after crossing the quarter mile in only 10.52 seconds.

02-03 Yamaha YZF-R1's top speed is 172mph
Terminal speed is very good too at 139 mph but is 10+ mph down on the latest Superbikes.
A little after the quarter mile the Yamaha YZF-R1 will crack the 0-150 mph benchmark in only 13 seconds flat.
That's a time that even today is very respectable and enough to upset many Supercars past and present.
For the best ETs right through the box, first and second gear should be taken to near/at the redline while the remaining gears should be shifted at around 11000 rpm.
Just like the original R1, the 02-03 model is a very compact motorcycle with a small screen It is even more compact and less roomy than the latest YZF-R1.
It's quite a slippery motorcycle with a small frontal area but ultimately its top speed is hindered a little due to its dainty size and lack of protection from the elements.
It does provide better cover than the original Yamaha 1998 YZF-R1, though really is suited for smaller riders who'd get more out of a 02-03 Yamaha R1 right up top.
Still, a very respectable top speed of 172 mph can be achieved for the average rider.
02-03 Yamaha YZF-R1 Top Speed And Acceleration

Speed

Time

0-10 mph

0.55

0-20 mph

1.1

0-30 mph

1.52

0-40 mph

2.04

0-50 mph

2.56

0-60 mph

3.07

0-70 mph

3.64

0-80 mph

4.30

0-90 mph

5.00

0-100 mph

5.66

0-110 mph

6.67

0-120 mph

7.65

0-130 mph

9.06

0-140 mph

10.57

0-150 mph

13.00

0-160 mph

17.05

0-170 mph

26.67

60-130 mph

5.99

SS/QM

10.52 @ 139 mph

SS/KM

19.22 @ 164 mph

SS/Mile

27.25 @ 170 mph

Top Speed

172 mph