The 04-06 YZF-R1 does the quarter mile in 10.31 seconds
A look at the 04-06 Yamaha YZF-R1's engine performance, top speed, and acceleration.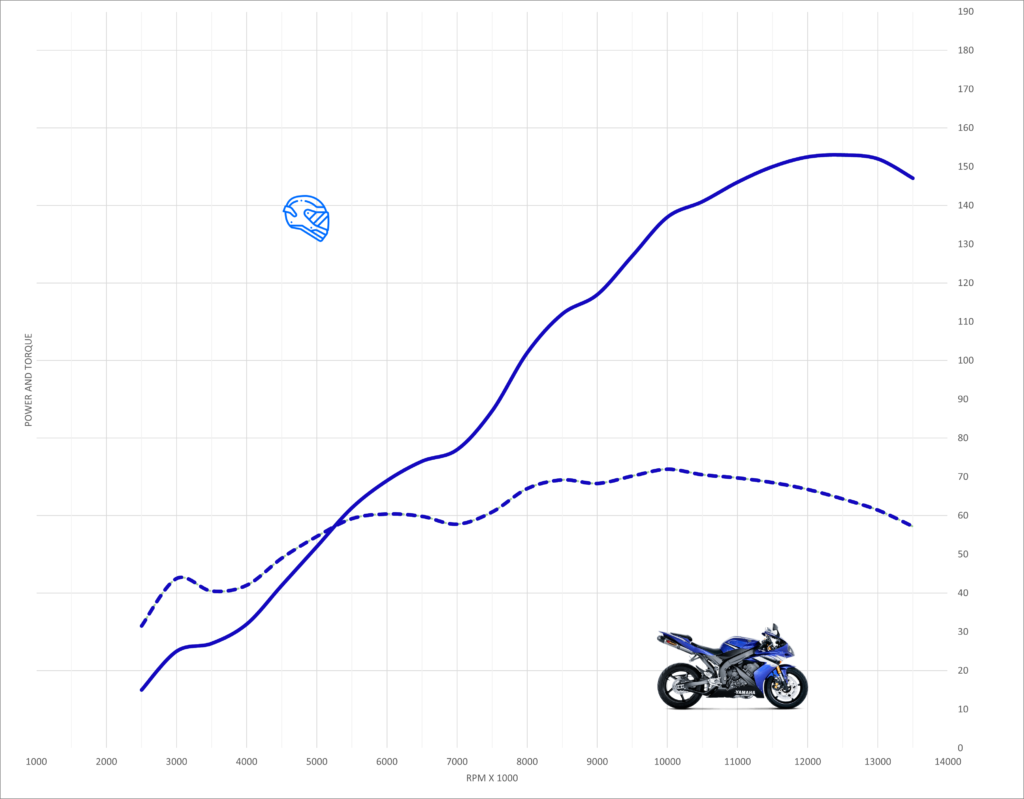 04-06 Yamaha YZF-R1 Dyno Curve
Yamaha fell behind competitors such as Suzuki's K1 and K3 GSX-1000. Both of which made more power than the respective model year R1s that the GSX-R1000 was up against.
In 2002 Yamaha was battling with the 954RR and ZX-9R while the GSX-R1000 was way ahead in terms of engine and straight-line performance.
In 04 both Kawasaki and Honda brought in brand new and more powerful models so the 02-03 Yamaha R1 which shared the same engine platform as previous R1s was replaced in 2004 with a new model that could potentially take on its competitors.
R1s from 98 till 2003 all produced around 150 horsepower at the crank which was monstrous at the time but things moved very fast at the time, and it wasn't long before the R1 was relegated to the middle pack in terms of its engine performance.
the 1998 to 2003 R1s were long stoke engines with power and torque deliveries that focused on a strong bottom and midrange power output, while still delivering a strong top end.
To Yamaha's surprise, the new at the time 2001 GSX-R1000 had the same basic design principle as did the revised 2003 Gixxer too, both versions running 1000 cc long stroke engines but producing more power and torque all throughout the rpm range.
Yamaha decided not to further develop the existing engine, but rather opt for a totally new design that relied on high rpm to claw bake the 10-20 horsepower it lost to competitors.
Gone was the long-stroke and torque-laden engine, now replaced with a much higher revving short-stroke engine.
The engine it replaced of 02-03 R1 produced a claimed 152 horsepower and 78ft/lb of torque.
The new engine was substantially more powerful making similar claimed power to Suzuki's K3/K4 GSX-R1000, Honda's new 2004 CBR1000RR Fireblade as well as Kawasaki's bonkers new 2004 ZX-10R.
Claimed power for the new 2004 Yamaha YZF-R1 was 172 horsepower at 12,500 rpm and a claimed torque output of 79 ft/lb at 10,500 rpm.
On the dyno, the new 04-06 Yamaha YZF-R1 was around 20 horsepower up on the previous model in line with the crank claims, laying down 153 horsepower at 12,500 rpm.
Peak torque was similar to the 02-03 model R1 but lower than the original 98 or 00-01 models with a respectable 71 ft/lb at 10,500 rpm.
Unlike the previous models, the new engine revved much higher making its power anywhere between 1500 and 2000 rpm higher. Peak torque was also produced further up the rev counter too.
The 2004 R1 was the most powerful R1 ever at the time and matched its rivals in terms of top-end power.
Unfortunately, Yamaha's impressive feat of adding increasing output by an extra twenty horsepower did come at some cost to the bottom and midrange output.
The lack of low-down power and torque did anger some R1 purists who loved the previous models for their instant grunt in the mid and low rpm.
Between 3000 and 4000 rpm and from 6000 rpm to 8000 rpm the new 2004 Yamaha R1 just did not have the same instant and satisfying drive of the previous model R1s and was also lacking against its brand new competitors, motorcycles that made similar peak power while not sacrificing power low down to the same degree.
The new 2004 Yamaha R1s engine was a little more like a 750 below 8000 rpm, but beyond 8000 rpm it pulls with incredible enthusiasm all the way to 14,000 rpm and is substantially stronger than the previous model R1s that actually feels a little flat in comparison from 8000 rpm upward.
Rivals were able to produce similar peak power to the 2004 R1 despite using longer stroke engines, which theoretically can't rev as high compared to shorter stroke engines.
To be fair to the 2004 Yamaha R1, once you replace the exhaust and set it up on the dyno, much of the lack of bottom-end and midrange is easily filled in and ensuring that the 2004 R1 pulls much harder.
04-06 Yamaha YZF-R1 Thrust Curve
The 2004 Yamaha R1 got different gearing from the previous models. All gears with the exception of first gear are actually shorter.
Higher revving motorcycles can run lower gearing without sacrificing the top speed potential in each gear because their engines can spin higher.
The longer first gear did exemplify the issue of lack of bottom end but even with lowering the remaining gears the new 2004 R1 below 5000 rpm just does not pick up and go like you would expect a 1000 cc motorcycle.
Additionally, that dip at 7000 rpm too was felt negatively on the road at a point where you expect 1000 cc Superbikes to pull very hard.
This was made worse as the K4 GSX-R1000 and 04 CBR1000RR had motors that were stronger than previous R1s too. These machines made the 2004 R1 feel even weaker below 8000 rpm.
If you have not recently jumped off of another 1000 cc motorcycle, the R1 feels fine in isolation, but the lethargic drive is still very noticeable.
If you crack the throttle at 5000 rpm, it's promising but then it kind of hesitates and does not pick up as you would expect through 7000 rpm.
Once you hit 8000 rpm, you must hold on tight as the turbine-like engine really wakes up and just keeps pulling right to 14,000 rpm like no other R1 before it.
Even against the latest 200 horsepower motorcycles, the top-end kick of the 2004 Yamaha R1 feels very fast.
In-gear speeds at 5000 rpm
| | | | | |
| --- | --- | --- | --- | --- |
| Speed at 5000 rpm | 04-05 CBR1000RR | 04-06 YZF-R1 | 03-04 GSX-R1000 | 04-05 ZX-10R |
| 1st | 34.1 mph | 35.9 mph | 35.3 mph | 38.9 mph |
| 2nd | 44.6 mph | 44.1 mph | 46.2 mph | 48 mph |
| 3rd | 54.8 mph | 51.6 mph | 56.4 mph | 56.7 mph |
| 4th | 62.8 mph | 59.8 mph | 65.5 mph | 64.7 mph |
| 5th | 69.2 mph | 66.7 mph | 72.8 mph | 71.4 mph |
| 6th | 74.6mph | 71.7mph | 78.5 mph | 75.5 mph |
To get the best out of the 2004 R1 engine, it really has to live above 8000 rpm which is where it thrives and is the point where it actually feels like a proper fast Superbike.
If you like the high rpm and 'thrashy' nature of 600s but want more power, the 2004 R1 is great as the engine thrives on revs and sounds brilliant as it comes on cam at 8000 rpm and howls all the way to almost 14000 rpm.
Like a 600 you will have to work the gearbox more often than other 1000 cc Superbikes but it is hugely satisfying if you have the room on the road, as you will be hitting some serious speed.
On the highway, it still has more than enough power and acceleration to overtake slow-moving traffic in sixth gear.
If you let your speed drop below 60 mph (in sixth) you can be left wanting a little more pickup. In this scenario, fifth gear or even fourth gear might be needed if you really need the job done quickly.
Any of the previous R1s handled this scenario much better not having to drop down a gear.
04-06 Yamaha YZF-R1 Acceleration through the gears
The early thousands were the start of the Superbike power wars where 1000 cc Superbikes started to make similar peak power to the first generation Suzuki Hayabusa and ZX-12R, only the Superbikes were 40-50 kg lighter in some cases.
They weren't as aerodynamic as the Hyperbikes but matched them in acceleration at least up to 160-170 mph. It was only then that the roomier and slipperier hyperbikes would be able to edge ahead.
Being the most powerful R1 to date pretty much meant that it was the fastest too.
The lack of bottom and midrange does not hinder the R1 when it comes to flat-out acceleration through the gears. That's because you'll never likely use anything below 8000 rpm unless you mess up your launch and it bogs down.
8000 rpm or above is exactly where you need to slip the clutch as anything lower and indeed the 2004 R1 will indeed bog down.
Like earlier R1s, the clutch feel is not the best.
Once you are familiarised, as the 2004 R1 has a longer first gear you do need to slip the clutch a little longer than the previous models
You must not let the rpm drop below 8000 rpm as you'll bog, then wheelie uncontrollably as the engine comes back on song again.
After slipping for what seems like an eternity until the speed catches up with the rpm, you'd have already done the 0-60 mph sprint in only 2.99 seconds and 0-100 km/h in 3.21 seconds.
Those benchmarks happen before the clutch is even fully engaged .
Once it is you can open her up and twist that throttle as close to the stop as you dare and drive her onward toward 100 mph.
Despite the speedo reading 100 mph plus, even if you kiss the 2004 R1s rpm limiter at 13,750 rpm in first gear, your actual real speed will be around 98 mph.
This means an inconvenient gear change into second gear is necessary to hit a real 100 mph, adding a few tenths to the 2004s R1s 0-100 mph time of 5.55 seconds. Despite this the time is fantastic.
It is not easy to hit 100 mph in under six seconds as once the clutch is fully engaged from the launch, at around 8000 rpm and 60 mph, getting hard on the power ensures that the R1 will effortlessly wheelie just like many other Superbikes.
So you'll have to put as much of your weight over the long tank as possible to help you get as close to 100 % throttle as you can/dare.
You do have the option to sort shift into second where you can get on it much harder and with a lower likelihood of a wheelie but times are arguably a little slower.
The 2004 R1 will still wheelie in second if your gear change is a little abrupt from the typically clunky Yamaha gearbox. Clutchless changes help but any bump or undulation will have the wheel chasing for the sky.
If you get it settled in second gear nicely, just keep feeding the ballistic R1 gears as it piles on rpm.
If the above plays out nicely and you launch well, shift at around 13 to 13,300 rpm and the 2004 Yamaha R1 will light up the strip and lay down a time of 10.31 seconds at 144 mph as it crosses the 402m mark.
Achieved little after the quarter mile the R1s 0-150 mph time is a cracking 11.16 seconds. From around 160 mph onwards is where the latest R1s and Superbikes will start to pull ahead and disappear.
Compared to the previous R1s, the 2004 model is a larger and roomier motorcycle, and a little easier to get into a tuck for taller riders.
The only letdown is the factory screen which is very low. The front end is wider too but the advantage of that is a little more protection for elbows and legs from the elements.
04-06 YZF-R1 top speed is 180 mph
The 2004 R1 is also restricted to 187 mph like many other Superbikes of the last twenty years or so. Your results may vary though you can at least expect a 2004 Yamaha R1 to hit 180 mph top speed.
It hits its top speed in fifth gear right and very close to the limiter.
At least for me, changing into sixth gear will not change the top speed unless you have a little more power or favourable conditions.
This is because once into sixth gear, rpm just stops with the Yamaha YZF-R1 not having the power to pull it past 12,600 mph in top which read around 13,000 rpm on the tacho.
If the 2004 R1 could hit its limiter in top gear the speed would be just shy of 200 mph at 197.1 mph.
If you are a smaller rider you can expect an additional 5-6 mph up top.
04-06 Yamaha YZF-R1 Top Speed And Acceleration

Speed

Time

0-10 mph

0.60

0-20 mph

1.0

0-30 mph

1.52

0-40 mph

1.99

0-50 mph

2.49

0-60 mph

2.99

0-70 mph

3.64

0-80 mph

4.11

0-90 mph

4.77

0-100 mph

5.55

0-110 mph

6.22

0-120 mph

7.20

0-130 mph

8.17

0-140 mph

9.63

0-150 mph

11.16

0-160 mph

13.85

0-170 mph

17.42

0-180 mph

41.62

60-130 mph

5.00

SS/QM

10.31 @ 144 mph

SS/KM

18.62 @ 172 mph

SS/Mile

26.27 @ 176 mph

Top Speed

180 mph