BMW S1000RR can accelerate from 0-180 mph in 16.13 seconds!
Introduced back in 2008/09 BMW's S1000RR came as a massive surprise to the industry and the public.
Not only was the new machine an actual proper BMW sport bike but one that would turn the litre class on its head, something that nobody saw coming.
We all knew how capable BMW is with its rich motorsport history and hugely successful range of M-badged performance cars, to say the least, and not to forget their stint in Formula One
So, BMW knows how to engineer and bring to market a competitive machine.
BMW being who they are we would have expected a proper BMW sports bike to be exceptionally good, but the German brand's first real attempt made anything from Japan or Europe pretty much second-best from the get-go.
Designing and manufacturing a class-leading sports bike is not easy.
To even have a hope of achieving this massive feat the BMW S1000RR took a lot of inspiration from the once very dominant Suzuki GSX-R1000 from 2005, a bike that pretty much duffed-up all bikes that came before it.
The aim from the start was to beat the K5 GSX-R1000 in all areas of engine performance and handling.
Job at hand was accomplished and the S1000RR made 20-30 more horsepower at the wheels versus its nearest rivals of the time and as a result, absolutely dominated in a straight line.
The S1000RR dethroned Kawasaki's 08-10 ZX-10R which at the time was the fastest accelerating motorcycle from 0-180 mph as per Cycle World magazine 'Turn and Burn feature'.
Gen 1 BMW S1000RR Dyno Curve
How did the BMW S1000RR achieve such engine-performance supremacy?
The S1000RR with its 180-190 hp at the wheel had 20 hp over its nearest rival at the time – the 2010 Kawasaki ZX-10R which at best made around 170 hp, a hugely impressive figure also.
The first generation of the S1000RR was amazing and certainly surpassed the K5 GSX-R1000 it set out to beat in terms of peak horsepower.
The BMW S1000RR lead the horsepower game right up until 2015 when Yamaha launched their new YZF-R1 and joined the party of 200 horsepower motorcycles.
It wasn't all plain sailing though, due to BMW's choice of a very 'over-square' engine design which at the time meant that the S1000RR had the widest bore and shortest stroke (80.0mm x 49.7mm) in its class.
This meant that the BMW S1000RR could rev higher and make more power than anything before, but as a result, it was lacking a little in the mid to low end comparably.
Rivals such as Honda's 2008+ CBR1000RR and the GSX-R1000 had better engines for the road as they provided more acceleration lower in the rpm range due to haveing more torque lower down.
Despite this, the BMW S1000RRs's 185 horsepower at the rear wheel could not be ignored. It just destroyed everything at the time.
Nothing much happened below 7000 rpm and below 400 rpm it is particularly flat!
But take that rpm above 7000 rpm the BMW S1000RR takes off like a tow-stroke.
There is a wide 7000 rpm powerband, from 7000 rpm to 14,000 rpm. Keep your rpm there and nothing at the time could compete, and still not much today either. It's that fast!
What BMW released to the public was effectively a race engine.
Fitting an exhaust and giving it a tune to suit would have this machine making 200 horsepower at the wheels which would have been enough to go racing in WSBK at the time.
Gen 1 BMW S1000RR in-gear acceleration
While this lack of bottom-end versus its immediate rivals might have shown up on the road and under more sedate riding conditions, on the track it was meaningless where engines if used properly, rarely drop below 8000 rpm on all but the slowest of corners.
Either way, the BMW S1000RR engine was dominant on the road and track in almost any competitive situation and still matches or beats bikes that are much newer.
Taking a closer look at our Dyno chart the S1000RR makes a hugely impressive 185 hp at the wheels, which is still right up there even today.
Remarkably the BMW S1000RRs dyno curve looks eerily like the 2015 Yamaha YZF-R1 curve, a bike that was Yamaha's response to the dominant BMW S1000RR.
The BMW S1000RR's engine pretty much remained the same peak horsepower right through its 10-year life-cycle but later models benefited from more power and torque lower in the rev ranges through fuelling, cam and exhaust trickery.
The BMW S1000RR was a class-leading engine 10 years ago, and it still makes more power than a 17-19 CBR1000RR and is equal if not a tad under many 2021 models in terms of power and torque.
It's an amazing achievement from BMW that came into the Superbike world and with a first attempt put a stock engine that was 10 years ahead of its time in terms of performance.
BMW S000RR Acceleration Review
The 2010 BMW S1000RR is faster than many new Superbikes
The BMW S1000RR is well known for its straight-line performance the world over and has been a benchmark bike to beat for the high-performance motorcycle and car tuning scene.
Litre bikes from around 2004 onward started to match and beat their Hyperbike siblings like the first gen Hayabusa and ZX-12R for acceleration.
From 2008 onward with the new ( at the time) Kawasaki ZX-10R, litre bikes had the acceleration in the bag, and now also had top end to surpass open class bikes, all other things being equal.
Even when the Gen 2 Hayabusa launched as well as the ZX-14R, stock for stock the BMW S1000RR still had them beat on acceleration.
This is possible because both machines produce very similar peak power but the BMW S100)RR weighs 50 kg less.
The BMW S1000RR has pretty much remained the fastest accelerating stock motorcycle arguably since the 2015 Yamaha R1 was released
This is definitely true for the US as it seems the strict emission regulations hurt the Japanese manufacturers more.
The BMW S1000RR didn't seem to suffer on the dyno as much as its Japanese counterparts and still made 170 hp plus on most US dynos and was the fastest and favoured bike for many in the street racing scene.
To the stats
The BMW S1000RR has performance numbers that are extremely competitive even today and can accelerate from 0-60 mph in 2.96 seconds and 0-100 mph in 5.27 seconds.
The standing start quarter mile in under 10 seconds at 9.98/154 mph which is hugely impressive but a hard number to get.
Most of my times were in the mid-tens with 147-149 mph terminal speeds.
Many litre motorcycles of the last 15 years are capable of under 10 seconds, but some are harder to launch and require expert control, especially if they lack electronics that minimise wheelies.
In most cases and for the most skilled riders, electronics should be off when chasing perfect ETs.
Many older motorcycles that can dip below 10s often have much lower terminal speeds in the 140s while the BMW S1000RR shows its mighty top-end power with a high terminal velocity of 154 mph.
The BMW S1000RR can accelerate from 0-300 km/h in 20.51 seconds.
The S1000RR does not stop there and times an impressive 0-180 mph in only 16.13 seconds!
This is a time that puts it slightly ahead of a 2015 Yamaha R1 which managed 16.28 seconds to the same benchmark but the R1 is very slowly reeling in the S1000RR after a slightly slower start.
The S1000RR also trumps the Panigale 1299 to 180 mph by around 2 seconds but loses out to the formidable Ducati Panigale V4 by almost 1.5 seconds.
Top speed is typical of most litre bikes at 191 mph but unrestricted could possibly nudge 200 mph.
The S1000R suffers a little aerodynamically but was close to the limiter and just a little over where it makes peak HP.
Check out the latest S1000RR HERE
2010 BMW S1000RR Acceleration

Speed

Time

0-10 mph

0.49

0-20 mph

0.97

0-30 mph

1.46

0-40 mph

1.96

0-50 mph

2.46

0-60 mph

2.97

0-70 mph

3.49

0-80 mph

4.03

0-90 mph

4.58

0-100 mph

5.27

0-110 mph

5.87

0-120 mph

6.63

0-130 mph

7.32

0-140 mph

8.32

0-150 mph

9.34

0-160 mph

10.88

0-170 mph

12.71

0-180 mph

16.13

0-190 mph

22.00

0-200 mph

n/a

60-120 mph

4.31

100-160 mph

5.60

SS/QM

9.98/154 mph

SS/KM

17.78/183 mph

SS/Mile

24.984/187 mph

Top Speed

191 mph
BMW S1000RR Specifications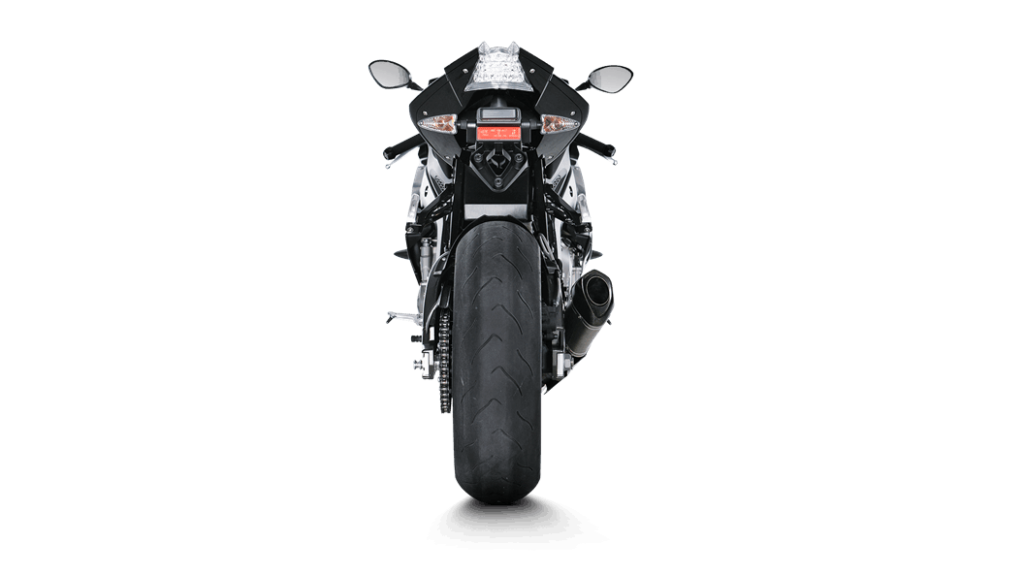 2010 BMW S1000RR

Engine

Displacement:

999.0 ccm (60.96 cubic inches)

Engine type:

In-line four, four-stroke

Compression:

13.0:1

Bore x stroke:

80.0 x 49.7 mm

Fuel system:

Injection

Fuel control:

Double Overhead Cams/Twin Cam (DOHC)

Cooling system:

Liquid

Gearbox:

6-speed

Transmission type

Chain

Chassis

Frame type:

Bridge-type frame, cast aluminium, load-bearing engine

Front Suspension

46 mm Upside-down fork, rebound and compression adjustable

Rear suspension:

Cast aluminium swing arm, Continuously adjustable rear inbound-rebound damping, high and low speed

Front tyre:

120/70-ZR17

Rear tyre:

190/55-ZR17

Front brakes:

Double disc

Rear brakes:

Single disc

Weights and Measurements

Dry weight:

183.0 kg (403.4 pounds)

Seat height:

820 mm (32.3 inches) If adjustable, lowest setting.

Overall height:

1138 mm (44.8 inches)

Overall length:

2056 mm (80.9 inches)

Overall width:

826 mm (32.5 inches)

Wheelbase:

1432 mm (56.4 inches)

Fuel capacity:

17.50 litres (4.62 gallons)