2017 Suzuki GSX-R1000R 0-60 mph in 3.06 seconds
Below, we take a look at Suzuki's latest GSX-R1000 dyno curve, in-gear and outright acceleration through the gears, along with its top speed.
Suzuki GSX-R1000R Dyno Curve
Suzuki's GSX-R1000 had a best-in-class engine right from its first release back in 2001. It made the most power while also being the strongest everywhere for some quite epic roll-on engine performance.
With the engines' ongoing revisions, it kept its lead for several years up until the K5 variant which was pretty much the pinnacle up to that point in time. The K5 GSX-R1000 engine then and still to this day is considered one of the best engines ever made.
From that point forward development kind of slowed to stagnation, while also the engine lost some of its grunt from bore and stroke as well as exhaust revisions due to the engine having to constantly meet newer emissions and noise regulations.
This meant that the once mighty GSX-R1000 engine became slightly neutered and fell behind in the context of new metal from rivals as they developed new and more powerful engines for their Superbikes.
Fast forward to 2017 and Suzuki's latest GSX-R1000R's 999 cc inline-four propels it right up there with the best-in-class producing a claimed 200 horsepower and 87 ft/lb of torque.
On the Dyno, this equates to a solid 180 horsepower at 13000 rpm and 81 ft/lb at 10500 rpm.
Suzuki has increased power and max revs substantially by utilizing a short-stroke engine but has retained a good spread of power and torque throughout the rev range.
You can thank Suzuki's MotoGP-inspired variable valve timing (SR-VVT) system for this as well as of course a myriad of clever new tech and features that come with a new engine,
Suzuki GSX-R1000R in-gear acceleration
While the legendary K5 Suzuki GSX-R1000 makes more power and torque from tick-over to 10000 rpm, the new GSX-R1000R slightly beats it for in-gear acceleration with the newer bike then taking over above 10000 rpm in each gear to deliver a harder and faster top-end hit of acceleration.
The latest GSX-R1000 can achieve this as it runs slightly lower gearing than the K5 which makes up for the fact that it produces a little less power and torque below 10000 rpm compared to the granddaddy model.
You can think of the new GSX-R1000R's engine performance as a K5 with a heap more top end. Which is something to be marvelled at.
The punch it has is very similar, albeit with slightly higher rpm showing in any one gear.
There is literally nowhere in the rpm range where the GSX-R1000R does not respond with instant drive and acceleration. You do not have to worry about what gear you are in at all.
Of the conventional litrebike fours in stock trim, in terms of best all-round engine for the road the latest GSX-R1000 is right there at the top, perhaps only bettered by the current S1000RR which is a motorcycle that would not exist if it were not for the GSX-R1000.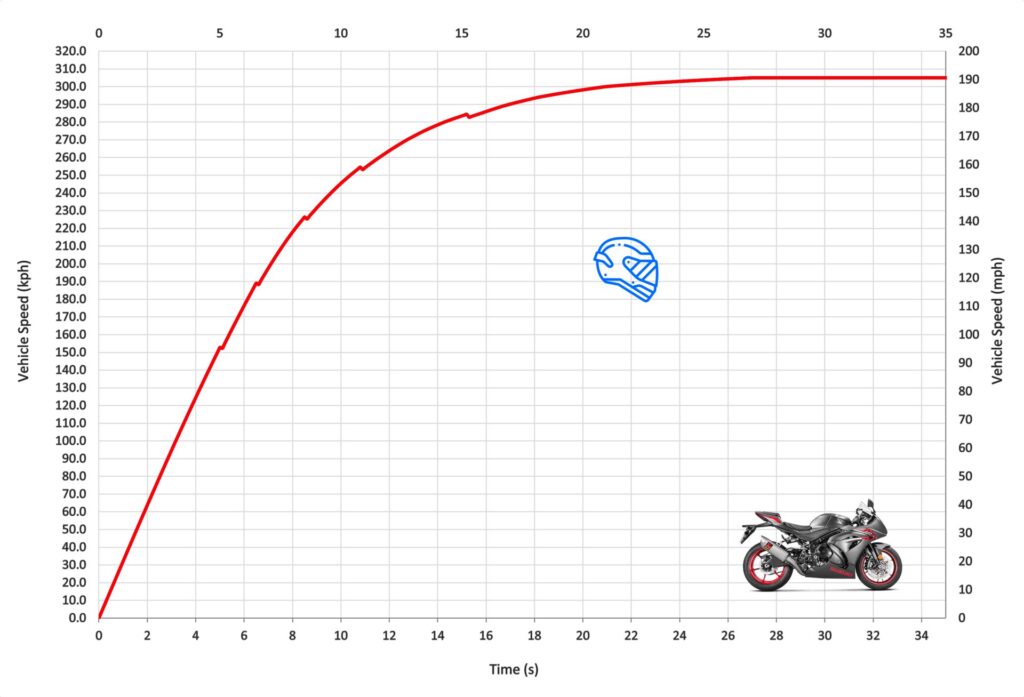 Suzuki GSX-R1000 Acceleration through the gears
Suzuki's' new GSX-R1000R is obviously the fastest 'Gixxer' yet and is up there with the best in class.
Without much fuss, the GSXR-1000R can launch from 0-60 mph in only 3.06 seconds and 0-100 km/h in 3.17 seconds.
The GSX-R1000R is not fussy how you launch as there is heaps of drive but generally clutch slip at around 8-10,000 rpm yields the best results.
There is only a couple of motorcycle that can notch up a real 100 mph in first gear despite what their optimistic speedos may report.
The Suzuki GSX-R1000R isn't one of them and can't quite hit 100 mph in first gear so requires a change to second gear with that being said, 0-100 mph is up in only 5.42 seconds.
The race to 200 km/h for the GSX-R1000 is one of the fastest at a blistering 7.08 seconds. It would not take much to dip under 7 seconds if the stars aligned.
If the former does align, like many modern Superbikes the GSX-R1000 can dip under 10s on the quarter mile but for now 10.10 seconds with a terminal of 153 mph it is.
Getting into the 9s really requires a very good sixty-foot time, generally under 1.8 seconds depending on how much power you have.
The 0-180 mph sprint which is the one that really demonstrates the top send pull of a motorcycle is chalked-up in 16.80 seconds only, thus making the GSX-R1000 Hypercar fast.
Hold on for a little longer and the GSX-R1000R will achieve a top speed of 189 mph at about a mile from a standing start but this could be a fair bit higher though, as the GSX-R1000R is a few 100 rpm off the rev limiter.
A tooth or two removed from the rear sprocket would see the GSX-R1000 hit 195 mph plus. With a pipe and tune, 200 mph is doable for sure.
Suzuki GSX-R1000R Acceleration and Top Speed

Speed

Time

0-10 mph

0.35

0-20 mph

0.90

0-30 mph

1.46

0-40 mph

2.00

0-50 mph

2.51

0-60 mph

3.06

0-70 mph

3.59

0-80 mph

4.13

0-90 mph

4.71

0-100 mph

5.42

0-110 mph

6.00

0-120 mph

6.81

0-130 mph

7.55

0-140 mph

8.40

0-150 mph

9.76

0-160 mph

11.41

0-170 mph

13,10

0-180 mph

16.80

60-130 mph

4.53

100-150 mph

4.30

SS/QM

10.10 @153 mph

SS/KM

17.98 @183 mph

SS/Mile

25.89 @188 mph

Top Speed

189 mph