Ducati DesertX 0-60 mph in 3.66 seconds
The Ducati DesertX has to be one of the coolest-looking motorcycles of recent times.
Looking like a modern take on the Paris Dakar-winning Cagiva Elephant, the DesertX it's certainly a striking-looking motorcycle with those retro round headlights to those subtle 80s stripes.
The Ducati DesertX will be the first Adventure motorcycle we have speed tested in the ever-popular class.
The DesertX is just like any other Adventure motorcycle, where the purpose of the Ducat is not straight-line performance.
This motorcycle is designed to live almost anywhere and has plenty of offroad prowess though will definitely for most people live life on the road predominantly.
Many will say that you don't need big power and performance from a motorcycle that is designed for the dirt.
Despite this, Adventure motorcycles become more powerful over the years.
Now we have a new class of 'Super Adventure' motorcycles producing the same kind of power that 1000 cc Supersport motorcycles did back in the early and mid-2000s.
Motorcycles such as KTM's 1290 Adventure is a 160 horsepower monster and accelerates like a missile.
The Ducati DesertX slots nicely now in the midweight category of Adventure motorcycles.
In fact, the Ducati DesertX is actually not much more powerful than the 95 (crank) horsepower Cagiva Elephant that inspired it. It's around the same weight too.
Ducati DesertX Dyno Curve
| | |
| --- | --- |
| Power/Torque | Ducati DesertX Power & Torque |
| Power | 95hp @ 9,300 rpm |
| Torque | 58 ft/lb @ 6500 rpm |
The engine in the Ducati DesertX gets about a bit. It's the same engine that powers the Supersport and the new Ducati Monster as well as various Multistrada models to name a few.
The engine is a 937 cc 11° liquid-cooled 8-valve V-twin Testastretta.
Claimed power is 110 horsepower produced at 9250 rpm and 68 ft/lb of torque at 6500 rpm.
Despite producing the same claimed horsepower figures as other motorcycles using the same engine, on the Dyno there does seem to be some variation between rear wheel power and torque figures.
If this is true then it is likely to do with different mapping to suit each motorcycle type.
Or it could just be dyno or variation between motorcycles, as not even the same motorcycle will produce the same horsepower on the same day back to back.
If this is true then it is likely to do with different mapping to suit each motorcycle type, or it could just be dyno or motorcycle variation.
Depending on the dyno and bike using this 937 cc engine, we see anywhere between 95 and 105 horsepower at the rear wheel.
The Ducati DesertX produces 95 horsepower at 9300 rpm and 58 ft/lb at 6500 rpm so perhaps a little lower than other DesertX's that have been tested.
Power and torque are delivered very linearly, and it's no surprise that there are similarities between the Mosnter and Supersport.
The Ducati DesertX is definitely fuelled nicely with a more accurate response to small throttle inputs compared to both the Monster and Supersport.
This is likely the case because the Ducati DesertX will be ridden more often at low speed and on uneven surfaces by nature of it being an all-terrain motorcycle
The Ducati DesertX also sounds a little nicer than both the Monster and Superport. It's more characterful and raspy with an even nicer Aribox raw.
At tick-over, it also sounds much less like a cement mixer than the other two.
Ducati DesertX Thrust Curve
Having jumped straight onto the Ducati DesertX after testing out the Ducati Monster. The two motorcycles sharing the same engine had me even more interested in how the engine of the Ducati DesertX would feel and perform.
Ducati made a wise choice with the Gearing of the DesertX.
Typically when the same engine is used in various motorcycles, individual gears are more often never changed, instead, just the final drive ratio is changed.
This option while succeeding at either lowering or lengthening gears is not always ideal.
Ducati did the smart thing and changed the first, second, and sixth gears on the DesertX as well as the final drive.
By doing this gearing can be better suited to the actual purpose of the motorcycle.
Once you get on the DesertX and start using it, despite being 40 kg heavier than the Ducati Monster it doesn't feel much slower, especially in the first three gears.
This is thanks to that lower gearing that is making up for that extra weight and perhaps slightly less observed rear wheel power.
It's a great engine that is much smoother with better fueling than the Monster.
The Ducati DeserX is quite happy to sit in first gear at slower than walking pace at constant throttle and no need to slip the clutch from closed or any throttle opening.
Not many bikes or twins can do this comfortably because often modern fuel injection systems are a little inconsistent and unpredictable.
As the speed gets higher, just like other motorcycles that share the same engine, the Ducati DesertX is very flexible and punchy.
It's even more capable of driving higher gears at lower rpm with less judder which is common on bit L-Twin motorcycles.
I found myself often driving fourth gear from below 3000 rpm with far fewer complaints from the engine than I'd expected.
You can be lazy with gears but this bike is very nice to use all the rpm. Not just because the engine gets lively past 6000 rpm, but because of that sound. It's very addictive.
The airbox raw is dominant. From the seat, it doesn't sound like a L-Twin motorcycle, more like a Supercar.
When you're not playing with high rpm shenanigans as mentioned the engine is very tractable.
Out on faster roads or the highway, there is plenty of available acceleration in sixth gear so no need to shift down.
Engine rpm sits at around 4800 rpm at 70mph/112km/h which is right where torque starts to build.
This means acceleration becomes more eager, and before you know it you're effortlessly doing 100 mph with whatever you just overtook a spec in the mirror.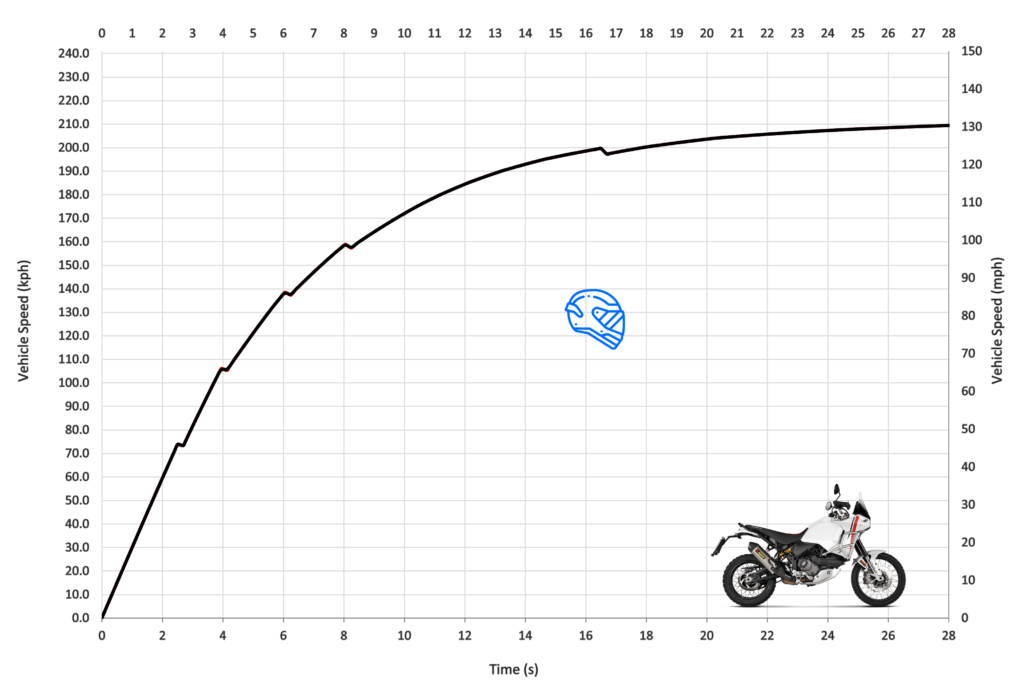 Ducati DesertX 0-60 mph in 3.66 seconds
The Ducati DesertX is the first Adventure-type motorcycle we have tested other than the Multistrada V4.
These types of motorcycles in terms of their shape and ergonomics go against what is suitable for optimum straight-line performance.
The Ducati DesertX is wide and tall though there is enough weight over the front to limit wheelies and help with launching.
Unfortunately, just like the Monster tested previously, the Ducati DesertX also exhibited issues when changing from first gear to second gear using the quick shifter.
This would only happen when launching aggressively. False neutrals or a refusal to notch second gear accompanied by a flashing dash.
Because the Ducati DesertX can't quite reach 60 mph in first gear and requires second gear, it is important to get that shift done quickly.
A good portion of the 0-60 mph launches had to be aborted due to the above issue raising its head.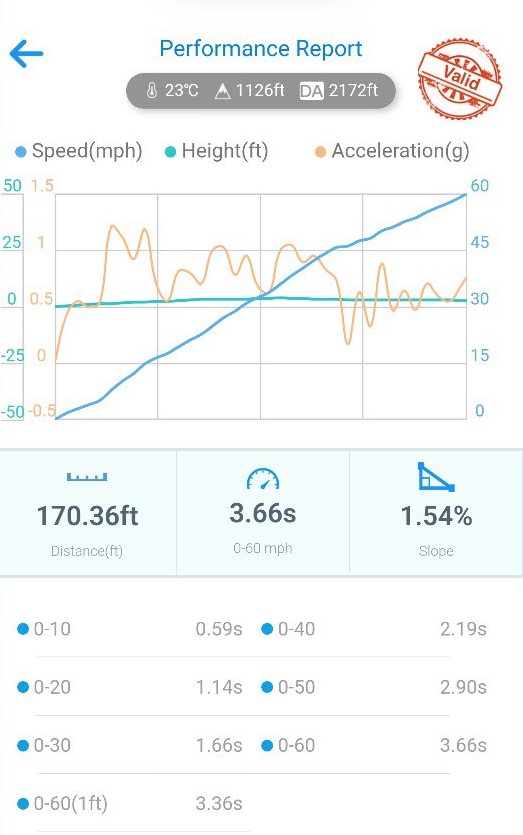 Despite this, we still got many very good runs.
The DesertX is quite easy to launch. It will lift in first gear quite enthusiastically but due to the good fuelling it was quite easy to operate in that fine line between getting the best acceleration without unwanted wheelies.
You had to be careful though as sometimes (at least for me) the Ducati DesertX would like to lean to the left at an angle when launching.
There were a few times when I thought that the front wheel would wash out.
After very many attempts, the Ducati DesertX managed a very impressive 0-60 mph time in only 3.66 seconds and a 0-100 mph time of 3.83 seconds.
The DesertX could probably have done better, but we were at a little altitude and the road surface was less than ideal.
With a competent rider the Ducati DesertX will do sub-four second 0-60 mph runs all day long.
Impressively, the Ducati DesertX is just as fast from 0-60 mph using second gear. It's a fraction softer from the dig but makes up time because a gear change is not required to reach 60 mph.
Only four seconds after hitting 60 mph the Ducati DesertX will crack 100 mph which it does in only 8.68 seconds. Again this could be a little quicker at lower altitudes and on a better surface.
I would doubt though if it could crack sub 8 seconds. Maybe on a prepped surface and with a jocky weight rider.
Quarter Mile testing was fun. Thanks to the low ratios that are relatively close, you're frapping through the gears and just hooking fifth gear as you cross the line.
For most of our testing, we were hitting very low 12s with terminal speeds between 108 and 113 mph.
I knew the DesertX had 11s in her and she did not disappoint.
Ducati DesertX does the Quater Mile in 11.84 seconds
Once we got our first eleven-second quarter Mile time, they kept coming after.
In the end, the best quarter-mile time for the DesertX arrived at 11.84 seconds with a 110.5 mph terminal speed.
Terminal speed should and would have been 112-113 mph and the time would have been a few fractions of a second faster but as you can see, with my best time I actually let off right at the end.
The 60ft time is not as good as could be but that is thanks to the poor surface where even the DesertX wants to spin on that initial clutch dump.
So there is a little more in it for sure. And with more time I am confident we would have seen lower numbers.
In optimum conditions and with a lighter rider I would imagine the DesertX would be capable of a low to mid eleven second run with a 115 mph terminal speed.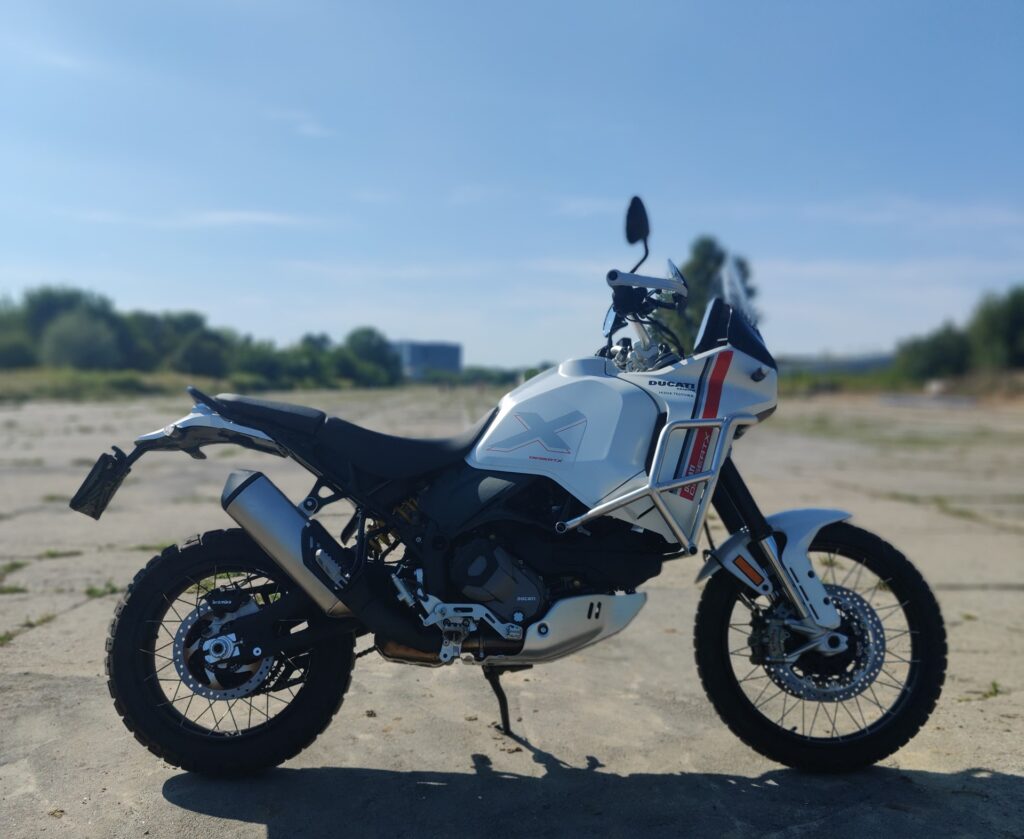 Ducati Desert X Top Speed 135 mph
The Ducati DesertX is a relatively large motorcycle. It's not large for an Adventure motorcycle but for the purpose of top-speed testing, its font end is not conducive to svelte cutting through the air type action.
One advantage to all of that fairing is the rider has plenty of room to tuck out of the wind. You literally feel almost zero wind once you moderately tuck.
You can thank that windshield. It really does its job well.
We didn't get many top-speed runs in though the Ducati DesertX still hit an impressive top speed of 135.5 mph comfortably.
I have no doubt that the DesertX would bounce off the limiter in top gear in the right conditions. That would mean around 140 mph.
Ducati DesertX Acceleration Through The Gears
Ducati DesertX
Speed
Time
0-10 mph

0.59

0-20 mph

1.14

0-30 mph

1.66

0-40 mph

2.19

0-50 mph

2.90

0-60 mph

3.66

0-70 mph

4.25

0-80 mph

5.63

0-90 mph

5.40

0-100 mph

8.68

0-110 mph

11.30

0-120 mph

14.00

0-130 mph

25.02

60-120 mph

10.34

SS/QM

11.84 @ 110.5 mph

Top Speed
135.5 mph