Yamaha YZF-R6 0-60 mph 3.19 Seconds
It is amazing to think Yamaha's YZF-R6 has been with us since 1999 and twenty-plus years.
While this little banzai Yamaha has seen many changes throughout the course of its life, it has remained as deathly focused as ever and racking up 8 World Supersport Championships since 1999.
The latest Championship is coming about via Andrea Locatelli as of this week and time of writing.
The Yamaha YZF-R6 is also the most popular club racer too in domestic championships all over the world, and has been for years racking up countless championships at all levels.
The first generation YZF-R6 was the first production normally aspirated engine to hit the magic 200 hp per litre mark, a number only a Formula One car could match and beat.
The import Japan only 250 cc pocket rockets such as the CBR2500RR were close, making a wild 45 horsepower from only 249 cc but they made around 180 hp per litre.
As motorcyclists, we are used to high revving high output engines but the original Yamaha YZF-R6 took it to the extreme and was able to rev to an astonishing 15,500 rpm plus.
The needle on the tacho will actually show north of 16,500 rpm but it's optimistic just like the speedometer.
The Yamaha YZF-R6's ability to rev so high was possible via an impressively designed and compact extremely over-square short-stroke motor.
It has a very aggressive bore and stroke of 65.5 mm × 44.5 mm.
Most other bikes in the class at the time topped out at around 13,500 rpm which by any standard is still very impressive.
As a result of the R6's ability to rev so astronomically high, as a result, it produced more peak horsepower at around (5-10 at the wheels) over its closest competitors such as Honda's CBR600F4i and later on the CBR600RR.
Roll on to today, and we have the fourth generation of the YZF-R6.
Now though, like most current Supersport and Superbikes the latest YZF-R6 has an array of electronic rider aids and very up-to-date modern styling that the 2020 Yamaha R1 took much of its inspiration from.
I would argue that the Yamaha YZF-R6 is the more attractive motorcycle.
Amazingly though…
While the generation 4 YZF-R6 has seen many tweaks to the engine over the original 1999 model – including an even more over-square motor at 67.0 mm x 42.5 mm, it only makes a claimed 3 hp more at the crank over the original.
The generation 3 YZF-R6's actually are a little more powerful than the latest model which is surprising
Much of the latest YZF-R6's diminishing power can be attributed to the very stringent noise and emissions regulations that were not so strict for previous generations.
Motorcycle manufacturers have an incredibly hard time designing very high revving high output engines that also have to abide by ever more stringent noise and emissions regulations.
It's hard enough adding more power to an engine that is already on the borderline of its potential without restrictions.
The actual hardest part is meeting all of these ever more aggressive regulations without actually losing power.
So what can it do?
Yamaha YZF-R6 Dyno
The latest Yamaha YZF-R6 produces 110 horsepower at 15,000 rpm and 43 ft/lb delivered at 11,000 rpm.
These are great numbers from a 600 cc motorcycle but are a little down on the previous generation.
Arguably the latest Yamaha YZF-R6 has a ten horsepower advantage at wheels over the original, a number that could be higher if it were not for the stringent noise and emissions regulations already mentioned.
From 2006 onward is where the YZF-R6 got more powerful than the previous generations but it did come at a cost to the midrange and bottom end.
The original YZF-R6 was probably the most gutless of the 600s due to its (at the time) highest peak output and massive rev ceiling of 15,500 rpm.
from 2006 and right up to the current model, these versions are arguably even more gutless than the original.
For the latest YZF-R6, nothing really happens until 9,500 rpm.
Below 5000 rpm the engine is very lethargic. If you look at the dyno curve between 3000 rpm and 500 0rpm the YZF-R6 produces less than 25 ft/lb of torque.
Many rival machines at the same rpm would produce 10-15 ft/lb more.
Around 5000 rpm torque picks up a little and you are led to believe that the midrange will be fat, but then it goes flat and then recovers slightly and slowly builds up.
In that vital midrange rpm, also many competitors are producing 10-15 ft/lb more torque.
Once the Yamaha YZF-R6 engine gets to the north side of 9000 rpm, it finally wakes up and starts delivering some drive with a nice surge in torque and power.
Torque peaks at 11,000 with the YZF-R6 holding onto this torque well where it stays above 40 ft/lb and only drops off a little over 15,000 rpm.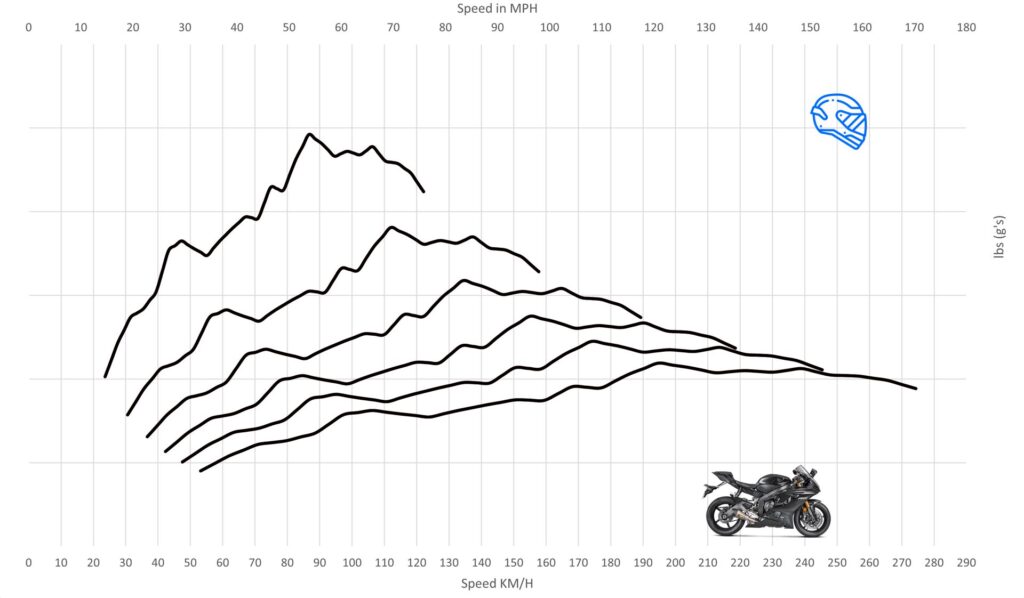 Yamaha YZF-R6 In-Gear Acceleration
Just like the original YZF-R6 and most Supersport 600s, to make rapid progress you really must keep their engines singing in their sweet spot!
For the YZF-R6 this is a little higher in the rpm than some of its rivals at no less than 9,500 rpm!
From this point forward is exactly where the YZF-R6 really begins to howl and gets a move on quite nicely and with very impressive drive.
In first gear, the YZF-R6 will power the wheelie as the rpm crest over 8000 rpm much like its bigger brother the R1. It will also power wheelie over crest in second gear too.
If you really enjoy thrashing a motorcycle everywhere the YZF-R6 is highly rewarding.
Though, like most people, even if you enjoy screaming the engine, most of the day-to-day riding you will be at the speed limit with the rpm low in a higher gear.
And this is where the Yamaha YZF-R6 can become a little frustrating. That's because there is not enough torque below 8000 rpm for brisk overtakes.
When pootling about in town we want our rpm low so use higher gears to keep the rpm low.
Riding on the YZF-R6 in town might mean cruising at 30 mph in third gear with the rpm at around 4000 rpm. Opening up the throttle here provides anaemic acceleration.
If you desire some decent drive, this often means that switching between first and second gear in town and dealing with higher rpm is the way to go.
Many rivals will handle thrid gear cruising in town much better than the YZF-R6.
The same can be said on faster roads. Unless the rpm is above 9,500 rpm pick-up is not great in any gear.
If you are riding with other 600 Supersports, and you want to keep up, in most situations the YZF-R6 will require one gear lower unless the engine is above 9,500 rpm.
If you want a more flexible and usable engine from a 600 there are better options especially any generation of Kawasaki's cheater bike, the ZX-6R (636) which had a sneaky 36 cc advantage.
That extra 36 cc doesn't sound like much, but it really made for a grunty (by 600 standards) engine that works really well on the road.
Or the GSX-R600s which also have great engines for the road that provide respectable midrange and bottom-end torque.
Additionally, you could go for the softer and more comfortable Honda CBR650R which due to its lower state of tune and 50 cc extra is a more flexible engine.
But the Honda CBR650R does sacrifice the R6's insane top-end pull which is very intoxicating and hard to ignore.
If you need more torque lower down, I am happy to report that like most motorcycles the latest YZ-R6 really does benefit hugely from a 3/4 system that junks the restrictive catalytic converter.
If you compliment it with an ECU flash, you'll see some very impressive gains right through the rev range, as well as a healthy increase at the top. Both are must-do modifications.
It is not unheard of for gen 4's to make 120 horsepower plus at the wheels after these simple bolt-on mods.
Like all high-revving 600s the R6 motor is hugely rewarding and really begs you to thrash it and chase the redline to eke out every bit of performance.
This is something that you can't really do on a modern litrebike on the road due to the sheer reach in speed in any gear that they have are a much greater threat to your licence.
Not to mention their mind-bending acceleration that will have you doing big speeds with a very little twist of the throttle.
YZF-R6 vs ZX-6R 636 speed in gears at 5000 rpm
Speed at 5000 rpm
ZX-6R 636
YZF-R6

Speed 1st Gear

25.4 mph

24.5

mph

Speed 2nd Gear

32.8 mph

31.6 mph

Speed 3rd Gear

39 mph

38 mph

Speed 4th Gear

45.1 mph

43.8 mph

Speed 5th Gear

50.8 mph

49.2 mph

Speed 6th Gear

55.6 mph

55 mph
Yamaha YZF-R6 Acceleration Review
The R6 has consistently and arguably been the fastest accelerating 600 in class from day dot. Probably a ZX-636R would have the legs on it but as its name suggests it has a 36 cc advantage.
Modern 600s can hang with and beat even literbike L-twins of the late 90s and early thousands and beat some litre 4s bikes from the late 90s too.
Even if you own any model of the GSX-R750 of the last 20 years, you'd need to have your wits about you if you challenge the YZF-R6 for a straight-line duel.
Yamaha YZF-R6s are really very impressively fast, at the top and punch way above their weight.
All R6s are very quick regardless of year, but due to the nature of their very peaky engines, to effectively launch you really need a lot of clutch slip.
It is extremely important to keep the motor spinning above 9000 rpm but ideally around 11000 rpm until the clutch is fully engaged.
If you fail to slip the clutch enough the engine will bog and you will kill your time launch times.
For best-timed results, despite power tailing off at around 14900 rpm, you really have to draw out each gear a smidgen before the limiter and bang the next gear as you'll lose time.
Our R6 on test managed to accelerate from 0-60 mph in a partly 3.19 seconds, a time in the ballpark of any litrebike.
Yamaha YZF-R6 Acceleration Through The Gears
0-100 mph for the Yamaha YZF-R6 is achieved in only 6.08 seconds! That is faster than a Mclaren F1, which hits 100 mph in 6.3 seconds.
The R6 does not run out of puff and can consistently – if perfectly launching and shifting do the standing quarter mile in a wild 10.89 seconds with a terminal of 133 mph.
The same Mclaren F1 does it in 11.1 albeit at 138 mph.
Before we get carried away, just after the quarter mile the F1 would reel the little Yamaha in and pass it quite easily, though still, the R6 will be charging hard by 600 standards.
The Yamaha YZF-R6 will hit 150 mph in only 16.12 seconds versus the Mclaren's 12.8.
Above 150 mph the R6 kind of runs out of puff compared to bigger bikes or mega-power Hypercars, though it makes its way to its peak top speed of 160.3 mph which is very respectable.
Your results may vary depending on your size/weight and the weather conditions, as a headwind can really kill a 600s performance.
The famous Dragy 60 to 130 mph time is dispatched in a very respectable 6.86 seconds and not far behind the original 1998 R1 tested HERE.
You may wonder 'why' the McLaren F1 comparison. I only compare the R6 to the McLaren to illustrate the amazing performance that can be had from what is a cheap 600 cc mass-produced motorcycle.
It's an amazing fact that at any speed under 130 mph and you can live with many megabuck Supercars past and present.
It is hugely impressive and why we love motorcycles.
Yamaha YZF-R6 Acceleration
Speed
Time
0-10 mph

0.52

0-20 mph

1.04

0-30 mph

1.57

0-40 mph

2.10

0-50 mph

2.64

0-60 mph

3.19

0-70 mph

3.73

0-80 mph

4.44

0-90 mph

5.15

0-100 mph

6.08

0-110 mph

7.08

0-120 mph

8.45

0-130 mph

10.04

0-140 mph

12.53

0-150 mph

16.12

0-160 mph

32.92

60-130 mph

6.86

SS/QM

10.89/133 mph

SS/KM

19.92/154 mph

SS/Mile

28.46/159 mph

Top Speed
161.3 mph
Yamaha YZF-R6 Specifications
Yamaha YZF-R6

Engine

Displacement:

599cc

Engine type:

liquid-cooled DOHC inline 4-cylinder; 16 titanium valves

Compression:

13.1:1

Bore x stroke:

67.0mm x 42.5mm

Fuel system:

Injection

Cooling system:

Liquid

Gearbox:

6-speed

Transmission type

Chain

Chassis

Frame type:

Aluminium alloy

Front Suspension

43mm KYB® inverted fork, 3-way adjustable; 4.7-in travel

Rear suspension:

KYKYB® piggyback shock, 4-way adjustable; 4.7-in travel

Front tyre:

120/70-ZR17

Rear tyre:

180/55-ZR17

Front brakes:

Double disc

Rear brakes:

Single disc

Weights and Measurements

Wet weight:

190 KG

Seat height:

850 mm

Overall height:

1150 mm

Overall length:

2040 mm

Overall width:

695 mm

Wheelbase:

1375 mm

Fuel capacity:

17 L