Aprilia RS 660 Versus Yamaha YZF-R7
Yamaha YZF-R7 versus the Aprilia RS 660 engine performance, acceleration and top speed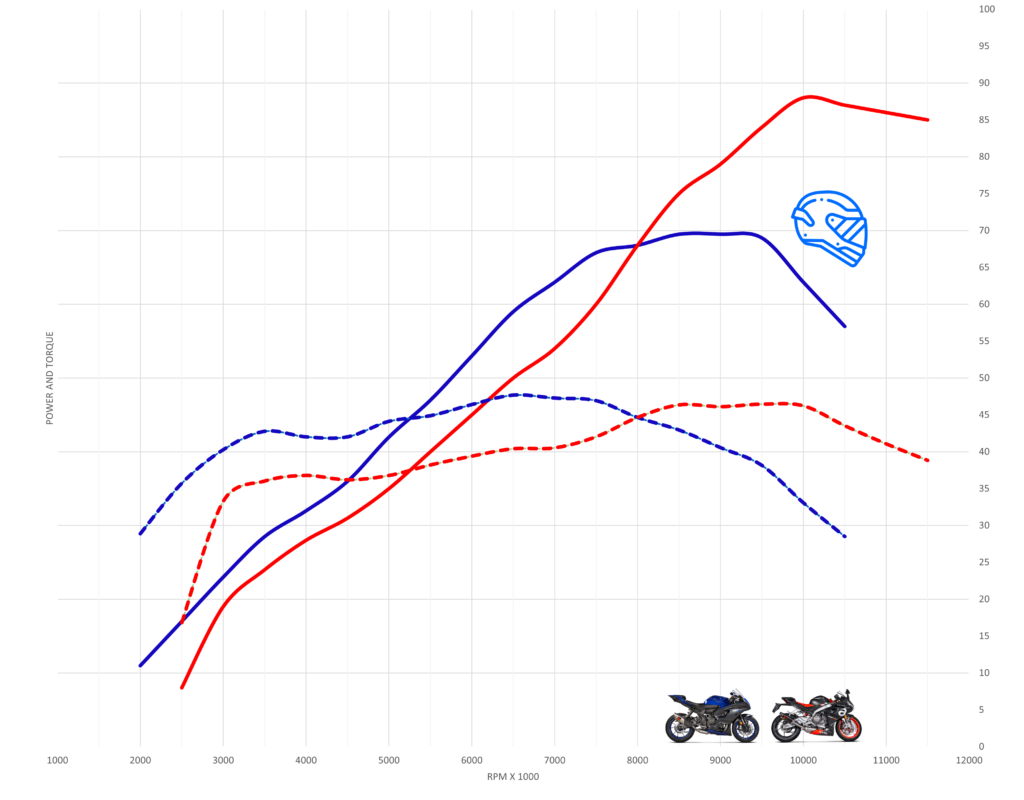 Yamaha R7 vs Aprilia RS 660 Engine Performance
– YZF-R7 – RS 660
Both engines are alike in configuration sporting similar capacity and powered by two parallel cylinders. Interestingly both engines have the more appealing 270-degree crank giving them both a more 90-degree L2 type sound which is often favoured over other Parallel
Twins that use the more conventional crank layout.
The Aprilia RS 660 is the smaller of the two at 659 cc while the Yamaha YZF-R7 comes in at 689 cc
That is where the similarities end as both manufacturers have opted for very different target power outputs and how and where that power is delivered.
Aprilia's RS 660 is a relatively high compression engine at 13.5:1 with an 81 x 63.83 mm bore and stroke that is conducive to higher rpm and power.
Yamaha's YZF-R7 on the other hand is a lower compression engine at 11.5:1 and has a longer stroke and slightly narrower bore coming in at 80.0 x 68.6 mm.
Other engine internals aside, what the above suggests is that Aprilia is chasing power and higher rpm for their RS 660, while Yamaha was looking at a torquey and more flexible engine as their goal for their R7.
If we look at claimed figures the Aprilia RS 660 has a claimed output at the crank of 100 horsepower at 10,500 rpm and 49.5 ft/lbs of torque at 8,500 rpm.
The R7 does not look as impressive on paper with a claimed 74.8 horsepower @ 9000 rpm and 50 ft/lb at 6500 rpm.
The 25 horsepower advantage to the RS 660 might be alarming to Yamaha fans but is not quite so clear-cut as the on-paper numbers would suggest.
Looking at the power and torque figures at the rear wheel Yamaha R7 is a fair bit closer to the RS 660, producing an impressive 70 horsepower between 8,500 rpm and 9,500 rpm and 47 ft/lb of torque.
The Aprilia RS 660 on the other hand is more powerful at 87 horsepower at around 10,000 rpm. Despite similar claimed torque figures the RS 660 makes a little less peak than the R7 with 46 ft/lb between 8500 rpm and 10,000 rpm.
Compared to the claimed figures the R7 is down 17 at the wheel as opposed to 25 horsepower at the crank, so things are a little closer.
Seventeen horsepower is still a good advantage but what the peak figures do not show is how dominant the R7 is throughout most of the rpm range.
The R7 produces heaps of power and torque almost right off tickover and then provides a nice little surge in acceleration as you cross 4500 rpm and drives strong to 7500 rpm where power and torque flatten off in a nice useable spread.
It is an engine that you do not need to thrash to make it go, short shifting at 7000 rpm will have you getting where you want almost as quickly as shifting up at 9000 rpm.
–

YZF-R7

–

RS 660
Yamaha R7 vs Aprilia RS 660 Engine Performance and In-gear acceleration
The Aprilia RS 660 has a very different character.
There is good low-end power and torque that is comparable to the CBR650R. It is not class-leading but usable drive starts from as low as 3000 rpm with torque building in a linear fashion that encourages you to ask for more rpm.
The engine really comes alive above 7000 and between 11,000 rpm.
The need to be higher in the rpm in isolation is not so apparent but in the company of the R7 that has such instant in-gear performance, you do tend to notice the need to keep the RS 660 rpm higher up to be competitive.
If we look at the in-gear thrust of each motorcycle, we can clearly see a distinct advantage that the Yamaha R7 has in the lower gears and a little advantage in fourth and fifth but it's much closer.
Even with much less peak power, the R7 produces more peak thrust in first gear, second and third gear.
This is primarily down its higher peak torque figure while slightly lower gearing in first and second gear also contributes as well as the slight weight advantage
As the RS 660 revs higher, it can achieve higher peak speeds in most gears, especially so in gears ratios that are close to that of the Yamaha R7.
The advantage at the top-end of each gear and typically above 8000 rpm swings to the RS 660.
Yamaha R7 vs Aprilia RS 660 speeds in each gear
| | | |
| --- | --- | --- |
| Speed at 5000 rpm | Aprilia RS 660 | YZF-R7 |
| Speed 1st Gear | 26.3 mph | 25.6 mph |
| Speed 2nd Gear | 34.5 mph | 34.3 mph |
| Speed 3rd Gear | 43. 8 mph | 44.7 mph |
| Speed 4th Gear | 52 mph | 56.1 mph |
| Speed 5th Gear | 59.7 mph | 66.9 mph |
| Speed 6th Gear | 68 mph | 75.7 mph |
And this is because it produces its peak torque at higher rpm and holds onto it for longer and produces more power which means more thrust.
What all of this means on the road is that the Yamaha R7 is more explosive and accelerative in the first four gears from anywhere off the bottom and midrange rpm while the Aprilia RS 660 has to be spun harder to match or beat the R7.
This means that if you are riding the RS 660 and your rev needle is below 7-8000 rpm in any gear but sixth gear the Yamaha R7 will provide more instantaneous harder.
Of course, once the tacho enters the RS 660's sweet spot above 8000 rpm you'll reel in the R7 and pass it.
The only scenario where the RS 660 can drive as hard as the Yamaha R7 from below 8000 rpm would be in top gear.
This is because the Yamaha R7's sixth gear is significantly longer than the sixth gear of the RS 660 rendering the Yamaha R7's bottom and midrange torque advantage null.
This is evident by the below gear chart showing road speed at 5000 rpm in each gear.
If both motorcycles were at 75 mph the Yamaha R7 would be showing 5000 rpm while the RS 660 would be a tad under 5600 rpm.
If riders were the same weight and gassed it from this point, they'd accelerate equally fast and then from around 100 mph the Aprilia RS 660 would start to eke out a lead and then eventually clear off.
The Aprilia RS 660 is ultimately faster than the Yamaha R7
Because of the different engine characters and how they deliver their performance. The slower the roads the more the advantage falls in favour of the Yamaha R7 due to its punchy engine but if the roads open a bit the RS 660 will have more opportunities to tap into its top-end power from 8000 rpm.
Yamaha R7 vs Aprilia RS 660 speeds in each gear
–

YZF-R7

–

RS 660
The Yamaha R7 puts up a good fight against the RS 660
Both motorcycles put out impressive acceleration times but there is one clear winner. The Yamaha R7 comes in lighter, and this helps to a degree but ultimately, it's the extra power of the Aprilia RS 660 that in the end prevails.
Off the line there is nothing in it and skill would likely be the deciding factor. The RS 660 has TC and wheelie control as well as power modes but for best results, they should all be off with power modes set to the most aggressive.
The R7 on the other hand does not have any of these goodies other than an optional quickshifter.
Both have great clutch and throttle feel but the R7 is harder to launch as is more willing to wheelie due to that low first gear and big torque and thrust.
It is a little less likely to wheelie than the MT-07 perhaps due to more weight over the front because of the sportier riding position.
The RS 660 will lift too but is more likely as you are driving it from 7000 rpm rather than almost anywhere on the R7.
The Yamaha R7 scores a 0-60 mph time in 3.27 seconds and the RS 660 in 3.29 seconds so very close with the win for the Yamaha.
It's from this point and once the Aprilia RS 660 is settled in third gear is when it will slowly start to walk away from the Yamaha R7.
As the tone approaches it leads by around one second managing a 0-100 mph time of 6.8 seconds. The Yamaha R7 follows with an impressive time of 7.88 seconds.
For some perspective, a current model BMW M4 will accelerate from 0-100 mph in around 9 seconds. So, these times are great for these entry-level sports motorcycles, especially so the Yamaha R7 which is considerably cheaper than the RS 660.
With the Yamaha R7 is at 100 mph the RS 660 is around 8 metres in front and edging away as no long after it crosses the quarter mile in 11.23 seconds with a terminal speed of 124 mph.
The R7 is still charging hard and driving relentlessly in fifth as it crosses the line four-tenths behind with a terminal speed of 116 mph. Both are eleven-second motorcycles which is very impressive, though typically most half-decent riders would be high elevens on the Aprilia and low twelves on the R7.
Both motorcycles are faired but neither offers the best protection from the elements due to their low screens and compact sizes.
Ultimately the extra power of the RS 660 ensures that up top, it will pull harder leading to an 11 mph top speed advantage over the Yamaha YZF-R7.
The RS 660 manages an amazing top speed of 147 mph. The Yamaha R7 still scores a very good top speed given its modest 72 horsepower at 137 mph
Aprilia RS 660

Yamaha YZF-R7

Speed

Time

0-10 mph

0.39

0.34

0-20 mph

0.95

0.96

0-30 mph

1.52

1.48

0-40 mph

1.83

2.0

0-50 mph

2.34

2.54

0-60 mph

3.29

3.27

0-70 mph

3.89

4.10

0-80 mph

4,75

5.07

0-90 mph

5.61

6.35

0-100 mph

6.8

7.88

0-110 mph

8.15

10.00

0-120 mph

10.15

12.86

0-130 mph

13

18.26

0-140 mph

18.1

N/A

60-130 mph

9.77

14.72

SS/QM

11.23 @124mph

11.64 @116 mph

SS/KM

N/A

22.15 @ 134 mph

SS/Mile

N/A

32.03 @ 138 mph

Top Speed

147 mph

139 mph