Aprilia RSV4 0-200 km/h in 7.45 seconds
Aprilia has been making road bikes for a good while with their road-going versions of their two-stroke Grand Prix winning machines some of the more memorable.
If you are as old as I am you'll remember the glorious RS125 and RS 250 machines from the 90 and early thousands.
After much success in Grand Prix racing in the late 90s, Aprilia thought they would give World Superbike racing a go with their first ever 4-Stroke Superbike called the Aprilia RSV Mille.
This new motorcycle was a 65°degree V-Twin Superbike.
It was a great motorcycle that was very competitive on road and track almost taking a World Superbike Championship as it took on the dominance of the rival Italian brand Ducati.
Fast forward to 2009 and a little while after WSBK regulations were changed to allow 1000 cc four-cylinder motorcycles to compete against 1200 cc 2 Cylinder motorcycles.
The Aprilia RSV4 was born and was the first ever four-cylinder Aprilia motorcycle.
The introduction of this new Superbike from the tiny Italian factory was a huge surprise to everyone.
Additionally, the RSV4 was very well received by everyone who lusted after it due to its stunning looks and 180 horsepower exotic V4 engine.
At the time there was really nothing like it in the Superbike space other than the mostly unobtainable Honda RC30 and RC45 Honda's.
There was also the one-off and very exspensive Desmosedici from Ducati which was technically not a Superbike but a road-going MotoGP motorcycle with a price to match.
These rare and exotic motorcycles could only be really be bought at high prices from collectors and not really accessible to normal folk.
The only real viable V4 available to the masses was Honda's VFR800 though while very capable was not a Superbike and it only had around 100 horsepower.
The Aprilia RSV4 is fantastic looking and arguably the closest production motorcycle (perhaps along with the 2015 onward R1) to a prototype MotoGP bike.
Everything about its configuration and design speaks of the racetrack and of a MotoGP prototype.
The Aprilia RSV4 is still with us to this day and the former claim still stands.
It has largely remained the same up until very recently, though the Aprilia RSV4 has been refined over the years with tweaks to suspension, brakes, styling.
And midway through its life with new electronics added and power increases with the latest having a capacity bump up to 1100 cc.
The Latest RSV4 is one of the most powerful production motorcycles today with a claimed 2017 horsepower at the crank.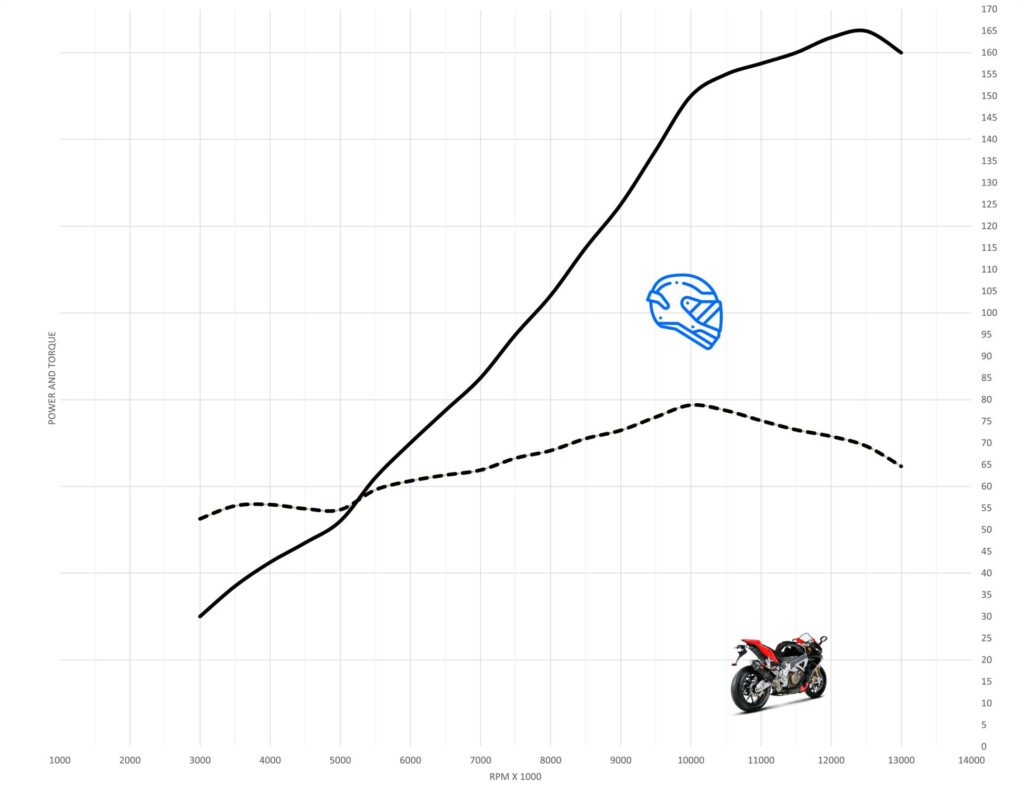 Aprilia RSV4 Dyno and engine performance
Aprilia's RSV 1000 Mille's two-cylinder motorcycle could no longer compete with the new four-cylinder motorcycle from Japan on the road or track, as well as the array of 1000 cc plus L-win motorcycles from Ducati.
The choice was either a big bore 1200 cc twin or go the 4-cylinder 1000 cc route.
Aprilia went with the latter and rather than using the tried and tested but common inline four, Aprilia opted for a very Italian and glorious sounding 998 cc 65° Degree V4.
An engine that is one of the best sounding and most evocative ever to come off a production line and is pure MotoGP.
The new engine was not class-leading in terms of power but very much matched or beat much of the competition.
With a claimed 180 horsepower at 12500 rpm and an extremely healthy claimed 85 ft/lb of torque at 10000 rpm it was great on paper and this translated too in the real world.
On the dyno and at the rear wheel the first generation RSV4 typically made to 155-165 horsepower dependent on the bike and correction factors being used.
Today we have 164 horsepower at 12400 rpm and an extremely healthy 78.8 ft/ lb of torque produced at 10100 rpm.
The delivery does not have any peaks or troughs and builds in a very linear and turbine-like fashion.
I would liken the power delivery and character to the 2011 Kawasaki ZX-10R
Compared to the 2011 ZX-10R the Aprilia is not as peaky and offers a little more drive in the lower gears at the majority of speeds but less in the last three gears.
But they both certainly have a very similar character in how the engine responds to throttle.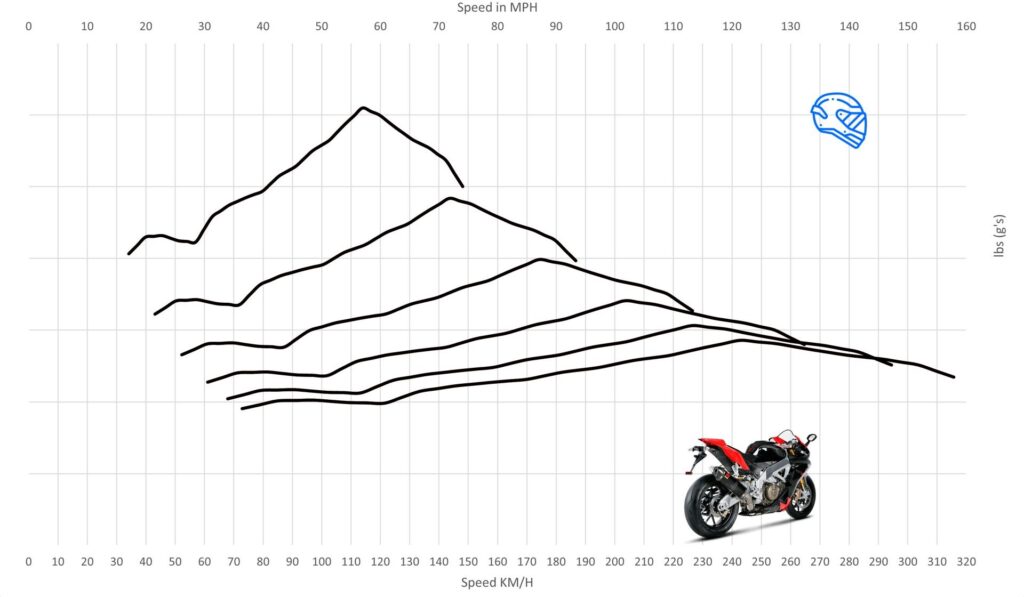 Aprilia RSV4 In Gear Accceleration
I would add though that the Aprilia's fuelling as stock is in no way near as good as the ZX-10R or its Japanese competitors.
Because at low rpm where it stutters and is jerky from closed or part throttle.
These little niggles aside, it is a great engine even if at the time not class-leading if we are talking bottom and mid-range power and torque.
The Aprilia RSV4 should really be living above 5000 rpm where possible as is a little flat below and the fuelling does improve a little beyond that point too.
While making a little less power and torque than some of its competitors below 10000 rpm, the Aprilia RSV4 (in the lower half of its engine power curve ) is somewhat also hindered a little by its long gearing in the last three gears.
Aprilia could have certainly opted for a different choice of gearing and perhaps lowering the last three gears or just running a larger rear sprocket.
If that were the case the bike would be considerably more responsive and would require less changing down gears for that swift overtake.
This is something that any owner can do though quite cheaply and easily which is recommended.
In isolation this is unnoticeable but if jumping directly off other recent litrebikes sometimes the Aprilia RSV4 only really feels like its charging hard at 10,000 rpm and above comparatively.
I would admit this does have a little to do with its very linear build-up in power which can perceptively make the Aprilia RSV4 feel slower and less urgent whether objectively true or not.
All things considered, the Aprilia RSV4 is likely close to the bottom of the pack of the motorcycles it was competing with 10 or so years ago if we are talking engine flexibility.
Once it howls past 10,000 rpm and onto 13,000 rpm it is right up there with the best at the time.
The 2009 RSV4 is substantially faster than the outgoing RSV 1000 it replaces due it its significantly more powerful 998 cc 65°degree V4 engine.
It would not be even close if they were rise by side! The Aprilia RSV4 would quickly pull away.
At the time and among its peers it traded blows when it came to outright straight-line performance.
Arguably the RSV4 is at least as quick as the 2009 GSX-R 1000, Yamaha YZF-R1 and Honda CBR1000RR and faster in the top-end than the Ducati 1198.
The Aprilia RSV4 was just a bit behind the Kawasaki ZX-10R and the newly introduced BMW S1000RR of the time.
Both motorcycles were lighter and made more horsepower than the RSV4.
The model tested here is a 2009 and has fly-by-wire throttle and electronic fuel injection.
That is about as much as we get in terms of gadgets.
It was not until a few years after launch when the RSV4 got a suite of racetrack derived electronic rider aids in the shape of their RSV4 APRC model.
It's not such a loss, to be honest as often better ETs can be had from turning them all off for the most highly skilled of riders.
If your launch skills are not great you might be more consistent with anti-wheelie and TC on if you have the option.
The Aprilia RSV4 is amazingly fast which goes without saying.
It is also 10-15 kg heavier than many competitors, so this does help with launching the bike hard and helps limit wheelies.
With the Aprilia RSV4 after various attempts we managed a 0-60 mph time in 3.10 seconds. 0-100 km/h in 3.21.
The Ariliar RSV4 could probably do better but its throttle is a little too jerky when opening from a closed or part throttle.
So, when trying to control those inevitable wheelies it requires you to back off a touch from the throttle and get back on it once the wheelie is down.
Though it can have the wheel come straight back up again even with gentle throttle input.
60 mph is easily achieved in first which is a gear that has a max speed of around 95 mph.
90-100 mph first gears care common place with 1000 cc Superbikes post 2004.
Once into second, it is far less wheelie prone so you can get on it good with it only lifting on occasion lifting, or if you hit a slight bump or incline.
Regardless, the Aprilia RSV4's 0-100 mph time is cracked in wickedly fast time of 5.55 seconds.
A time that is pretty much ballpark for most if not all 1000 cc Superbikes the past 20 years.
The Aprilia RSV4 manages 0-200 km/h in 7.45 seconds which puts it firmly in high-end Supercar/Hypercar territory.
The quarter-mile time for the RSV4 is in the low tens with a best at 10.28 @ 147 mph which is a fantastic time.
0-150 mph and 0-180 mph are much more interesting acceleration benchmarks for me, as pretty much off-of-the-line acceleration is more down to skill than the actual machine when we are talking about 0-60 mph times.
Sure, there are factors unique to each machine that will influence the outcome, but ultimately the rider plays the largest role, especially for the first 60 ft.
This is especially the case if the motorcycle being tested is a high-power Superbike or equivalent.
The Aprilia RSV4 can dip under 11 seconds to sprint to 150 mph with a time of 10.62 seconds.
From there on it struggles a little compared to some of its competitors with a 0-180 mph time in 22.42 seconds.
Suzuki's older and slightly less powerful K5 GSX-R1000 managed a slightly faster time under similar conditions after correction.
I would put this likely down to the Aprilia's screen being lower and there is less protection compared to the roomier GSX-R1000.
At speeds above 150 mph, just having an elbow poking out too much, or your helmet catching the wind a little too much can significantly hurt ET times when we are taking 150-180 mph.
Being able to tuck effectively is especially important and can mean the difference between winning and losing.
Aprilia RSV4 Top Speed
The same could be said about the RSV4's top speed of 183.3 mph as with a large screen and more room for a better tuck we'd likely see a few more mph.
Top speed was actually achieved in fifth gear but would not pull right to the limiter.
Hooking sixth gear it does not move. Perhaps that is the 300 km/h intervention coming in or we have a dud who knows? If the RSV4 could pull top to the redline it would hit 200 mph.
RSV4s respond well to tuning with easy 10 horsepower gains to be had with a Dyno tune, sport filter and exhaust system. Match with a large double bubble screen and 190 plus mph is certainly doable.
Back in WSBK days with Max Biaggi, onboard RSVs were consistently the fastest in a straight line hitting a record-breaking 210 mph at Monza.
The RSV4 like all 1000 cc plus Superbikes is extremely fast but now is surpassed by many motorcycles.
If you want an Aprilia RSV4 but want more power and cannot quite stretch to a brand new model, the 2015 model saw many revisions as well as 200 horsepower at the crank which is a real 180 horsepower plus at the wheels.
This machine would be the second-hand choice for those looking for power and straight-line speed without the cost of a new bike.
Aprilia RSV4 Acceleration
2009 Aprilia RSV4 Acceleration and Top Speed
Speed
Time
0-10 mph

0.50

0-20 mph

1.01

0-30 mph

1.53

0-40 mph

1.99

0-50 mph

2.44

0-60 mph

3.10

0-70 mph

3.64

0-80 mph

4.20

0-90 mph

4.77

0-100 mph

5.55

0-110 mph

6.17

0-120 mph

7.10

0-130 mph

7.98

0-140 mph

9.01

0-150 mph

10.62

0-160 mph

12.49

0-170 mph

15.98

0-180 mph

22.46

60-130 mph

4.88

100-150 mph

5.13

SS/QM

10.28/147 mph

SS/KM

18.42/175 mph

SS/Mile

25.90/181 mph

Top Speed
183.3 mph