Honda CBR650R 0-60 mph in only 3.30 Seconds
Sportbikes have become much more radical in recent years as in the 90s and early thousands' sportbikes were pretty comfy and practical on the road if we are to compare with anything over the last 15 or so years.
Honda's very well-known CBR600 was one such sportbike that over the years came in many variants; from the original CBR600F introduced in 1987 to the F4i that was discontinued in 2006.
We did have a new (weird) version of the CBR600F from 2011 to 2013 but despite sharing the name, spiritually no one considered it a true CBR600.
The CBR600 was a machine that could grind hard on the weekend but remain practical and comfortable for that commute to work, or if you wanted to haul some luggage and even a passenger for some serious mile munching.
The CBR600 was always a willing participant. On top of this, it was reliable and fun to ride, with a decent engine and good neutral handling that was well-suited to new, and experienced riders.
Back in the late 90s and early thousands, the market started to shift a little as riders' tastes moved to more focused machines.
Racing at a world level (WSSP) was becoming ever more competitive and manufacturers needed to homologate machines that were great platforms for racing.
This meant losing much of the comfort and practicality of their road versions.
Suzuki's already focused GSX-R600 was re-imagined as lighter and pointer than the one it replaced while Yamaha's new YZF-R6 was much more focused than the FZR and YZF600 Thundercat motorcycles it was to supersede.
As a reaction, albeit a slow one and still sold side by side, the CBR600 was replaced in 2003 by the CBR600RR.
This new CBR600RR is a motorcycle that is a more powerful, lighter and sharper race-focused machine built off of a totally new and different platform from the original.
The New 600RR was not recognizable from the machine it replaced, both in looks and ergonomically while being a high-performance machine in all areas.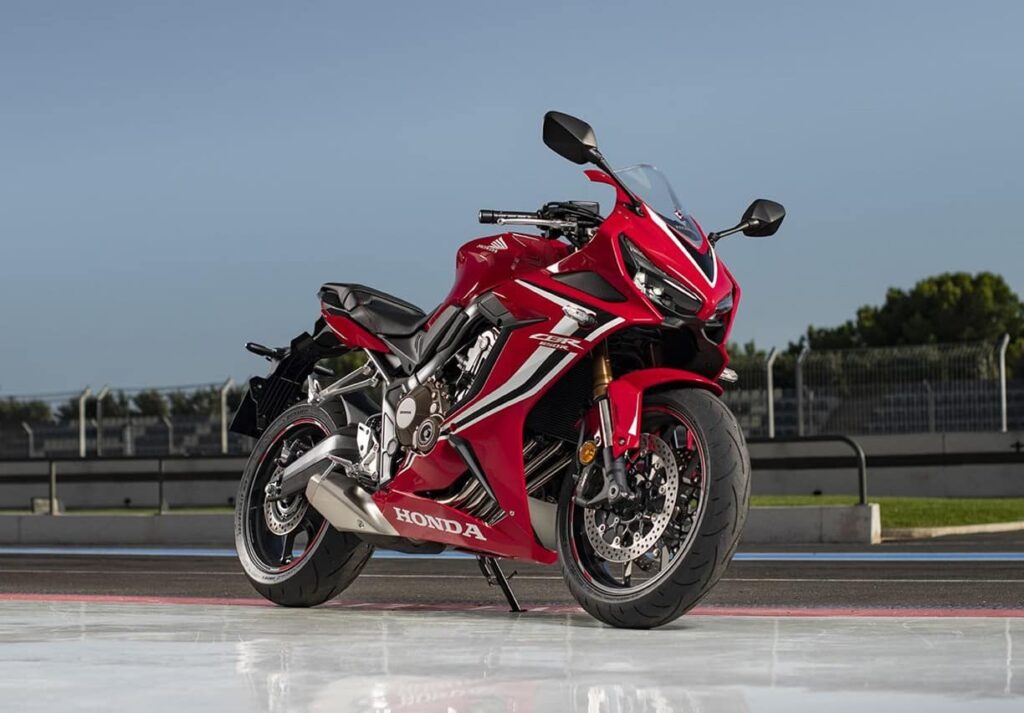 Back in 2011 and things changed once again.
The market in most regions was losing its appetite for hyper-focused Supersports bikes with many riders choosing a litre bike instead if they wanted banzai performance.
While the rest had a yearning once again for motorcycles that encompass all the qualities of sports bikes from the 90s and early thousands while being close in performance to the very focused Supersports bikes.
Punters wanted performance similar to a Supersport but without the wrist ache and numb bum.
As mentioned, Honda did re-imagine the CBR600F back in 2011 and that model ended up morphing into the CBR650F.
It was a great motorcycle, and did everything it was supposed to do in a very typical Honda kind of way, though it was even less focused and too sensible compared to the original CBR600F.
And it kind of looked too sensible also.
In 2019 Honda saw a little sense in the view of many and put some of the original sparks back into the CBR650F platform and unveiled the CB650R.
Don't confuse it with the latest CBR500R as they look very similar.
It had sharper styling and more aggressive and sporty handling. It revved higher and made more power than the 650F, especially after 10,000 rpm.
While still at around 10-15 hp down compared to say a CBR600 F4i and was a little porkier but that extra 50 cc and longer stroke motor made for a more effective engine under normal riding conditions.
The CBR650R was a welcome addition to Honda's range. While much less focused, and more sit-up and beg, the CBR650R shared design language with Honda's 2017 CBR1000RR .
With an aggressive front-end style and fat 180 rear tyre. The CBR650R looked pretty serious and not the learner-friendly sportbike it was marketed as.
Engine Performance
The CBR650R makes a very respectable 82 horsepower at 11,000 rpm and 44 ft/lb at 8500 rpm.
It has a good spread of power and torque, especially starting from around 4000 rpm where it will drive strong even if not in the ideal gear.
If you let the engine, drop below 4000 rpm there is a little flat spot, but it is not really that noticeable in the lower gears and will not hamper your progress.
The engine itself is smooth in a typical Honda fashion but does have a little spark as the power curve has a nice little surge/kick at 6500 rpm as it comes on cam.
In gear Acceleration
This surge is far from unmanageable for new riders but does add a little bit of spice/excitement to the power delivery as you roll on, while also if in first helping to coerce up a wheelie on the power with a little tug on the bars.
The CBR650R still lacks the top-end of the 600F and especially the 600RR series or any other modern Supersport 600 but makes up for it with a more flexible and responsive engine below 8000 rpm.
| | | |
| --- | --- | --- |
| Speed at 5000 rpm | Aprilia RS 660 | CBR650R |
| Speed 1st Gear | 26.3 mph | 25.4 mph |
| Speed 2nd Gear | 34.5 mph | 33.1 mph |
| Speed 3rd Gear | 43.8 mph | 41.3 mph |
| Speed 4th Gear | 52 mph | 50 mph |
| Speed 5th Gear | 59.7 mph | 56.9 mph |
| Speed 6th Gear | 68 mph | 64.2 mph |
That means for everyday riding and at normal speeds, the engine feels more responsive than most of the race replica 600s due to the lower state of tune and that extra 50 cc advantage.
This translates to being able to drive any gear from lower rpm and rely on changing gears a little less.

Honda CBR650R 0-100 km/h mph in only 3.40 seconds
Honda's CBR650R would be considered an entry-level sports/sport touring bike but it is by no means a slouch.
While we are testing the full-power version in many markets this motorcycle comes in a restricted form and with less power.
Many of you might own this motorcycle at a restricted learner-friendly power variant and would like to know how quick it might be at full power.
Well, the answer is that it is a quick motorcycle.
The 0-62 mph (0-100 km/h) performance will smoke any hot hatch and match or beat many Sportscars and Supercars.
Only Hypercars have the edge off of the line.
The CBR650R can rocket from 0-60 mph in only 3.3 seconds which it can achieve in first gear, albeit right at the redline.
The TCS must be turned off as is very intrusive if using an aggressive clutch dump.
The CBR650R in dry conditions with a warm tyre can not break traction so it is strange why the TCS kicks in so aggressively.
Thanks to a nice light and easy clutch with a good feel, and a tractable engine launching is simple with the best results slipping the clutch at around 8000 rpm and then feeding it some slightly notchy gears.
The 0-100 mph time for the CBR650R is achieved in 7.5 seconds but would be quicker if not for a required shift into 4th at around 90 odd mph.
The 650R pulls up to 130 mph very briskly and only a few seconds off of a Supersport 600.
Acceleration starts to slow after that as the 650R nets a decent top speed of 144 mph which is around 15 to 20 mph off of a Supersport 600.
For best results first and second gear needs to be taken to the redline, while for third gear right to six should be shifted between 10,800/11,000 rpm.
The frontal area of the 650R is small so very hard to get covered.
If you are small and/or fit a larger screen your results might vary. But you'd need a big, long road to eek that extra bit of speed.
There are many motorcycles in the same/similar class as the CBR650R.
Depending on your market or learner regulations you might be considering a Ninja 400 which the CBR650R is substantially faster than if not restricted.
Or perhaps you are looking a the new RS 660 from Aprilia or Yamaha's R7
The performance of the CBR650R is one of the best-in-class regardless of the market and is almost Supersport 600 fast.
What you have here is a user-friendly performance package that offers enough performance to ensure that on most roads and even if riding with bigger bikes the CBR650R has more than enough poke to keep bigger bikes in sight.
Here we compare the CBR650R with the MT-07. Or see how the CBR650R compares against the restricted A2/LAMS CBR650R version
The Honda CBR650R's top speed is 144 mph
Honda CBR650R Acceleration
Speed
Time
0-10 mph

0.51

0-20 mph

1.01

0-30 mph

1.53

0-40 mph

2.04

0-50 mph

2.57

0-60 mph

3.33

0-70 mph

3.99

0-80 mph

5.03

0-90 mph

6.00

0-100 mph

7.50

0-110 mph

9.03

0-120 mph

11.55

0-130 mph

14.73

0-140 mph

23.00

60-120 mph

8.21

SS/QM

11.45/119 mph

SS/KM

21.64/140 mph

SS/Mile

31.08/143 mph

Top Speed

144 mph
Honda CBR650R Specifications
Honda CBR650R

Engine

Displacement:

649cc

Engine type:

In-line four, four-stroke

Compression:

11.6: 1

Bore x stroke:

67 x 46mm

Fuel system:

Injection

Fuel control:

Double Overhead Cams/Twin Cam (DOHC)

Cooling system:

Liquid

Gearbox:

6-speed

Transmission type

Chain

Chassis

Frame type:

Steel diamond

Front Suspension

41mm Showa SFF USD, 120mm stroke

Rear suspension:

Monoshock damper with adjustable preload, 43.5mm stroke

Front tyre:

120/70-ZR17

Rear tyre:

180/55-ZR17

Front brakes:

Double disc

Rear brakes:

Single disc

Weights and Measurements

Wet weight:

207kg

Seat height:

785 mm

Overall height:

1150mm

Overall length:

2130mm

Overall width:

750mm

Wheelbase:

1450mm

Fuel capacity:

15.40