KTM 790 Duke 0-60 mph in 3.07 seconds
KTM's Duke series has been with us since 1994 in the shape of the 620 Duke Supermotard which has seen many versions throughout the years.
As you all know KTM started out as a dirt bike manufacturer where it has achieved much success both on the road (dirt) and track.
It seems that their dirt bikes have taken on a kind of Darwinian evolutionary process over the past twenty-plus years…
Where some of their motorcycles have evolved from dirt bike singles to supermotard singles to naked bike twins and Superbikes in the shape of the RC8.
KTM now also competes competitively in MotoGP.
It's an amazing journey for the Austrian factory.
Today, the Duke series still lives on in multiple engine configurations with one of their more recent models the KTM's Duke 790.
This is a sporty naked motorcycle released back in 2018 and powered by an extremely compact 799 cc parallel 2 cylinders making a claimed 105 horsepower.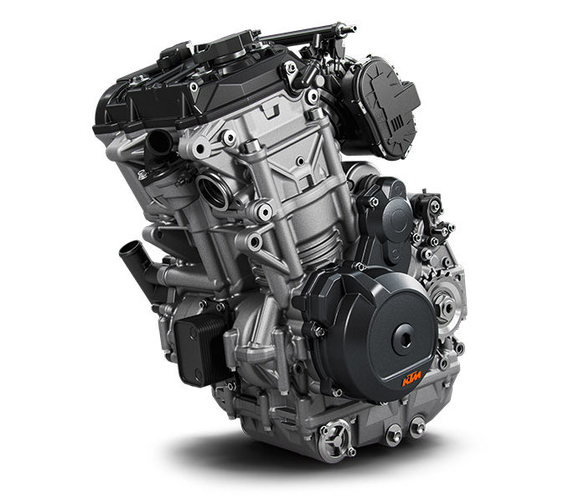 Naked bikes are now the new Superbikes, as in recent years they have become much more popular.
This likely due to the fact that they often offer similar performance and giggles to Superbikes in many areas but are more practical and comfortable for day-to-day urban terrorism.
While the 790 Duke does not have the kind of power of a Superbike, it has that magical 'all you need on the road' 100 horsepower number which in all but the most extreme cases is really all you need.
Couple that with light weight and great handling and you have a very capable motorcycle that will punch way above its weight.
KTM 790 Duke dyno curve and engine performance
Parallel 2 Cylinder engines do not get much love in the motorcycle world.
There is nothing inherently wrong with them, in fact they are compact and cheap to make though they are often used to power budget or learner motorcycles for this very reason.
So as a result these engines tend to be used in small-capacity motorcycles, and often at a learner-friendly state of tune.
Also, conventional parallel 2's don't really sound particularly great either which can be a put-off for enthusiasts.
To get around this some manufacturers have been spicing their parallel twins by changing their cranks.
Yamaha's TRX 850 was one of the first of recent times and now with the MT-07 which also has a 270° crank.
KTM has opted for a 485° crank which ensures that it will not sound like a typical parallel twin.
In this case, the 790 Duke will now sound remarkably similar to KTM's own 75° V2 Cylinder engines that power some of their larger capacity offerings.
Essentially the KTM 790 Duke is a 75° twin package as a Parallel two. Why not just Make a 75° twin you may ask?
Well, Parallel two-cylinder engines are cheaper to make and are shorter than V-configured engines while also still being very narrow so are extremely easy to package.
KTM790 Duke Theust Curve
They can be tall for the very larges CC engine but that can be offset if the engine is an overs-square short stroke design.
So Win-Win.
The KTM 790 makes a very respectable 96 horsepower at 9000 rpm. Torque peaks at 6500 rpm with a figure of 58 ft/lb.
These are great numbers from the 799 cc engine though it does seem that the 790 could make more power as the curve is still rising right up before the rpm limiter abruptly stops play.
The KTM 790 Duke barely revs to 10000 rpm! This does seem pretty low even if it is a two-cylinder motorcycle with big pistons.
It looks to me that KTM has been conservative for some reason as I am sure this motorcycle could easily rev to 11000 rpm and probably make 105 horsepower at the wheels.
Despite this, the engine is still great. It's smooth and responsive and makes a good spread of power and torque with a nice surge just as you approach 6000 rpm.
Helped by very lightweight internals and the low gearing for the first 3 gears, the 790 Duke builds revs like a motorcycle with much more power.
While there is plenty of low-down grunt this engine lives best between 6500 and just over 9000 rpm.
This is not the widest powerband and less than some of its nearest rivals such as the Yamaha MT-09, kawasaki Z900 or the Triumph Street triple 765.
Either of which is less rpm dependent or has much more rpm to use and thus a wider usable power range.
The KTM Duke 790 is surprisingly quick and especially so for a two-cylinder engine naked bike.
Of equal capacity, 4-cylinder engines tend to rev higher than two-cylinder engines.
Even if a two-cylinder engine makes the same power as a four-cylinder, the quad-cylinder engines always tend to rev higher.
Having more rpm available allows the higher revving engine to run lower gearing should the designer choose without sacrificing the max speed in each gear.
As a simple example, if two engines make the same power at 10000 rpm and one is a two-cylinder with a rev limit of 10500 rpm and the other a four-cylinder with a rev limit of 11500 rpm
Because as the four cylinders can rev 1000 rpm higher, designers can, for example, opt for 10% lower gearing (due to revving 10% higher) but sill matches the two-cylinder engine for max speed in each gear.
Having 10% lower gearing will mean that the four-cylinder engine will have 10% more thrust in each gear at any speed than it otherwise would if it had the same gearing as the two-cylinder motorcycle.
If the four-cylinder engine makes less power and torque through the rpm range compared to the two-cylinder engine, its lower gearing can counteract this performance deficit.
To compensate, typically two-cylinder performance motorcycles will have lower gearing for the first three gears and higher gearing for the last three gears.
The above is exactly why the average 600 cc Supersport can match or even beat a 1000 cc L-Twin from the late 90s or early thousands from a top gear roll-on.
This is despite having almost half the torque as the twin-cylinder engine from that era that typically revs to just under 11000 rpm while 600s can go to 15000 rpm and beyond.
Due to this massive rpm differential, in terms of the 6th gear ratio, the average 600 Superport bike is similar to the 4th gear on a 1000 cc Superbike Twin.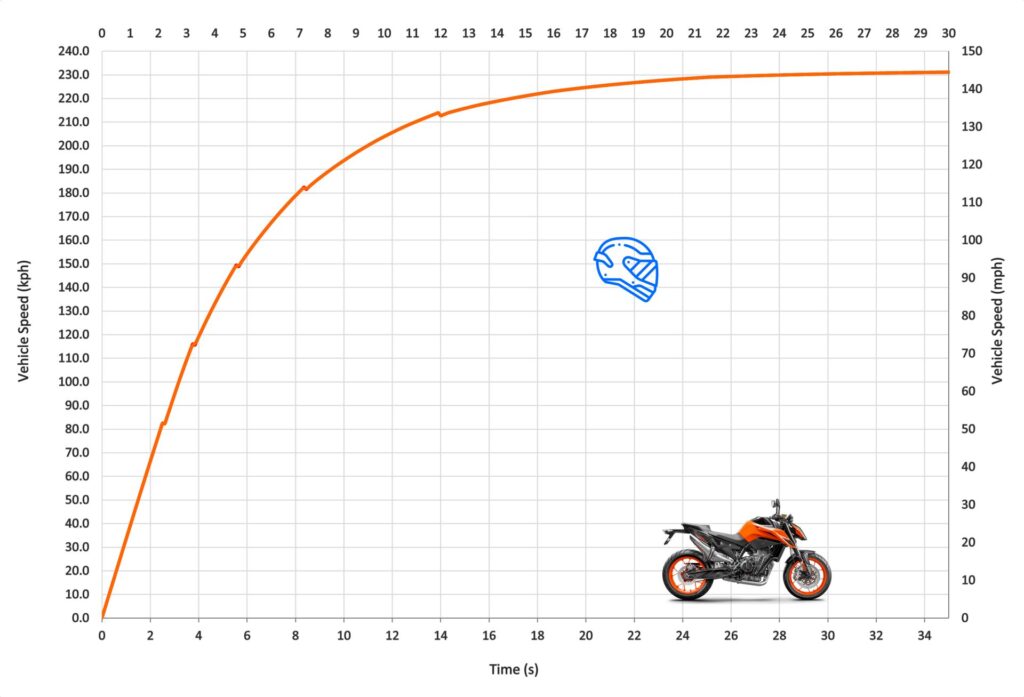 KTM 790 Acceleration through the gears
So like many 2 cylinder bikes, the KTM has to bare the disadvantages of not revving that high compared to the three or four-cylinder competitors.
The KTM 790 revs lower than many larger two-cylinder engines too . Despite this, the KTM puts down some very good numbers.
Like with most electronic rider aides such as TCS or anti-wheelie, while you may be more consistent.
This is especially the case if you are of average skill, though if you have some wins to your name at your local traffic light GP your best times will come when they are all off.
With them off the KTM 790 is exceptionally fast from 0-60 mph achieving a great time of 3.07 seconds and 0-100 km/h in 3.16. This is despite needing a gear change.
But you will have to exert some fine control of its tendency to wheelie with some good clutch and throttle action.
You must also get all of your weight over the front as experly as possible!
Feed the rampaging KTM 790 more gears and 100 mph flashes up in 6.49 seconds and onto and through the quarter mile in a great time of 11.01 seconds @ 124 mph.
A great time.
The popular 0-200 km/h time us dusted in 10.99 seconds.
The 790 almost gets into the 10s which is really impressive for a naked parallel twin and could dip under them in absolutely the best conditions.
KTM Duke 790 Top Speed
Hold on to the KTM 790 Duke for long enough and you will eventually hit 144.5 mph at the top but it will take around 40 seconds.
If you are able to tuck efficient enough most people will yield a 140 mph top speed that will arrive in around 20 seconds.
But most will not be looking to go flat-out on any naked let alone the 790 as it's not what these bikes are about and it can be pretty tiring as you battle the elements fully exposed.
The KTM 790 from a performance perspective is a middleweight that can trade blows with some of the heavyweights that battle it out in the class above. It will be interesting to see what the 890 has to offer.
KTM 790 Duke Acceleration
KTM 790 Duke Acceleration

Speed

Time

0-10 mph

0.48

0-20 mph

0.96

0-30 mph

1.44

0-40 mph

1.93

0-50 mph

2.43

0-60 mph

3.07

0-70 mph

3.63

0-80 mph

4.45

0-90 mph

5,30

0-100 mph

6.49

0-110 mph

7.84

0-120 mph

9.93

0-130 mph

12.78

0-140 mph

19.70

SS/QM

11.01/124 mph

SS/KM

20.95/140.5 mph

SS/Mile

30.41/143 mph

Top Speed
144.5 mph