Ducati Diavel 0-60 mph in 2.7 seconds
The Ducati Diavel was launched in 2011 and is a motorcycle that is hard to categorize. It is a kind of cruiser and naked sportbike hybrid.
It initially was not received well by the motorcycle community and press, especially the Ducati purists who were shocked that Ducati would dare to design manufacture, and sell a cruiser bike.
Ducati as a brand has been primarily very Superbike-focused, with a few machines that buck the norm such as the Monster series.
The fact that Ducati was willing to diversify into the cruiser market was quite surprising to many press and enthusiasts.
Ducati is a business after all, and they need to think of the bottom line like any business.
Just like many motorcycle brands, Ducati witnessed a shift in the market where consumers were turning their backs on Superbikes and looking for more practical alternatives.
These alternatives offered comparable performance but in a much more practical package. Ducati saw an opening in the market and filled it.
The Ducati Diavel certainly shook up the cruiser market that is predominately dominated by overweight and low-powered Harley Davidson.
To be fair to HD the Ducati Diavel cannot really be compared to any Harley other than perhaps the V-Rod.
One could argue that Ducati got their inspiration for the Diavel from Harley's V-Rod.
Both are similar looking in their stance with cruiser-like ergonomics but brutish dragster performance and handling that is not cruiser-like.
Ducati Diavel Engine Performance and Dyno
The Ducati Diavel is powered by a 1198 cc 90 L-Twin Testastretta engine taken directly from the ballistic Ducati 1198. At the time the 1198 was Ducati's flagship Superbike.
The engine is in a lower state of tune with around 15-20 horsepower off at the top but re-tuned to provide a little more in the mid and bottom rpm which the engine evidently does.
The claimed figures at the crank for the Diavel are 162 horsepower at 9250 rpm and 96 ft/lb at 8000 rpm.
Individual gear ratios are the same, but Ducati opted to add five teeth to the rear sprocket which would reduce top speed at 10000 rpm by around 20 mph over the 1198.
Ducati Diavel in-gear acceleration
These changes are to account for the Ducati Diavel's extra girth and lower overall power versus the Ducati1198.
However these changes were more than deliberate because no doubt Ducati wanted to make the Diavel more responsive and accelerative in-gear and in real-world situations.
On the Dyno, the Ducati Diavel manages a very respectable 136 horsepower at a little over 9000 rpm and 82 ft/lb at 8000 rpm.
Compared to the Ducati 1198 dyno the Ducati Diavel has a flatter more linear delivery but does pick up strong from 5000 rpm and is stronger between 4000 and 6000 rpm.
Compared to the Ducati 1198 the Ducati Diavel does not kick as hard as the above 6000 rpm due to the lower state of tune.
It's a great engine and despite the heavy weight of the Ducati Diavel it is very explosive in the lower gears and picks up even more instantly than 1198.
Ducati Diavel Acceleration and top speed
They probably should have called the Ducati Diavel the 'Dragster' seeing how it moves off of the line, but that name has been used a fair bit in the motorcycle world.
Though "like the Devil' is sufficient as the Ducati Diavel does have a 'wicked' turn of speed and will get you into trouble real fast.
There are not many Superbikes that will touch a Ducati Diavel from the 0-60 mph sprint.
While they theoretically can match the Ducati Diavel, in practice Superbikes are much harder to get off the line due to their insane power, long gears, low weight, and short wheelbases.
While Superbikes also have a much higher center of gravity too which doesn't help with epic launches.
As a result, most of the latest 1000 cc plus Superbikes manage the 0-60 mph sprit between 3 and 3.30 seconds, though there are exceptions if the stars align.
The Ducati Diavel on the other hand is long and low, with a huge 240-width tyre.
Motorcycles shaped like the Ducati Diavel, if they make good power are often weapons from a dig.
And the Ducati Diavel being true to form manages a 0-60 mph in 2.70 seconds which it achieves in first gear.
The Ducati Diavel is a motorcycle that will wheelie and wheel spin at the same time when launching hard. It's quite the animal!
It's impressive and incredibly fun trying to hold on to this rocket as you fire it off of the line.
Ducati's DTC is best not used if you want the best ET and even though a 0-60 mph in 2.70 seconds is impressive the Ducati Diavel is capable of slightly better times.
It is pretty easy to get off of the line, though you just have to get used to dumping the clutch march harder than you would on a Superbike.
This is because the Ducati Diavel is much less likely to flip. Instead, just flying forward spinning and power wheeling.
Due to the Ducati Diavel's long and low-slung dimensions, you can be consistent and score flat three second 0-60 mph times all day long and without much effort.
For reference, the Ducati Diavel's 0-100 km/h time is 2.89 seconds.
The Ducati Diavel is still charging hard and hits 100 mph in 5.57 seconds, which is 1000 cc Superbike territory, and achieves this in 3rd gear.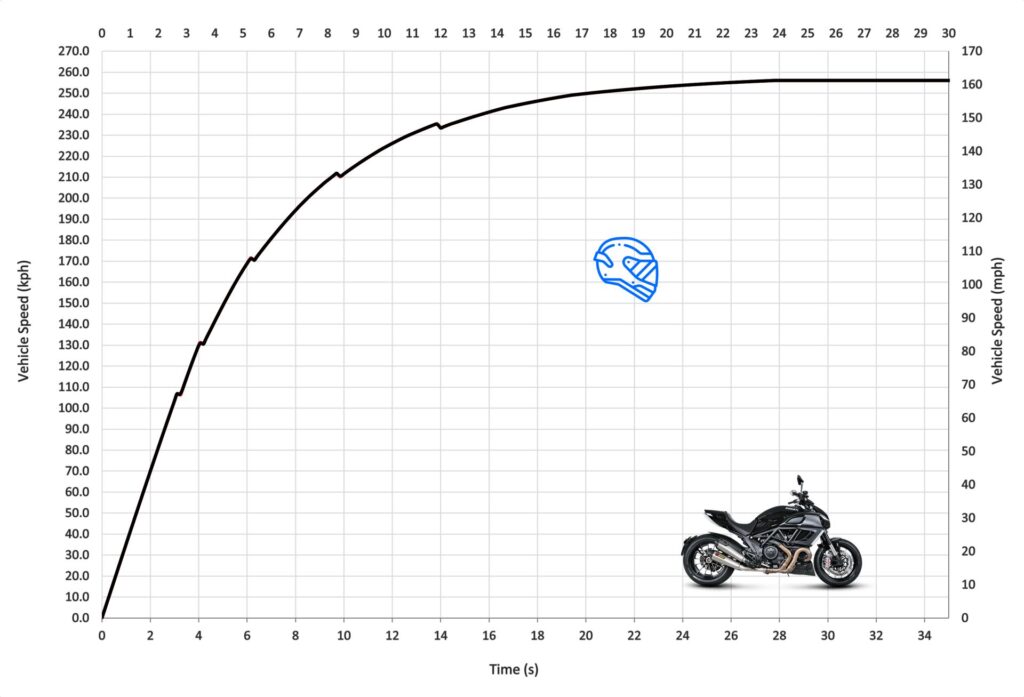 If the Ducati Diavel could hit 100 mph in 2nd it'd be 0.2 quicker.
The Ducati Diavel can also accelerate from 0-200 km/h in 8.47 seconds which is a metric often used by car manufacturers and is a time that matches or beats many high-powered cars.
I did say the Ducati Diavel was a drag bike, and it does very well on the quarter mile managing a 10.46 @ 133 mph.
This time matches many Superbikes of the last 20 years albeit at a slower terminal speed as it crosses the line.
The Dragy 60-130 is accomplished in 6.62 seconds which makes it a little quicker than the fastest 600 cc Supersport bikes.
Above 130 mph the Ducati Diavel's aerodynamics really start to hurt it, not to mention the lack of any meaningful wind protection for the rider but still manages a 0-150 mph time of 16.20 seconds.
However, you really must work on your tuck and get as flat as possible otherwise you can add 2-3 seconds to that time quite easily.
A strong headwind will kill the top speed.
For best acceleration ETs, the Ducati Diavel is not fussy when you change up so you can pretty much change gears between 9500 and 10000 rpm and you'll get consistent times.
The Diavel is not about top speed but will still get you up to a real 159 mph which is a good top speed by any standard.
Though I'm not sure you'd want to as you must be prepared and committed to putting yourself in an uncomfortable tuck while the wind tears your helmet from your head.
A more realistic top speed, if you were to blast through the gears, would be 150 mph for most.
An aftermarket screen is advisable and would help get a little extra out of the Diavel.
Overall the Ducati Diavel's outright acceleration is very similar to a Superport 600 such as the Honda Honda CBR600RR or YZF-R6.
However, you would almost always beat any 600 from a dig.
Despite being down on power 600s can keep up with the Ducati Diavel at higher speed because these machines have much better aerodynamics.
So many of them might just pip the Ducati Diavel at the top end.
Despite the outright performance being 600-like, in all situations, the Ducati Diavel feels much faster than a 600.
This is simply because it has a bigger engine with low gearing and offers instant drive everywhere in the lower gears.
While riding competitively on most 600s you must be 9000 rpm plus to find their performance, while the Ducati Diavel will pull hard from as little as 3000 rpm.
The Diavel is a weapon with a great engine and performance.
Ducati Diavel Acceleration and top speed
2017 Ducati DIavel Acceleration

Speed

Time

0-10 mph

0.45

0-20 mph

0.91

0-30 mph

1.30

0-40 mph

1.81

0-50 mph

2.31

0-60 mph

2.70

0-70 mph

3.68

0-80 mph

3.96

0-90 mph

4.82

0-100 mph

5.57

0-110 mph

6.73

0-120 mph

7.92

0-130 mph

9.40

0-140 mph

11.90

0-150 mph

16.20

60-130 mph

6.62

100-150 mph

10.62

SS/QM

10.46 @ 133 mph

SS/KM

19.60 @ 155 mph

SS/Mile

28.13 @ 159 mph

Top Speed

159.1 mph