The VTR1000 accelerates from 0-60 mph in 2.93 seconds
Ducati with their 916 was dominating WSB in the 90s. It had a capacity advantage over the 749 cc Inline fours but only had two cylinders.
Ducati's success was so good as a result two of the big four Japanese manufacturers decided to build 1000 cc L2-powered motorcycles that would be the basis for their WorldSBK efforts.
The initial offerings were street versions of homologated Superbikes such as the SP1 and TL1000R that would come after.
But first, the TL1000S was Suzuki's effort while Honda gave us the VTR1000 Firestorm (In Europe) and the Superhawk in the US.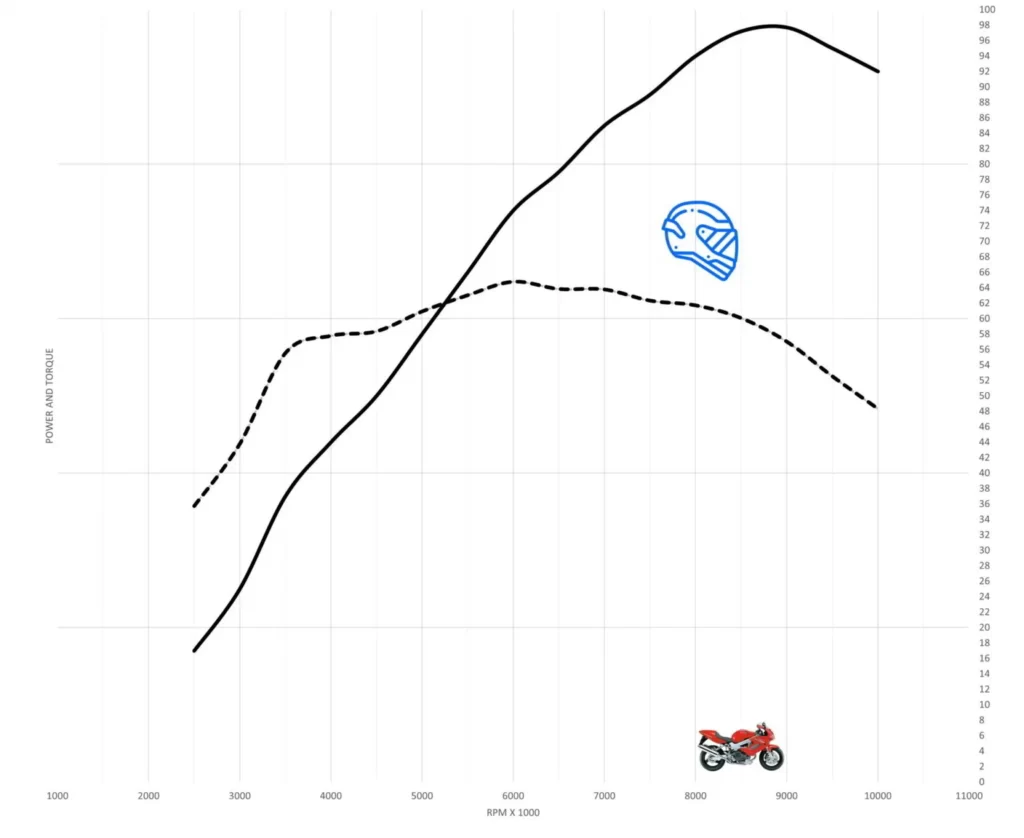 Honda VTR1000F Dyno Chart
On paper, the Honda VTR1000 FIresrom is closely matched to the Ducati 916 with similar power, torque and weight claims from the manufacturer.
The Ducati 916 was obviously an inspiration for Honda engineers but Honda clearly made their first big L2 attempt a more street-focussed motorcycle than a full-on racer. The racer came later.
The engine powering the VTR1000F is a 996 cc 90° degree L2. The bore and stroke are very similar to the Ducati 916.
It has a 98mm x 66mm and shares the same stroke of 66 mm with the 916 but with a slightly wider bore advantage of 2mm that provides the VTR1000 with an 80 cc capacity advantage.
Claimed power and torque numbers are 110 horsepower at 9000 rpm and 86 ft/lb at 6500 rpm.
That torque claim from Honda was never correct as on the dyno it's much lower than the typical 10% transmission loss number we would expect to see
Regardless, when measured at the rear wheels the VTR1000F produces 98 horsepower at 8,900 rpm, and 65 ft/lb at 6000 rpm.
Even 20 odd years ago these numbers were not earth-shattering. And today we have Sports Touring motorcycles that are much more powerful.
The peak figure may not impress but that is not the whole picture.
The Honda VTR1000 produces really good power and torque from a little over 3000 rpm and is particularly effective between around 4000 and 8000 rpm, delivering a strong 'punchy' drive.
The VTR1000s engine is not one that needs or wants to be screamed right to the limiter like its main rival the TL1000S and becomes a little less willing to rev in higher gears taking it beyond 8500 rpm.
While the VTR1000 will still willingly rev to 10,000 rpm, it just feels more appropriate to short-shift her and ride that torque, even if objectively it is a little slower doing that if looking for outright speed.
The VTR definitely does not really have a 'top end' as such, rather the punchy midrange that just kind of eases up as you get to around 8000 rpm and then you start thinking about changing for the next gear.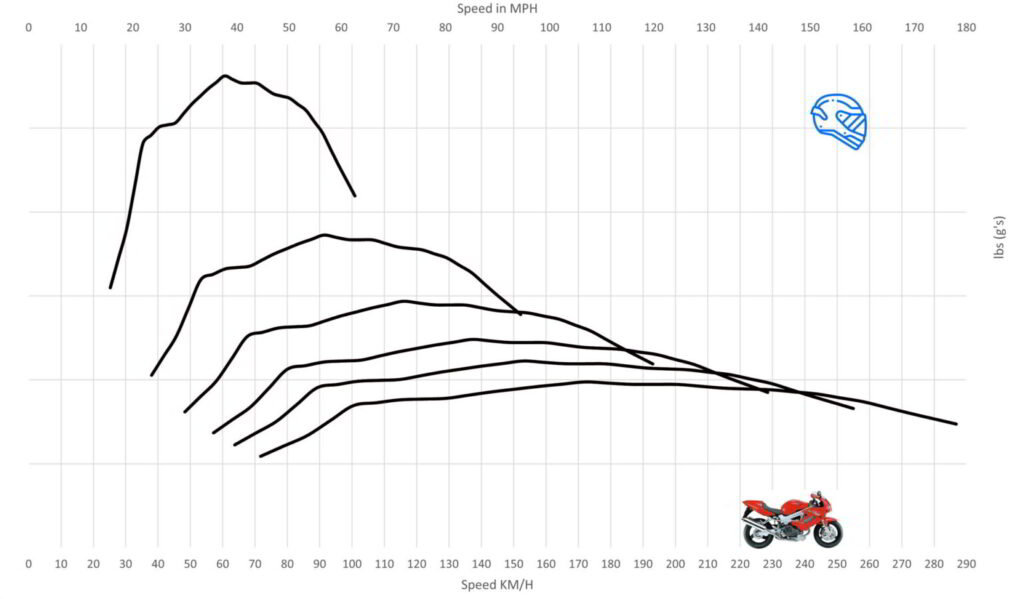 Honda VTR1000F Thrust Curve
I remember the VTR1000F engine as being very punchy and almost perfect for the road. Not much has changed, as there is tons of lazy power and torque ensuring that overtaking is done easily and with no drama.
A modern motorcycle that is similar would be the Ducati Supersport, as they make similar power, with the Supersport making a little more power between 7000 rpm and 10,000 rpm though, for the most part, they make similar power throughout the rpm range, while also having a similar character.
The Supersport is faster everywhere though, thanks more to its much lower gearing and slight power advantage from 7000 rpm.
L2 Engines of the VTR1000 generation were geared a little longer than was necessary, and this is the case too with the VTR1000, as it is geared longer than it needs to be too, with the exception of first gear which is just about right.
This longer gearing does take a fair bit of bite out of the VTR's engine and hurts in-gear roll-on performance.
This was not so much of an issue in the late 90s as most sportsbikes were inline fours and sub 900 cc, so this new generation of twins such as the VTR1000 stood firm against them.
Today, there are many more motorcycles that will beat the VTR1000 gear for gear and speed for speed thanks to lower gearing – even if they mack less power and torque.
Speed In Gears at 5000 rpm
| | |
| --- | --- |
| Speed at 5000 rpm | VTR1000 |
| Speed 1st Gear | 31.3 mph |
| Speed 2nd Gear | 47.2 mph |
| Speed 3rd Gear | 59.9 mph |
| Speed 4th Gear | 70.9 mph |
| Speed 5th Gear | 79.3 mph |
| Speed 6th Gear | 89.1 mph |
For example: In second gear from around 20 mph to 50 mph an MT-07 surprisingly punches harder than the VTR, despite the MT-07 giving away more than 300 cc, and lots of power and torque.
Same in third gear from anywhere up to 70 mph. This is simply possible because the MT-07 is lighter and has lower gearing and gears are a multiplier of torque.
Knowing the above does take a little of the shine off the VTRs engine as it means that the Honda does not feel as punchy as I remember, but that is only because many newer motorcycles have gotten better.
In credit to the VTR, in-gear acceleration from the bottom and midrange does feel effortless, as more often than not you'd be showing fewer rpm thanks to that longer gearing.
The engine is great but certainly not the grunt monster in the face of newer machines that are much more powerful, lighter and have lower and more optimal gearing.
It is not that the Honda engine has lost anything, even at 100 horsepower it's still formidable on the road. It is an easy remedy though, by simply adding a larger rear sprocket which will massively improve in-gear performance without sacrificing top speed.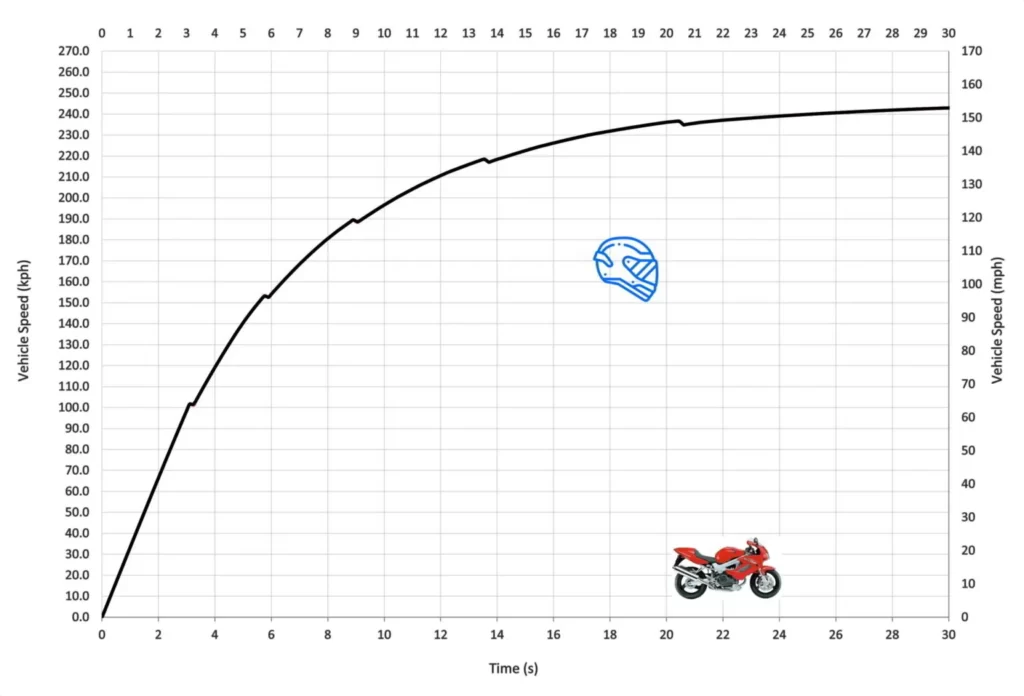 Honda VTR1000F top speed and acceleration through the gears
When it comes to straight-line speed, back in the late 90s the VTR was one of the slowest in the class, when pitted against its main rivals, such as the Suzuki TL1000S and Ducati 916.
The VTR1000 was also compared often against Yamaha's TRX850 and Ducati's other Sportster the 900SS. Both of these machines were around 15-20 horsepower down on the VTR so it comfortably had the edge.
The VTR1000 is not complicated to get off the line. It is relatively heavy and stable, though it will still very easily lift the front wheel with aggressive launches.
The danger of wheelying is certainly more likely with an aggressive clutch dump and if getting it engaged early and at lower rpm, then driving it hard, that bottom end torque will have the front wanting to rear up.
If your launch style is a little different and not so aggressive, and you prefer more rpm and more clutch slip.
The speed will be higher once the clutch is fully engaged, and once you nail the throttle from 6500-7000 rpm, aided by your momentum, the VTR1000 won't wheelie that easily as after 6000 rpm peak torque falls away which is evident in the above thrust curve.
You may adopt either style with good results. Get it right and the VTR1000 will launch from 0-60 mph in only 2.93 seconds and 0-100 km/h in 3.21 seconds. Times that are faster than many current motorcycles with much more power.
Side shot of the VTR1000It goes to show, that even having 200 horsepower does nothing for your 0-60 mph times. Most typical sportsbikes can't actually use more than around 70 horsepower to launch to 60 mph.
That's why most motorcycles above 70 horsepower are capable of 2.5-3.5 second 0-60 mph times, with the difference being how easy they are to launch and how skilful the rider is, rather than the peak horsepower figure that they have.
For the best ET times, the VTR1000 should be taken to around 10,000 rpm in both first and second gear before changing to the next cog up
Once into third gear, the VTR1000 should have achieved the 0-100 mph sprint in only 6.49 seconds. The remaining gears should be changed-up at around 9500 rpm for the best results.
A little info fourth gear the VTR1000 will cross the quarter mile in 10.95 seconds hitting a terminal speed of 126 mph.
A very respectable time that puts it on par with many 600 cc sports bikes, though the new Supersports would have the edge, especially from 130 mph and beyond.
After the quarter mile, the VTR1000 still charges pretty hard all the way up to 140 mph which it does in 15.74 seconds, though it is at this point that the little bikini fairing and 100 horsepower start to struggle in the wind, with 150 mph arriving at around 12 seconds later.
The VTR1000 Firestorm hits its top speed of 153 mph
From 140 mph onward which is around 155 mph on the optimistic speedometer, you'll have to tuck real hard on the roomy VTR1000 and you'll see a real 153 mph top speed.
You can actually achieve the VTR1000s top speed in both fifth and sixth gear. It can't even hit the rpm limiter in fifth and is showing around 8600 rpm in sixth gear when hitting its top speed of 153 mph.
There is plenty of rpm to go. If the VTR could get close to its limiter it would be doing around 180 mph.
Adding three teeth to the rear sprocket would have the VTR1000 geared for a theoretical top speed in sixth of around 166 mph and improve in-gear acceleration substantially.
Honda VTR1000F Top Speed And Acceleration

Speed

Time

0-10 mph

0.39

0-20 mph

0.96

0-30 mph

1.41

0-40 mph

2..93

0-50 mph

2.40

0-60 mph

2.93

0-70 mph

3.72

0-80 mph

4.43

0-90 mph

5.24

0-100 mph

6.49

0-110 mph

7.69

0-120 mph

9.58

0-130 mph

11.76

0-140 mph

15.74

0-150 mph

27.21

60-130 mph

8.82

SS/QM

10.95 @ 126 mph

SS/KM

20.59 @ 146 mph

SS/Mile

29.50 @ 151 mph

Top Speed

153 mph