Ducati Panigale 1199 0-60 mph in 3.10 seconds
In the realm of high-performance motorcycles, the Ducati Panigale 1199 stands as an embodiment of power, innovation, and aesthetic brilliance.
Introduced in 2012, it marked a watershed moment in the world of superbikes, redefining what it meant to fuse cutting-edge engineering with an irresistible visual appeal.
As the successor to the Ducati 1198, the Panigale 1199 captured the hearts of enthusiasts with its eye-watering power-to-weight ratio, packaged in a unique, compact design.
Below we have top speed and acceleration data through the gears accompanied by Dyno Curve and Thrust Curve graphs.
Ducati Panigale 1199 Dyno Curve
The engine in the Panigale 1199 was at the time the most powerful production two-cylinder engine in existence.
On paper, it made a claimed 195 horsepower and 97 ft/lb which to this day is a mesmerizing figure for such a lightweight motorcycle at 166 kg dry.
On the dyno and with the expected transmission losses the Panigale 1199 produces 173 horsepower at 10500 rpm and 87 ft/lb at 9000 rpm.
These are huge numbers that improve upon the outgoing Ducati 1198 by a good margin.
The engine's delivery and character are not typical of a powerful two-cylinder engine, with most of the available drive provided at higher rpm.
The Ducati Panigale 1199 engine is actually 'peaky' and has an almost two-stroke-like character with a gaping hole or flat spot in the curve between 4500 rpm and 6500 rpm.
This flat spot is particularly noticeable in the higher gear ratios as they are longer than your typical Japanese four-cylinder 1000 cc Superbike.
Ducati Panigale 1199 Thrust Curve
There are various reasons for the flat spot including noise and emissions regulations that have softened up the engine lower down.
Though primarily it lies with Ducati's choice to aim for class-leading peak power.
This meant that the new 1199 Panigale's engine designers chose a very oversquare short-stroke engine design versus the typical long-stroke design we often see in big two-cylinder engines.
From 6500 rpm onward the Panigale's engine explodes excessively and drives extremely hard all the way to the redline.
The power delivery is extremely exciting and rewarding, especially when feeding the Ducati Panigale 1199 gears.
You better hold on tight and have good throttle control as the Ducati 1199 Panigale does like to lift the front wheel which it does with very little invitation.
The engine is typically 'chuggy' below 3500 rpm and certainly prefers to be at higher rpm.
Even once above 3500 rpm, you're lost in that flat spot. The engine is simply not happy, neither is the rider because there is not the kind of acceleration one would expect from a large-capacity Superbike engine.
Thankfully, much of the flat spot can be remedied with a full exhaust system and ECU flash, though even then the engine still thrives on rpm where it is most effective.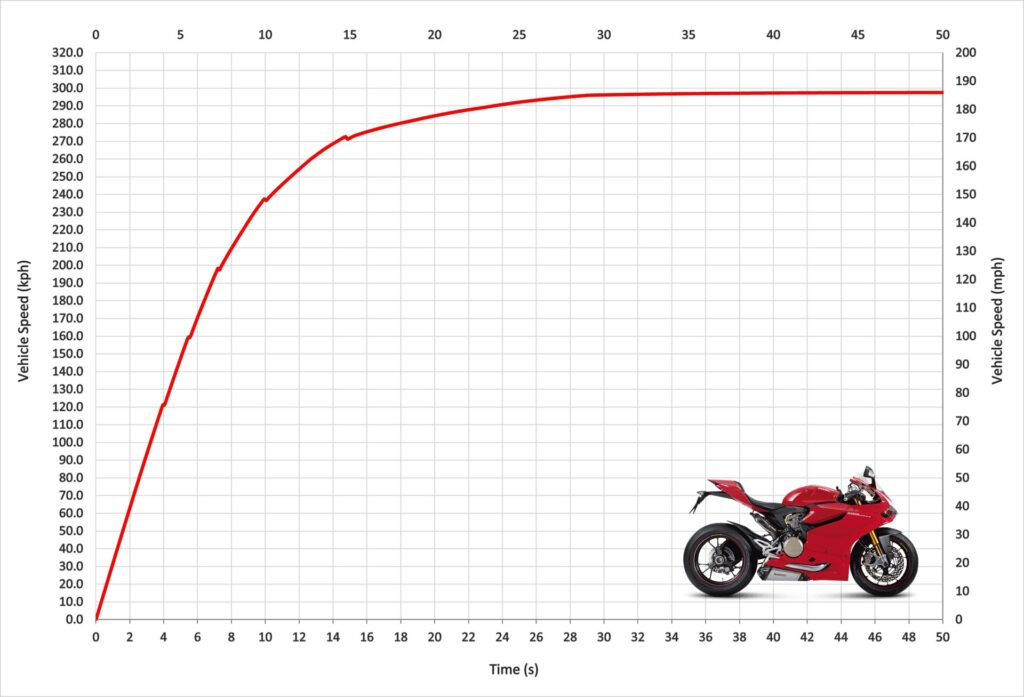 Ducati Panigale 1199 Acceleration through the gears
The Ducati Panigale 1199 was one of the fastest accelerating motorcycles when released back in 2012.
Still to this day, it holds its own against many newer and more powerful motorcycles.
Like all powerful and lightweight superbikes wheelies are a limiting factor to achieving optimum times.
Not surprisingly, the Ducati Panigale 1199 is probably hindered more so than most even though it is accompanied by a suite of various rider aids such as wheelie control.
Despite this, the Panigale 1199 is still very capable and achieves a 0-60 mph time in only 3.10 seconds and a 0-100 km/h time of 3.20 seconds.
Both of these benchmarks are achieved in first gear.
0-100 mph comes up in an impressive time of 5.62 seconds and 0-200 km/h in only 7.42 seconds.
With a bit of practice, the (0-400m) quarter mile time for the Ducati Panigale 1199 Panigale is often in the low 10s.
Our best quarter mile time with the Ducati Panigale 1199 chimed in at 10.26 seconds with an impressive 148 mph terminal speed.
Sub ten-second times are possible like with many Superbikes but the stars need to align.
The Ducati Panigale 1199 charges really hard up to around 170 mph but does relent a little from then on once sixth gear is engaged/
Compared to other litrebikes it loses out a little from 170 mph upward.
Still, the 0-180 mph time is 23.24 seconds which is still a very impressive time, but actually a little slower than the less powerful K5 Suzuki GSX-R1000.
If you hold on long enough the Ducati Panigale 1199 will reach a top speed of 185 mph after around 30 seconds showing 10,800 rpm in top gear.
With more power, there is enough rpm to hit a real 195 mph but would only be possible with a better screen and with a good full system and tune.
Ducati Panigale 1199 Acceleration and Top Speed

Speed

Time

0-10 mph

0.50

0-20 mph

1.21

0-30 mph

1.51

0-40 mph

1.83

0-50 mph

2.04

0-60 mph

3.10

0-70 mph

3.53

0-80 mph

4.38

0-90 mph

4.92

0-100 mph

5.62

0-110 mph

6.29

0-120 mph

6.99

0-130 mph

7.98

0-140 mph

9.03

0-150 mph

10.52

0-160 mph

12.36

0-170 mph

15.39

0-180 mph

23.24

60-130 mph

4.88

100-150 mph

4.96

SS/QM

10.26 @148 mph

SS/KM

18.38@173 mph

SS/Mile

25.89 @182 mph

Top Speed

185 mph