Suzuki TL1000S does the quarter mile in 10.92 seconds
A look at the Suzuki TL1000S's engine performance, top speed and acceleration
Suzuki TL1000S Dyno and engine performance
The TL1000S was known to have a brilliant engine back in the late 90s. If we judge its 996 cc L2 by today's standards and on paper, it does not stand out as anything special with its claimed 125 horsepower at 8500 rpm and 78 ft/lb at 6500 rpm. We have sports tourers and adventure motorcycles that make substantially more power
TL1000S always performed well on the dyno making between 110 and 120 horsepower at the rear wheels.
The 1997 models which were the first had the strongest engines but from 1998 onward TL's were toned down in the ECU, which was one of a few solutions that were a knee-jerk reaction by Suzuki to soften up the instant throttle response after some accidents relating to the controversial rotary rear suspension.
TL's from 98 up until they were discontinued in 2001 softer throughout the rpm range and lost 5-10 horsepower at peak.
On the dyno, we have 119 horsepower at 9800 rpm and a solid 75 ft/lb at 8000 rpm on the 1997 TL1000S.
Both peak figures are produced at higher rpm than claimed. Typically, TL1000S produce their peak power between 8000 and 10,000 rpm and torque between 6500 rpm and 8000 rpm as evident in the dyno graph.
How the TL1000S delivers its power was unique back in the late 90s. Most big twins before and at the time were not rev monsters, though along with providing that typical L2 punch, the engine also encouraged you to chase the rev counter as it picked up rpm and speed almost like a two-stroke from a little under 6000 rpm.
This is where most competitors were rather flat comparatively and lost interest above 7000 rpm or just did not pull nearly as hard as the TL1000S. This made the TL1000S quite exciting to use.
Suzuki TL1000S in-gear acceleration
The TL1000S was over geared from the factory. First gear was too low and could have been longer by 10 mph. Second and third gear is about right with fourth fifth and sixth being a little longer than necessary.
Because big 1000 cc twins typically rev a little lower outright than their four-cylinder competitors, they often ran slightly longer gearing in the latter gears and in particular top gear. Suzuki seemed to have gone a little too far and ended up sacrificing some acceleration in-gear as a result.
Despite this, at the time the TL1000S provided among the best in-gear performance in its class.
The engine was made to feel even more potent due to the TL's instant and aggressive throttle mapping from its basic and unrefined FI system when many other motorcycles at the time had very linear throttle response from using carburettors instead of fuel injection.
From a top gear roll from highway speeds, there were many 600's that would pull ahead but this is down to the TL1000S' long gearing, with 70 mph in sixth showing only 3950 rpm on the TL.
Comparatively many 600s would be at around 6000 rpm in top gear from the same speed and other litrebikes such as the 98 R1 showing 4500rpm.
Most 600s would have a sixth gear ratio similar to the TLS's third or fourth gear.
If you like lazy overtakes in sixth the TL1000S will oblige and get the job done but it won't win too many races so kicking it down a few is the way to go.
In the lower gears you do not have to worry about what rpm you are in but, from fourth upward the sweet sport is 6000 rpm as you are right in the meat of the power. So, if you must get ahead of that slow mover in the way fast drop a gear.
Around town, you are mostly in second and third and there is plenty enough to get you out of trouble or show that car your twin exhaust.
For medium-speed country roads, third gear will have you covered and will take you to around 120 mph and provide enough drive from low down without having to change down a gear.
The TL should run lower gearing and many owners at a few teeth at the rear or drop one at the front. Though this makes first gear even more unusable but sorts out the last three to where they should be at.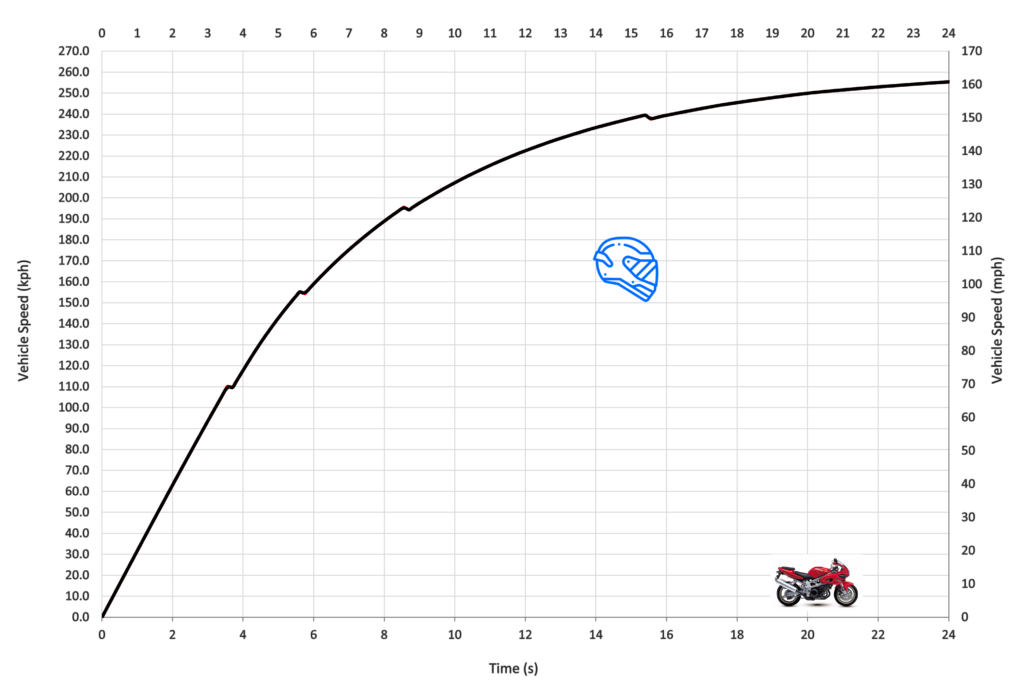 Suzuki TL1000S does 0-60 mph in 3.28 seconds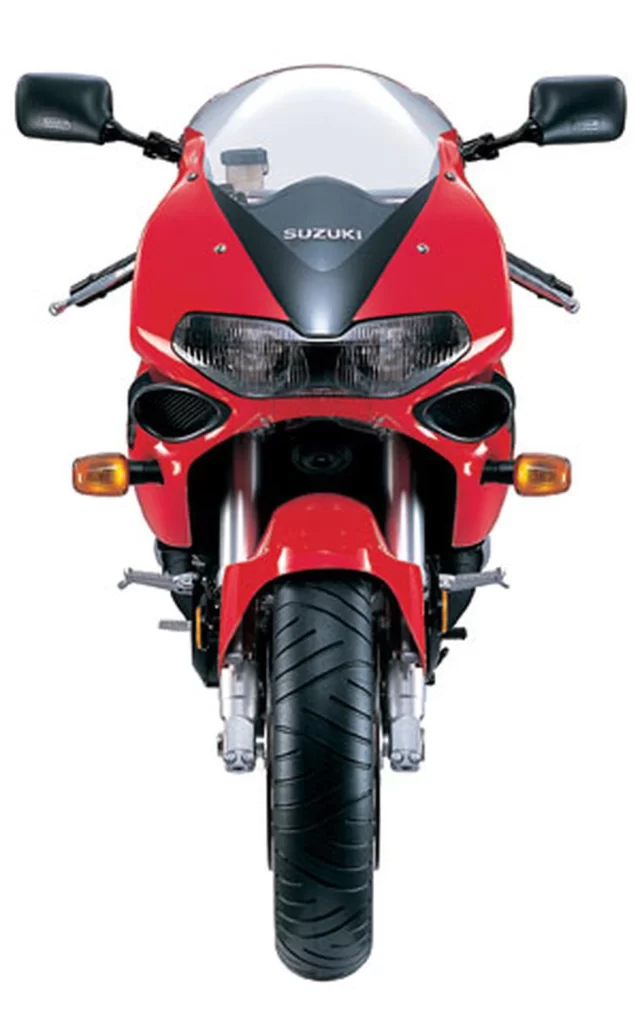 The TL1000S is quite the wheelie machine and will lift in first gear from as low as 3000 rpm. Second gear will come up too on the power if you let off and then get back on it from around 60 mph.
Due to the extremely aggressive and instantaneous throttle response, the TL does require some skill and care to launch hard. First gear as mentioned will wheelie anywhere. It is hard to modulate the throttle without the front wanting to come up.
Thankfully the clutch is very good with a top-class feel, so it is easy to get the clutch fully engaged quickly and then on the power, though the TL just wants to lift even with a delicate throttle hand.
There is a lot more in the TL's 60 ft time as well as a better zero to sixty time if it had better fuelling.
So, it won't shatter records with the TL1000S achieving a 0-60 mph time of 3.28 seconds, and 0-100 km/h coming up in 3.41 seconds. Still, great times considering.
Once into second thanks to the typically sweet Suzuki gearbox, it is plane sailing. You do not have to worry so much about wheelies just your ideal rpm to change up.
Like first gear, second should be taken to around 10,000 to 10,500 rpm before changing and then you should change into fourth at around 9500 -10,000 rpm for best ETs
If your launch is sweet the TL1000S should blast from 0-100 mph in 6.30 seconds flat, 0-200 km/h in 9.41 seconds and then cross the quarter mile at 10.92 seconds with a terminal speed of 132 mph.
There is probably another quarter second in the Q mile time with a better launch, but the TL just wants to wheelie, unfortunately.
For the best acceleration from 130 mph and using the remaining gears, change-up points become harder to work out.
From 130 mph fourth gear makes as much thrust as fifth gear, then from 140 mph, fifth gear makes as much thrust as sixth gear!
For best effect, you should probably rev out fourth gear until 140 mph or around 9600 rpm then change to fifth and pin it without changing into top as you'll lose a little time.
Suzuki TL1000S top speed is 163 mph
The Suzuki TL1000S' top speed of 163 mph can happen in fifth or sixth gear. If you take fifth as far as it will go and change to sixth gear, the rpm will likely not move and neither will speed increase.
Sixth gear should only be used to save fuel on the highway.
The 163 mph top speed of the TL1000S is quite impressive for a semi-faired motorcycle, though the TL1000S is pretty large and roomy, with the half fairing providing good protection from the elements even for taller and larger riders.
While the TL1000S is fast, and punches hard for a 120 horsepower motorcycle, it's about as fast as any 600 Supersports from the last 20 years.
The latest R6 and ZX-636 would have the legs on it from 130 mph. The main difference is that the TL won't need a bazillion rpm like a 600 and will provide lazy speed.
Something like a Panigale V2 is much faster in the top end but the TL will offer a little more in the bottom end. The V2 has lower gearing so can match and beat the TL gear-for gear though requires more rpm and fuss to do it.
Suzuki TL1000S Top Speed And Acceleration

Speed

Time

0-10 mph

0.49

0-20 mph

1.00

0-30 mph

1.59

0-40 mph

2.10

0-50 mph

2.68

0-60 mph

3.28

0-70 mph

4.00

0-80 mph

4,62

0-90 mph

5.30

0-100 mph

6.30

0-110 mph

7.31

0-120 mph

8.52

0-130 mph

10.35

0-140 mph

12.60

0-150 mph

16.71

0-160 mph

26.66

60-130 mph

7.10

SS/QM

10.92 @ 132 mph

SS/KM

20.07 @ 155 mph

SS/Mile

28.54 @ 161 mph

Top Speed

163 mph