Suzuki TL1000S does the quarter mile in 10.92 seconds
A look at the Suzuki TL1000S's engine performance, top speed and acceleration
Suzuki TL1000S Dyno and engine performance
The late 90s saw the emergence of the Suzuki TL1000S.
Suzuki's first attempt at a big sports twin was and still is renowned and well loved for its exceptional engine.
While, on paper, its 996 cc L2 engine with a claimed 125 horsepower at 8500 rpm and 78 ft/lb at 6500 rpm may not appear extraordinary by today's standards.
This is because we now have sports tourers and adventure motorcycles that produce much more power.
However, the TL1000S consistently delivered impressive results on the dyno, producing between 110 and 120 horsepower at the rear wheel.
The initial 1997 models boasted the strongest engines, but subsequent TL models from 1998 onwards were softened via the ECU and throttle bodies.
The above was seen as a kneejerk reaction from Suzuki's to address the instantaneous throttle response, which had led to some accidents associated with the controversial rotary rear suspension.
Consequently, the TL1000S engine from 1998 until its discontinuation in 2001 became milder throughout the rpm range, resulting in a slight loss of 5-10 horsepower at its peak.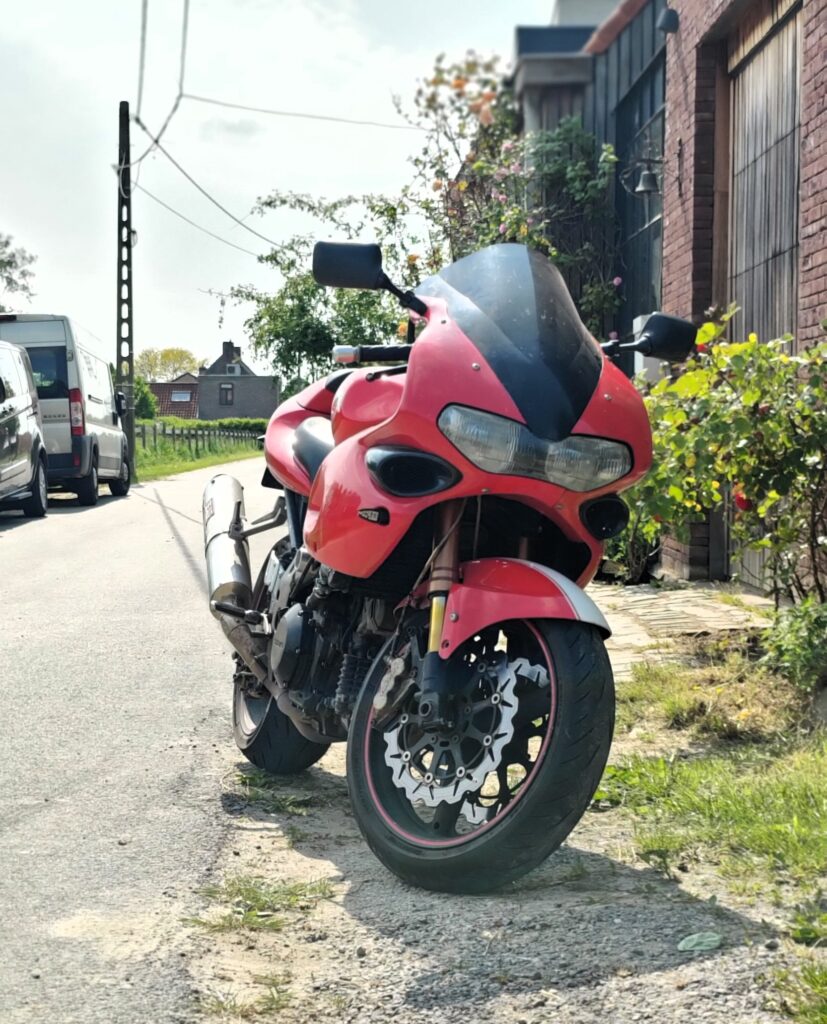 On the dyno, the 1997 TL1000S demonstrated how potent the engine was with 119 horsepower at 9800 rpm and a solid 75 ft/lb at 8000 rpm.
Notably, on the dyno both peak figures were attained at higher rpm than initially claimed.
Typically, the Suzuki TL1000S reached its maximum power output between 8000 and 10,000 rpm, while torque peaked between 6500 rpm and 8000 rpm, as evidenced by the dyno graph.
What truly set the TL1000S apart in the late 90s was its unique power delivery.
Unlike most big twins of that era, which were not renowned for surging power at high revs, the Suzuki TL1000S engine was a different animal.
It not only offered the characteristic L2 punch these engines are often loved for but also encouraged riders to chase the rev counter much like a four-cylinder.
Starting from just under 6000 rpm, the Suzuki TL1000S exhibited a remarkable surge in both rpm and speed, reminiscent of a two-stroke engine.
In comparison, many of its competitors at the time, such as the VTR1000 and Ducati 916 lacked the same punch beyond 7000 rpm and couldn't match the TL1000S's exhilarating top-end performance.
These distinctive qualities of the engine make the Suzuki TL1000S a truly thrilling motorcycle to ride.
Suzuki TL1000S in-gear acceleration
The TL1000S is overgeared from the factory.
First gear is too short and could have been extended by 10 mph for better performance and without losing much in the way of instant throttle response.
On the other hand, second and third gears are about right, while the fourth, fifth, and sixth gears are slightly longer than necessary and could be shorter.
Typically, large 1000 cc twin-cylinder motorcycles do not rev as high compared to their four-cylinder counterparts, which often leads designers of sporty twins to have longer gearing in the higher gears, especially in top gear.
This will enable them to have decent top speeds while not revving too high at highway speed.
However, Suzuki seemed to have gone too far in this aspect, resulting in a sacrifice of acceleration during in-gear performance in the last three gears.
Despite this, the TL1000S offered impressive in-gear performance compared to its competitors at that time but can feel a little less potent against newer machines.
The engine's potency was further enhanced by the TL's immediate and aggressive throttle response.
You can thank the basic and unrefined fuel injection system. In contrast, many other motorcycles of that era with carburetors had more linear throttle responses that were much less aggressive on part or from a closed throttle.
During a top gear roll at highway speeds, many Supersport 600 cc motorcycles would pull ahead due to the TL1000S' longer gearing.
For instance, cruising at 70 mph in sixth gear would only result in 3950 rpm on the TL, while comparable 600 cc supersport bikes would be hovering around 6000 rpm in top gear from the same speed.
Even a literbike such as the 1998 Yamaha R1 would show 4500 rpm. So lower geared.
For example, many 600 cc Supersport motorcycles have a sixth gear ratio similar to the TL's third or fourth gear.
If you prefer leisurely overtakes in sixth gear, the Suzuki TL1000S will accommodate and get the job done.
However, it may not be the best choice for winning top-gear roll races, so downshifting a few gears is recommended.
In the lower gears, you don't need to worry about your rpm, but from fourth gear onwards, the sweet spot lies around 6000 rpm, where you'll have access to the meat of the power.
So, if you need to pass a slow-moving vehicle like your life depended on it, dropping a gear is the way to go.
In town, you'll mostly find yourself using second and third gears, which provide ample power to get you out of trouble or impress others with the rumble of your Yoshimura exhaust or similar.
For medium-speed country roads, the third gear will suffice and allow you to reach around 120 mph at max rpm,, while providing enough low-end torque without the need to downshift.
You will mostly be using third and fourth gear the vast majority of the time when on country roads with decent bends.
Many TL1000S owners tend to gear their Suzuki TL10000S lower by changing the rear or front sprocket by a few teeth.
However, lower gearing ensures that first gear is even less useful than it already is, although the lower final drive improves the performance of the last three gears which as mentioned is a little too long.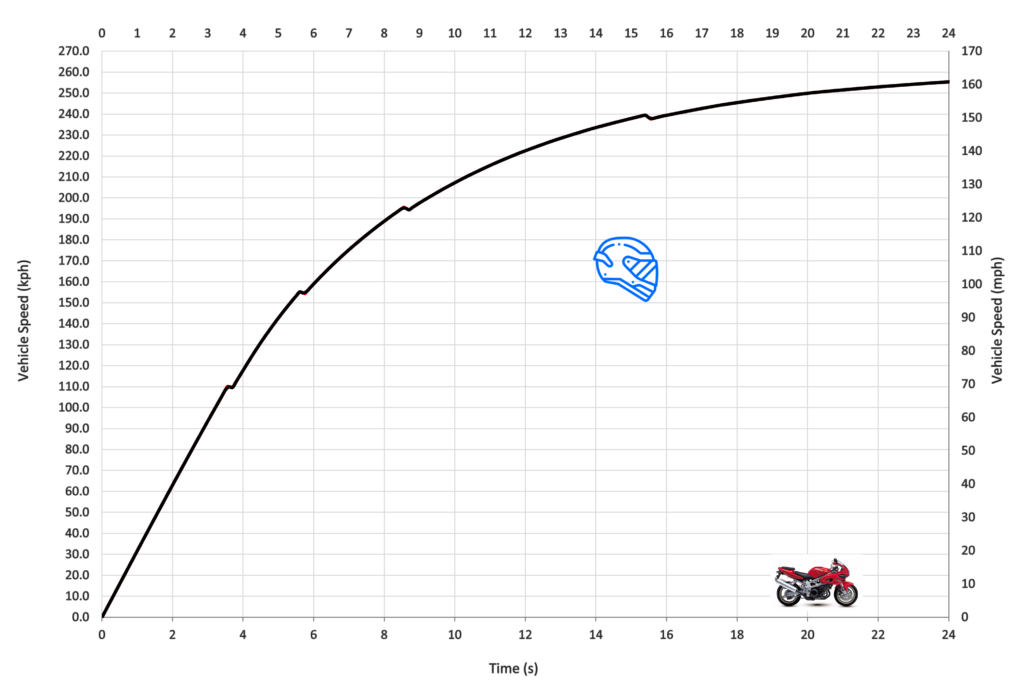 Suzuki TL1000S does 0-60 mph in 3.37 seconds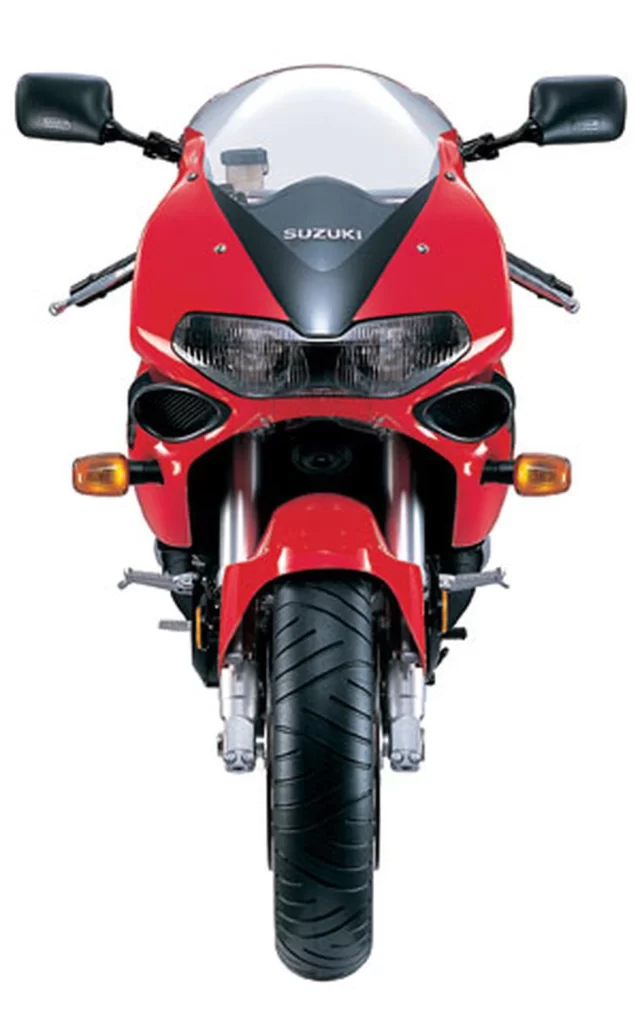 The Suzuki TL1000S is renowned for its demonic wheelie capabilities and will hoist the front wheel even in first gear cracking the throttle from only 3000 rpm!
In second gear The Suzuki TLL1000S is a little less suicidal, but you can easily encourage it to lift with a simple release of the throttle momentarily.
You then crack the throttle open again from around 60 mph, and the bike will eagerly respond and lift again.
You can expect the TL1000S to lif under hard acceleration in second gear on the uneven surface too.
When it comes to speed testing the TL, it's important to note that due to its incredibly aggressive and instantaneous throttle response, launching the TL requires a fair bit of skill and a little caution.
As mentioned earlier, first gear is almost unusable and will flip easily enough if you are super aggressive.
This makes it challenging as you must exercise expert modulation of the throttle if you do not want your inevitable wheelie ruining your launch from a dig
Fortunately, the TL's clutch is exceptional, providing exceptional feel.
This allows for quick and precise engagement of the clutch so you can get on the power in first gear quickly. However, even with a gentle touch on the throttle, the TL tends to lift the front wheel.
It's worth mentioning that the TL could achieve better results in both its 60 ft time and zero to sixty time if its fueling was a little more accurate.
While the TL1000S may not break any records, it still manages impressive acceleration figures, reaching 0-60 mph in 3.37 seconds and 0-100 km/h in 3.55 seconds.
These times are commendable for a 20-plus-year-old L2 Sportsbike.
The best way to launch the TL1000S is to get the clutch fully engaged as quickly as possible and nail her in first gear while maintaining a ten to fifteen-centimeter wheelie until you need to change up to second gear.
It does not matter at what rpm you dump the clutch, but anywhere between 4000 and 6000 rpm works just fine as due to the low first gear and the ample torque.
You can be careless with the rpm as there is no danger of the TL1000S bogging down.
Once you shift into second gear using the smooth Suzuki gearbox, things settle a little, and Instead of worrying about instantaneous wheelies, your focus can be on finding the ideal RPM to shift up.
Similar to first gear, it is advisable to rev second gear to around 10,000 to 10,500 RPM before shifting, and then aim for a shift into fourth gear at approximately 9,500 to 10,000 RPM for optimal elapsed times (ETs).
With a well-executed launch, the Suzuki TL1000S can surge from 0-100 mph in a flat 6.30 seconds, reach 0-200 km/h in 9.41 seconds, and complete the quarter-mile in 10.92 seconds, with a terminal speed of 132 mph.
A better launch could potentially shave off another quarter of a second in the quarter-mile time, but the Suzuki TL1000S tends towards wheelies as mentioned, unfortunately.
Determining the optimal shift points for the remaining gears and achieving the best acceleration from 130 mph becomes more challenging.
At 130 mph, both fourth and fifth gears provide similar thrust, while at 140 mph, fifth gear matches the thrust of sixth gear.
For maximum effect, it is recommended to rev out fourth gear until around 140 mph or approximately 9,600 RPM, and then shift into fifth gear without engaging the top gear.
Not doing the above would result in a slight loss of time.
Suzuki TL1000S top speed is 163 mph
The Suzuki TL1000S boasts an impressive top speed of 163 mph, which can be achieved in either fifth or sixth gear.
However, when reaching the limit of fifth gear and transitioning to sixth, the RPM will likely remain steady without any significant increase in speed.
It is worth noting that sixth gear is primarily intended for fuel efficiency during highway cruising, rather than for top speed.
For outright acceleration, shifting into sixth gear from fifth will hurt acceleration and in most cases revving out fifth gear will achieve a higher top speed than in sixth.
Your results may vary of course.
The 163 mph top speed of the Suzuki TL1000S is quite impressive for a semi-faired motorcycle
The Suzuki TL1000S generally is generally larger and more spacious than many sporty motorcycles, and despite the half fairing, it does a great job shielding taller and larger riders from the elements.
While the TL1000S delivers strong performance with its 120 horsepower, its performance for the most part falls in line with 600 Supersports manufactured in the past two decades.
In comparison to the latest Yamaha YZF-R6 and Kawasaki ZX-6R (636) models, the TL1000S may be outperformed from 130 mph onwards.
However, its advantage over a Supersports bike lies in the Suzki TL10000S's ability to accelerate strongly in all gears without requiring excessive RPMs.
This equates to a much more relaxed and effortless riding experience.
Although a bike like the Ducati Panigale V2 is much faster in the top end, the TL1000S compensates by providing superior low-end power.
The Ducati Panigale V2's lower gearing allows it to match and surpass the TL1000S gear-for-gear, but it demands higher RPMs and more effort to achieve similar results.
Suzuki TL1000S Top Speed And Acceleration

Speed

Time

0-10 mph

0.81

0-20 mph

1.26

0-30 mph

1.75

0-40 mph

2.33

0-50 mph

2.86

0-60 mph

3.37

0-70 mph

4.00

0-80 mph

4,62

0-90 mph

5.30

0-100 mph

6.30

0-110 mph

7.31

0-120 mph

8.52

0-130 mph

10.35

0-140 mph

12.60

0-150 mph

16.71

0-160 mph

26.66

60-130 mph

7.10

SS/QM

10.92 @ 132 mph

SS/KM

20.07 @ 155 mph

SS/Mile

28.54 @ 161 mph

Top Speed

163 mph