Suzuki Hayabusa takes on the Bugatti Veyron
It is always fascinating comparing the fastest cars against the fastest motorcycles.
Motorcyclists and car drivers have been making comparisons for many years and will continue to do so as more new cars and motorcycles are released.
Historically motorcycles have always been more accelerative while cars have had the top speed advantage.
The 80s and 90s represented a golden era for Supercars with the pinnacle being the McLaren F1, where in 1994 it held the top speed crown.
The McLaren F1 beat out many other Supercars of the time, including the Ferrari F40, Jaguar XJ220, and Porsche 959.
The benchmark that the McLaren F1 set was extremely high, ensuring that it reigned supreme as the fastest accelerating car with the highest top speed for many years.
From then on not much happened for many years in that space. Mega-fast cars went out of favour! Much of this was due to the economics at the time.
Meanwhile, a speed war between motorcycle manufacturers was brewing.
Through the early 1990s the Kawasaki ZZR1100 was the fastest motorcycle. This claim was challenged by Honda with their Super Blackbird that burst onto the scene in 1996.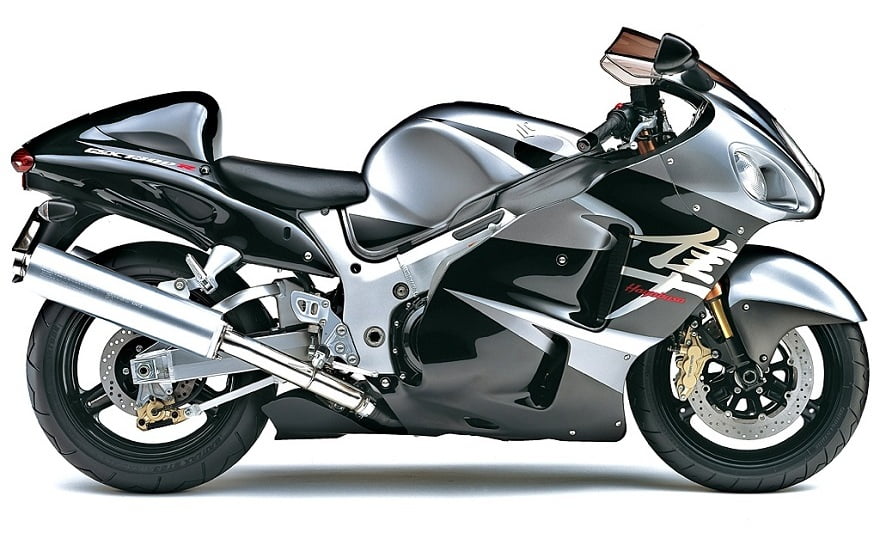 It wasn't until 1999 that Suzuki upped the anti with their mighty Suzuki Hayabusa.
At the time of release, the Suzuki Hayabusa was the most powerful production motorcycle in the world, and also had the highest top speed too and was arguably the most accelerative too.
All three of these motorcycles were still some way off the top speed of the McLaren F1 but were comparable when it came to acceleration.
Not to be left out, Suzuki's rival Kawasaki entered into the fight with their ZX-12R and the rest is history.
In the car world, McLaren's decade-plus reign ended quite abruptly with the release in 2005 of the 987 horsepower Bugatti Veyron.
The announcement and release of this car really surprised everyone.
It out-accelerated the McLaren F1 and also had it right up top too.
Top Gear famously pitted both against one another with the Bugatti Veyron coming out on top.
The McLaren F1 had the initial edge in the drag race with the Veyron chasing it down and passing the McLaren F1, but this was no doubt fixed for entertainment purposes.
This is because, with AWD and close to 1000 horsepower, the Bugatti Veyron will always beat the McLaren F1 from a dig every time if both launch perfectly.
Meanwhile, in the motorcycle world, the Suzuki Hayabusa and its top speed of 190 plus mph were getting lots of attention in the press.
This had manufacturers nervous that authorities would impose restrictions.
It wouldn't be the first time that motorcycles had restrictions on their power output put in place.
After all, you could now buy a vehicle that could hit close 200 mph for the similar price of a small entry-level car.
Motorcycle manufacturers took the initiative rather than waiting for knee-jerk legislation and self-imposed speed limits for all new motorcycles from 2000 onward.
The 'Gentleman's Agreement' was set at 300 km/h (186.4 mph)
In the year 2000, there were only two motorcycles that could likely exceed this limit if they were not restricted.
These machines were the Suzuki Hayabusa and Kawasaki ZX-12R,
A year later in 2001, the newly released Suzuki GSX-R1000 was also a machine that potentially could match or exceed this 300 km/h stock.
Since then, most if not all motorcycles have adhered to this self-imposed speed limit.
In the early days, the speed limits could be bypassed by messing with the speedometer or tricking the motorcycle that it was in a lower gear etc.
Today these limits are bypassed by flashing the ECU.
In a world of two hundred-plus horsepower motorcycles, when their ECUs are flashed, many can easily exceed 200 mph.
Spoiler alert…
It goes without saying that we all know that a Bugatti Veyron with a long enough road will gap a Suzuki Hayabusa, from Gen 1 to the new Gen 3.
Also, a Bugatti Veyron will eventually beat any motorcycle, even a Kawasaki H2R as contrary to popular belief a standard H2R can not do 230 mph plus.
Though, the Bugatti Veyron it would need a few miles to catch and pass a Kawasaki H2R, because the H2R would disappear initially.
Back the Veryon Verus Hayabusa…
What is interesting is how both of these machines compare when it comes to acceleration below 180 mph.
This is because, in the real world, that is the speed range where most races would happen.
Over the years we have never seen a publication run a direct comparison between the Suzuki Hayabusa and Bugatti Veyron.
It's shame and a missed opportunity.
Unforttaltey we do not have a Bugatti Veyron at hand but we can take a look at how each of these machines accelerates based on their readily available performance numbers.
The original Suzuki Hayabusa came out in 1999 and then a new and more powerful version in 2008.
Recently in 2021, we got the generation 3 Suzuki Hayabusa though it is a little less powerful than the gen 2.
The Bugatti Veyron ran from 2005 to 2015 with various versions and has now been replaced by the Bugatti Chiron.
We'll take a look at how both the Gen 1 and Gen 2 Suzuki Hayabusa versions compare against the 2005 Bugatti Veyron.
This is because the three of these machines lived during similar times.
Before TCS and launch control, launching powerful Supercars was a unique challenge.
This is especially the case if said Supercars were rear-wheel drive. (which most are)
So traction was a massive issue, even for cars with less than 400 horsepower which is not a large number by today's standards.
Also, pretty much any Supercar worth talking about back in the day had slow manual transmissions while motorcycles have fast sequential transmissions.
These two factors are the main reasons why many motorcycles had an advantage from a launch and often were quicker from 0-60 mph and 0-100 km/h versus Supercars back in the day.
It goes without saying AWD cars are easier and more consistent to launch than powerful motorcycles, though today the advantage swings back to the Supercars, even the cars with rear-wheel drive.
Many newer cars today have very sophisticated TCS and launch control systems that allow rear wheel drives cars to launch almost as effectively as an AWD car.
Cars with 1000 horsepower can actually put that power to the ground with incredible efficiency. Something that an impossible not to long ago.
It's quite incredible.
Additionally, the new automatic transmissions these cars are equipped with are super fast and efficient, which allows for gear changes that are even faster than sequential motorcycle gearboxes.
Combine the advanced launch systems and amazing automatic transmissions, and you have cars such as the rear-wheel drive Mclaren 765 LT that can often hit 0-60 mph in mid to low 2 seconds on a prepped surface.
On the street, they still easily do sub-three-second sprints to 60 mph time and time again.
Motorcycles on the other hand can launch exceptionally well, but require huge skill.
Today, motorcycles also have TCS and launch control systems but they are not as effective as similar systems in cars which almost require no skill.
On a motorcycle, you still have to work the clutch and manage the throttle even if you have a little help.
In most cases, TC and wheelie control can be a hindrance for the most optimum times.
Both the 1999 and 2008 Suzuki Hayabusa are very much analog and require immense skill to launch them effectively.
Thankfully they are long, low, and heavy motorcycles so this does help when launching.
This is because there is less chance of wheelies, and more stability and grip when long and heavy.
Though motorcycles such as the Suzuki Hayabusa do have more of a tendency to wheelspin than wheelie when launching aggressively.
Ultimately, motorcycles are limited by how quickly they can launch from 0-60 mph primarily due to their short wheelbase.
There is not much difference between 0-60 mph times of sports bikes with 80 or 200 horsepower.
A longer wheelbase and a lower center of gravity are more important than adding more power for optimum 0-60 mph times
---
1999 Suzuki Hayabusa Vs Bugatti Veyron
To the numbers…
The 1999 Suzuki Hayabusa matches up very closely against the Bugatti Veyron.
That initial jump off the line has the advantage to the Bugatti Veyron thanks to its AWD.
The 1999 Suzuki Hayabusa can be launched very aggressively for a motorcycle due to the long wheelbase but still loses out a little from 0-30 mph.
The 0-60 mph time for the 99 Suzuki Hayabusa is 2.75 seconds which is an amazing time.
But this is about optimum with most times being in the low three seconds mark even for competent riders.
The Bugatti Veyron takes the win with an eye-opening 2.5 seconds to launch from 0-60 mph and will consistently post sub-three-second times all day long, or until the transmission or clutch breaks.
Once the Suzuki Hayabusa gets moving and the clutch is fully engaged in first gear, its acceleration matches the Veyron though is limited by wheelies or wheelspin.
How hard you can get on the throttle in first gear on the Hayabusa will be determined by your traction and ability to keep your weight over the front to minimize wheelying.
The slight deficit at the start is clawed back by the 1999 Suzuki Hayabusa, but the Bugatti Veyron at this point would still be a car length or so in front.
Once into second gear the 1999 Suzuki Hayabusa can now go wide open throttle. Though there is still a little risk of wheelspin.
The 1999 Suzuki Hayabusa then cracks 0-100 mph in only 5.01 seconds with the Bugatti Veyron closely matched at 5.10 seconds.
The Bugatti Veyron has no traction issue unless on a very bad surface thanks to AWD.
With that change to second gear, the 1999 Suzuki Hayabusa loses a fraction as the Veyron gear changes are faster.
Though once settled in second gear the Hayabusa starts to gain a little and both machines are neck and neck.
At the top of the second gear, the 1999 Hayabusa starts to creep ahead a little with The Bugatti Veyron in third gear at this point.
From 90 mph to 130 mph the 1999 Suzuki Hayabusa accelerates a little stronger than the Bugatti Veyron.
And then from around 130-150 mph, they both accelerate at a similar rate.
As they cross the quarter mile the 1999 Suzuki Hayabusa is a motorcycle wheel-length ahead as it scores a 9.98 second run with a 145 mph terminal speed.
The Bugatti Veyron follows closely with a ten-second flat time and a terminal speed slightly trailing at 142 mph.
It's extremely close!
A little after the quarter mile, and once the 1999 Suzuki Hayabusa hooks fifth gear, the Bugatti Veyron overtakes and then proceeds to clear off very convincingly.
The unrestricted 1999 Suzuki Hayabusa goes on to hit a top speed of 191 mph a little after the one-mile mark.
While at the same time the Bugatti Veyron is a football field in front approaching 220 mph and still accelerating with little let-up.
Ultimately, the Bugatti Veyron takes the win even if it lost on the quarter mile by a fraction.
Both the 1999 Hayabusa and Bugatti Veyron have put down better times in more controlled circumstances.
But in the real world though, the Bugatti Veyron will win nine times out of ten.
The Veyron will win because, from a dig, any driver can easily get the most out of the Bugatti Veyron, while most riders can't get the most out of the 1999 Suzuki Hayabusa.
This is because the bike is much harder to launch and get close to its optimum times. Even a good rider will struggle to hit sub-three-second times.
1999 Hayabusa Vs Bugatti Veyron Top Speed & Acceleration
— 99 Hayabusa — Veyron
For the 1999 Suzuki Hayabusa to do sub-ten-second quarter mile times, it requires perfect launches, in perfect conditions.
If the rider weighs 100 kg and not 70 kg, then sub-ten second-quarter mile times become almost impossible on a stock 1999 Suzuki Hayabusa.
In contrast, a heavy driver will barely affect the Bugatti Veyron's acceleration numbers.
That's because carrying an extra 30kg will always have a more drastic effect on the power-to-weight ratio of a 220kg motorcycle with 175 horsepower vs a 2000kg car with 1000 hp.
Also, heavier riders tend to be larger. The wind is an enemy for a large rider and can kill top-end speed and acceleration quite drastically.
If we discount the acceleration from a dig, the 1999 Suzuki Hayabusa only accelerates faster than the Bugatti Veyron from 90-130 mph, and even then it's only creeping away.
If you're on a stock 1999 Suzuki Hayabusa and come up against a Bugatti Veyron, this would be your best place to race with the best chance to come out ahead.
You'd need to be rolling in second gear too otherwise no chance.
Introduce a headwind and that slight 90-130 mph advantage for the motorcycle is gone while the gale would barely affect the Bugatti Veyron.
From 90 mph with all stars aligned, if you raced you'd only jump the Bugatti Veyron by a car length or two until around 130 mph.
Then things would level off, and as you pass 150 mph the Bugatti Veyron would pass and walk away.
Bye Bye….
The above would only play out if you weighed 70-80 kg. If you are a big rider at say 100 kg, that small acceleration advantage would not be there.
So a 1999 Suzuki Hayabusa only has the edge in perfect conditions with a lightweight rider and that slight edge only really presents itself from 90-130 mph.
Everywhere else the Veyron is either as accelerative or more accelerative.
If your 1999 Suzuki Hayabusa is piped and tuned, you'll do better. But above 150 mph the Bugatti Veyron will still dominate and disappear.
Acceleration and

Top

Speed

Bugatti Veyron

99 Suzuki Hayabusa

Speed

Time

Time

0-10 mph

0.25

0.40

0-20 mph

0.75

0.88

0-30 mph

1.10

1.30

0-40 mph

1.60

1.81

0-50 mph

2.00

2.31

0-60 mph

2.50

2.75

0-70 mph

3.00

3.25

0-80 mph

3.70

3.74

0-90 mph

4.50

4.40

0-100 mph

5.10

5.01

0-110 mph

6.20

5.98

0-120 mph

7.20

6.83

0-130 mph

8.50

7.81

0-140 mph

9.80

9.33

0-150 mph

11.30

10.78

0-160 mph

13.10

13.02

0-170 mph

15.30

15.62

0-180 mph

17.80

20.89

0-190 mph

19.20

35.70

0-200 mph

24.20

N/A

60-130 mph

5.98

5.06

100-150 mph

6.2

5.77

100-160 mph

8

8.02

150-180 mph

6.5

10.11

SS/QM

10.00 @142 mph

9.98 @ 145 mph

SS/KM

18.30 @ 185 mph

18.24 @ 176 mph

SS/Mile

25.90 @ 205 mph

225.60 @ 185 mph

Top Speed

230 + mph

190.77 mph
---
2008 Suzuki Hayabusa Vs Bugatti Veyron
2008 Hayabusa Vs Bugatti Veyron Top Speed & Acceleration
— 08 Hayabusa — Veyron
Things look a little better for the 2008 gen two Suzuki Hayabusa. It's a good 20 horsepower up on the 1999 model and a little more slippery.
The Bugatti Veyron still has the advantage from 0-60 mph thanks to the already mentioned AWD.
The 2008 Suzuki Hayabusa, just like the 1999 version requires lots of skill and a bit of luck for that optimum launch.
Even with more power, the 2008 Suzuki Hayabusa scores a 0-60 mph time in 2.77 seconds.
This time is a few tenths behind the Bugatti Veyron and a fraction slower than the original 1999 model.
The slightly different 0-60 mph times between the 1999 and the 2008 Hayabusa have little to do with one being better than the other and more to do with the skill of the rider and conditions of the day.
Both are equally capable.
It's only when both Hayabusas are into second gear that the newer model can use its extra power.
As a result. the 2008 Suzuki Hayabusa scores a slightly faster 0-100 mph time and is slightly ahead of the original with an eye-watering 4.95 seconds ET.
The time is a fraction ahead of the Bugatti Veyron's 5.10 seconds effort.
The 1999 Suzuki Hayabusa had a slight accelerative edge from 90-130 mph over the Bugatti Veyron.
The 2008 Hayabusa due to that extra power accelerates harder than the 1999 model at the same speed.
In doing so it is able to put greater distances between itself and the Bugatti Veyron than the 1999 model could achieve.
The 2008 Suzuki Hayabusa is now able to fully utilize that extra 20 horsepower.
It is put to good use to accelerate through second, third, and fourth gear allowing it to cross the quarter mile in a blistering 9.91 seconds with a 150 mph terminal speed.
This is 4 mph up on the original 1999 Hayabusa and 8 mph up on the Bugatti Veyron.
The 2008 Suzuki Hayabusa's acceleration advantage over the Bugatti Veyron extends beyond the 90-130 mph range of the original.
Instead, the 2008 Suzuki Hayabusa is more accelerative from around 90 mph and up to around 160 mph.
When a third of the way through fifth gear and at around 160 mph, the 2008 Suzuki Hayabusa is approximately four car lengths in front of the Bugatti Veyron.
After around 12 seconds, and from 160 mph to the top of fifth gear approaching 170 mph the Bugatti Veyron turns the tables on 2008 Suzuki Hayabusa
At this point, it is now exerting more forward acceleration than the 2008 Suzuki Hayabusa and closing the gap.
The lead the Hayabusa has is now diminishing with the Bugatti Veyron chasing it down and gaining fast.
Still, it will take another 13 seconds and around 1000m before the Veyron can catch and pass the 2008 Suzuki Hayabusa which it will do a little after the mile mark from a standing start.
At the mile mark, the derestricted 2008 Suzuki Hayabusa is doing 194 mph after around 24.91 seconds.
The Bugatti Veyron at the same point is at 205 mph and still accelerating with lots of enthusiasm.
The 2008 Suzuki Hayabusa is very much done at this point crawling to its top speed of 199 mph ten seconds later.
At this point, the Bugatti Veyron is at 220 mph with more to come.
As for who wins. It is a similar story to the comparison between the 1999 Suzuki Hayabusa and Bugatti Veyron.
Of course, due to its extra power the newer 2008 Suzuki Hayabusa – if launched perfectly does have a more distinct advantage over the Bugatti Veyron.
That extra power provides a larger advantage over a wider speed range that the 1999 Suzuki Hayabusa had, which is from 90 mph to 160 mph instead of 90 to 130 mph.
Again though, nine out of ten times due to the consistency, the Bugatti Veyron will likely beat even the 2008 model Hayabusa more often.
Even with a competent rider quarter mile times in the mid-tens at 140 odd mph would be much more common times for the 08 Hayabusa, while the Bugatti Veyron would be banging out numbers close to optimum each time.
If the 2008 Suzuki Hayabusa rider gets a non-optimum launch, even that acceleration advantage from 90-160 mph might not be enough to make up for the lost time due to the poor start.
In terms of roll races, while they require a degree of skill, they are a lot easier to get right versus launching from a dig.
Just like the 1999 Suzuki Hayabusa, the 2008 model will fair best from a roll in second gear from 90 mph.
If conditions are good and the rider is also lightweight, we can expect the 2008 Suzuki Hayabusa to put some car lengths on the Bugatti Veyron and maintain that lead to around 160 mph,
Then, not sparingly that 987 horsepower of the Bugatti Veyron enables it to eventually catch and pass, and job done.
Cars are getting crazy fast
Fast-forward to the last few years to the present. The car world looks very different.
The Bugatti Veyron has been superseded by the Bugatti Chiron.
We also have many more Supercars and Hypercars that at the very least are equally as fast from a dig as a Veyron but beat it from 60 to 200mph.
Some cars like the SF90 and 765LT can launch at least as hard as a Bugatti Veyron, and are also faster everywhere between 60-190 mph.
Motorcycles have moved on too.
We have many 200 horsepower motorcycles, though quarter-mile times have not improved in terms of elapsed time.
This is because these motorcycles can't launch any quicker in that all-important first 60 ft.
But, while ETs are very similar to older motorcycles, newer motorcycles do have faster terminal speeds at the quarter-mile mark than the Gen 1 and 2 Hayabusas.
These newer machines can also accelerate harder and faster to their limited top speeds too.
We also have the Kawasaki H2R but technically not road legal so does not count.
This newer breed of Sueprcars and Hypercars with their clever launch systems just can not be beaten off the line.
From 60 mph onward, the latest Superbikes can match the likes of the Ferrari SF90 and McLaren 765LT all the way to 180 mph.
Though there is no production legal stock motorcycle that can hang with a Chiron, even from a roll. Maybe with the exception of a Panigale V4R or Superleggera.
We have not even mentioned the likes of the Plaid or the Rimac Nevera. The latter does a quarter mile in 8.582 seconds at 167 mph.
Also the new 1160 horsepower Aston Martin Valkyrie that's due soon, or the very many ballistic Koenigseggs with over 1000 horsepower that will gap your favorite Superbike.
Ten years ago it was fun gapping Sportscars and Supercars with your Superbike!
But now even regular sports cars and SUV's are becoming seriously quick, and can also be tuned easily enough to make any litrebike owner worry.
Cars like the most recent Porche 911 Turbos can eat most superbikes from a dig quite comfortably and have enough power to still lead by the quarter mile.
The same car can also eat up many older superbikes from any speed you like and leave a 600 Supersport for dead.
Superbikes have gone from hunter to hunted.
Acceleration and

Top

Speed

Bugati Veyron

08 Suzuki Hayabusa

Speed

Time

Time

0-10 mph

0.25

0.46

0-20 mph

0.75

0.91

0-30 mph

1.10

1.37

0-40 mph

1.60

1.83

0-50 mph

2.0

2.3

0-60 mph

2.5

2.77

0-70 mph

3.00

3.24

0-80 mph

3.70

3.89

0-90 mph

4.5

4.4

0-100 mph

5.10

4.95

0-110 mph

6.2

5.79

0-120 mph

7.2

6.53

0-130 mph

8.5

7.38

0-140 mph

9.8

8.62

0-150 mph

11.3

9.82

0-160 mph

13.1

11.61

0-170 mph

15.3

13.55

0-180 mph

17.8

16.81

0-190 mph

19.20

21.4

0-200 mph

24.20

N/A

60-130 mph

5.98

4.61

100-150 mph

6.2

4.86

100-160 mph

8

6.66

150-180 mph

6.5

7.00

SS/QM

10.00 @142 mph

9.91 @ 150 mph

SS/KM

18.30 @ 185 mph

17.82 @183 mph

SS/Mile

25.90 @ 205 mph

24.91 @194 mph

Top Speed

230 + mph

199 mph