2021 Honda CBR1000RR-R SP 0-60 mph in 3.13 seconds
2021 Honda CBR1000RR-R SP  dyno curve, acceleration measured through the gears and its top speed.
2021 Honda CBR1000RR-R SP Dyno Curve
Honda's CBR1000RR was long due a major revision. We've pretty much had the same motorcycle since 2008 with only minor changes to the 2012 model.
The 2017 model got a good overhaul, but it effectively remained the same motorcycle, sharing the same frame and engine, just dressed up in new cloths and fitted with an electrics package with power modes, TC and wheelie control etc.
The engine remained the same 998 cc poweplant from the outgoing model but did go up from 175 horsepower at the crank of the 08-12 model to 193 horsepower.
The extra power at top was welcome but the 2017 model lost its trump card which was a ballistic midrange drive.
Even with the newfound power it was the weakest engine in class despite being an amazingly fast motorcycle. And its midrange was mid pack at best.
The latest 998 cc engine for 2021 is totally new and packs a whopping claimed 214 horsepower at 14500 rpm. Honda really went to town and arguably put out the most powerful normally aspirated 1000cc engine.
Perhaps the Panigale V4R and latest S1000RR might have something to say about the above claim but nonetheless Honda really meant business with the new for 2021 CBR1000RR-R and SP model.
At the rear wheel the new CBR1000RR-R SP produces an incredible 200 horsepower at 14500 rpm and 79 ft/lb of torque at 12000 rpm. The CBR1000RR-R SP would probably make a little more if it could rev beyond 14500 rpm while on the dyno but the as the front wheel does not spin it upsets and confuses the motorcycle.
The Euro spec machines make quite a bit more power than the US versions despite still having many in-gear throttle restrictions.
The engine delivery is very similar to a 2015 plus Yamaha R1 but a little weaker between 7000 and 11000 rpm but from 11000 rpm onward it just revs and pulls even harder and more frantically at the top than the Banzai R1.
Like the R1, the engine it only really comes alive from, 8000 rpm and especially from 9000 rpm. You really have rider it like a 600 as there is simply not the grunt of the current S1000RR or any other of the 1000 cc offerings which we'll get into below.
2021 Honda CBR1000RR-R SP in-gear acceleration
The 2021 CBR1000RR-R SP engine is already not the strongest in the midrange and the bottom end compared to rivals. This lack of grunt is massively compounded by the 21 CBR1000RR-R SP's insanely long gearing which you can check via the below chart.
If you are caught in any gear below 8000 rpm you'll be soundly whopped by most modern litre motorcycles and even some 600 cc motorcycles too.
2021 Honda CBR1000RR-R SP Speeds in each gear at 5000 rpm
| | |
| --- | --- |
| Gear | Speed at 5000 rpm |
|  Speed 1st Gear | 35.8 mph |
|  Speed 2nd Gear | 45.5 mph |
|  Speed 3rd Gear | 55.1 mph |
|  Speed 4th Gear | 63.4 mph |
|  Speed 5th Gear | 70.2 mph |
|  Speed 6th Gear | 77.1 mph |
If the CBR1000RR-R SP could hit 14500 rpm in top gear, we are talking a real speed of 223.7 mph. And forth gear it does its top speed pretty much.
The long gearing is really unnecessary for the road but probably works well on long fast sweeping race tracks and ensures that the power is easier to get to the ground with less reliance on wheelie or traction control as the engines
fury/thrust is somewhat tamed a little.
In town you do not need any other gear than first. Using second in town feels like fourth gear on most motorcycles and pick up is pretty lethargic and like a 600.
Well, to be honest all gears pick up like a 600 cc sportsbikes until the CBR1000RR-R SP gets to around 8000 rpm. Then it pulls faster than pretty much anything else on the road.
Below, we overlay a CBR600 F4i's in-gear thrust/acceleration curve where you'll see that it matches the CBR1000RR-R SP in the first half of the RR-R's speed range in each gear.
Embarrassingly for the CBR1000RR-R SP, if both motorcycles were rolling from 40 mph in second gear the CBR600F4i would Jump its much more powerful sibling and pull a good few bike-lengths.
The CBR600's lead would be very short lived though as the 1000 would quickly pass it and disappear quite literally.
Even in a top gear roll-on 70 mph to around 120 mph would have them neck and neck. Much of this though is down the CBR1000RR-R's horrendously long gearing. If it was geared properly, it would trounce the 600 in any gear at any speed.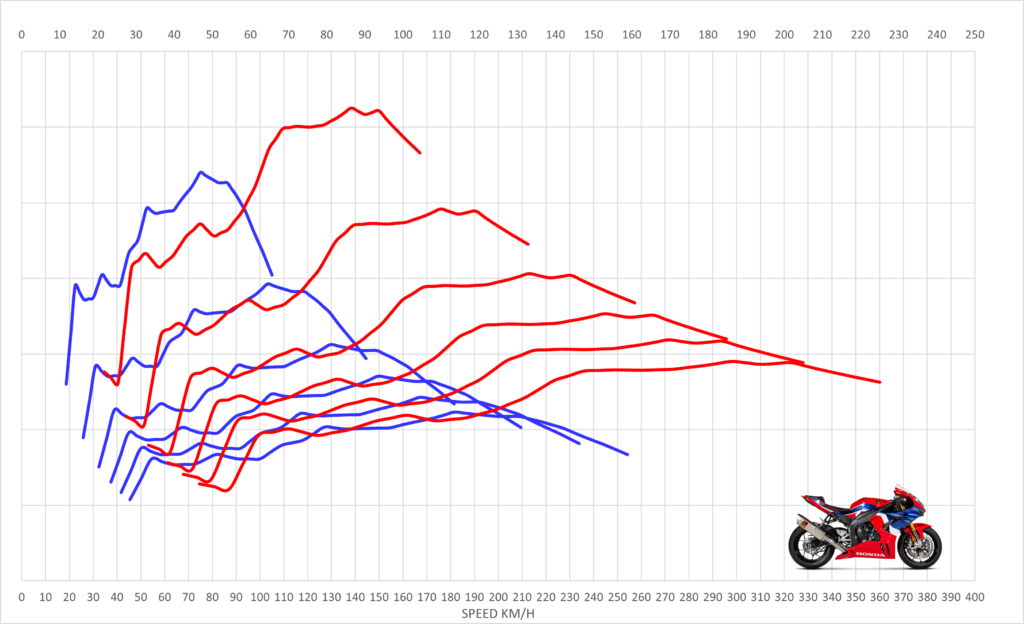 — CBR600F4i — CBR1000RR-R SP
2021 Honda CBR1000RR-R 0-180 mph in 14.80 seconds
2021 Honda CBR1000RR-R Acceleration and Top speed
With the kind of power the 21 CBR1000RR-R SP puts to the wheels' lands it right at the top of the pile in terms of straight-line acceleration. Unfortunately, its potential is not fully reached.
Motorcycles are becoming ever more restricted due to having to meet stringent noise and emissions regulations each time a new standard is introduced.
Motorcycles lose peak power and mid and bottom range as a result, as well as manufactures having to limit power at certain throttle openings in certain gears as one of the many tricks to meet the noise and emission expectations.
The CBR1000RR-R is no different and suffers these hinderances to its performance. The US spec models are neutered even more and produce around 25-30 less horsepower at the wheels.
Regardless, the 2021 Honda CBR1000RR-R SP is still one of the fastest accelerating motorcycles and really comes alive from about 140 mph.
Off the line the CBR1000RR-R SP puts out times very similar to other 1000 cc sports bikes recording a 0-60 mph time in 3.31 seconds and 0-100km/h at 3.22 seconds. Its long gearing helps manage wheelies, though if you do not provide a good bit of clutch slip it will bog down so you must slip the clutch and keep the rpm no lower than 8000 rpm with 9000 rpm being the sweet spot.
For best results you'd be slipping the clutch all the way to around 60-70 mph before fully engaging. Then feed her gears at or between 14-14500 rpm.
It not the hardest motorcycle to launch but its 60 ft time of around 1.9-2.0 seconds is a symptom of the extra-long gearing.
From there on it is straightforward but frighting fast. 0-100 mph for the CBR1000RR-R SP is achieved in 5.39 seconds which is up there but not the best but can be done in first gear.
There are also some electronic shenanigans in first gear that is holding the CBR1000RR-R SP back.
Same can be said for second gear though it does not stop the CBR1000RR-R SP hitting 0-200km/h in only 7.1 seconds.
Most litre Superbikes need fourth gear for the quarter mile, but the CBR1000RR-R SP is crossing the line and only requiring third gear and achieving a respectable quarter mile time of 10.11 seconds.
What is impressive is the terminal speed of 154 mph which provides and insight into the CBR1000R-RR's wicked top end potential.
The CBR1000RR-R SP's 0-180 mph time is one of the fastest at 14.80 seconds. And this is with all the throttle restrictions in place.
Unfortunately, we do not get to see the CBR's true potential, because just as things start to fall into place as it is powering through fourth gear from 180 mph and ready to hook the next gear, the electronics put an end to the fun with a soft limiter. If you hook fourth of fifth the rpm will just say the same and will not accelerate beyond the top speed of 185 mph.
So, the 2021 CBR1000RR-R SP's top speed is 185 mph in fourth, fifth or sixth gear, take your pick!
This is mind bending. Seeing as hit has two gears to go. The bike is tiny too and hard to tuck if you are any larger than a jockey, and this speed comes up easy even when not taking your racing tuck too seriously.
Without a doubt the CBR1000RR-R SP with a decat exhaust system and a custom tune that removes the restrictions would be hard to beat!
The Honda CBR1000RR-R SP is a motorcycle that I am sure would be good for 210-215 mph if let lose. Not every motorcycle with 200-210 horsepower at the wheels would be able to manage this kind of speed, though the 2021 CBR1000RR-R SP is one of the most aerodynamic motorcycle ever made and is the slipperiest of all the current Superbikes  according to Honda's claim.
If we took all the latest 1000cc Superbikes and decat and flash them, the CBR1000RR-R SP would likely be the fastest of the lot, especially up top.
Honda

CBR1000RR-R SP Acceleration and Top Speed




Speed

Time

0-10 mph

0.55

0-20 mph

1.00

0-30 mph

1.50

0-40 mph

2.04

0-50 mph

2.53

0-60 mph

3.13

0-70 mph

3.75

0-80 mph

4.20

0-90 mph

4.73

0-100 mph

5.39

0-110 mph

6.07

0-120 mph

6.70

0-130 mph

7.31

0-140 mph

8.22

0-150 mph

9.11

0-160 mph

10.80

0-170 mph

12.00

0-180 mph

14.80

60-130 mph

4.38

100-150 mph

4.00

SS/QM

10.11 @ 154 mph

SS/KM

17.75 @ 185 m[h

SS/Mile

25.10 @ 185 mph

Top Speed

185 mph