Kawasaki Z900RS 0-60 mph in 3.26 seconds
Kawasaki Z900RS Engine Performance and Dyno
Kawasaki's attractive new retro based on the old Z1 is powered by the same 948 cc inline four-cylinder engine that the sportier Z900 variant also uses.
The primary differences with the Z900 are a lower compression ratio and likely different ECU maps that have reduced a little bit of peak horsepower from 7000 rpm up while increasing power and torque below 7000 rpm for more drive in real-world conditions.
With the above in mind, Kawasaki claims 110 horsepower at around 8500 rpm for the Z900RS and 73 ft/lb at 6500 rpm.
At the rear wheel, we are looking at approximately 100 horsepower on average with our example making 96 horsepower at 8700 rpm and 64 ft/lb at 6450 rpm.
The engine is surprisingly tractable and will pull cleanly and smoothly in any gear from as little as 2000 rpm and provides a nice little 'VTEC' type kick in torque as it hits 5000 rpm which adds a little excitement to what is a very linear power delivery.
Ultimately though the Z900RS engine is not tuned for top-end power despite the engine's sportbike lineage. The engine is designed to provide good acceleration at lower rpm.
If we quickly compare the power curves and in-gear acceleration to its sportier sibling – the 'normal' Z900 you can clearly see that the Z900RS produces a healthy chunk more power and torque below 7000 rpm but loses out from there on where it punts out around 15 horsepower less at the top.
Gear ratios for both motorcycles are the same from second to fourth, but Kawasaki has opted to change the Z900RS's first and second gear, with first gear being slightly lower and sixth gear slightly taller for lower rpm at highway speeds.
Also, the Z900RS has two fewer teeth at the rear sprocket making overall gearing slightly longer than the sportier Z900.
Despite the longer overall gearing the Z900RS still provides more thrust/acceleration in-gear right where Kawasaki intended which you can evidently see in the in-gear thrust chart.
The slightly longer gearing is not enough to really impact the Z900Rs' extra power and torque low-down.
The Z900RS provides more acceleration in the first two-thirds of each gear. If the Z900RS dropped two teeth at the rear, it would be even more accelerative than the Z900 until the Z900 can stretch its legs and use the extra power at higher rpm.
Once the normal Z900 exceeds 7000 rpm in any gear it puts down more thrust and acceleration than the Z900RS but that goes without saying. For most riding situations the Z900RS will feel more responsive and accelerative than the Z900 which is exactly the intention of the Z900RS.
Kawasaki Z900RS top speed 139 mph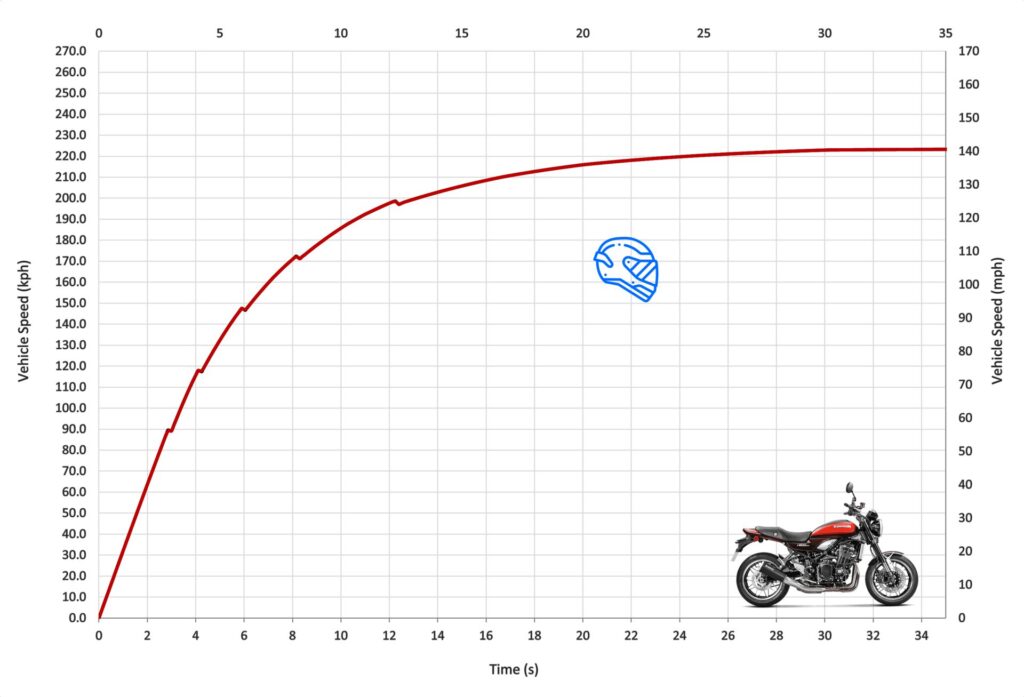 Kawasaki Z900RS quarter mile in 11.35 seconds
You are more likely to find the sportier Z900 at the strip though this does not mean to say the Z900RS is not a worthy machine not capable at putting down some impressive times.
To the contrary as the Z900RS impresses and is a little more capable than I initially expected.
Getting the Z900RS off the line is straightforward enough and is helped by its hefty weight.
It's often tempting to rev her up to 8000 rpm and slip the clutch like on most sportier motorcycles but it's more effective dumping the clutch hard at around 6000 rpm and then nailing the throttle while leaning as far as you can over the front.
The Z900RS will happily lift the front but if initial momentum is good provided by an effective launch out of the dig, it is much less likely to wheelie as you get the clutch fully and quickly engaged so you can nail the throttle as the front wheel hovers and skips as you are charging through first.
Unfortunately, the Z900RS can't quite hit a real sixty mph in first gear and requires a quick clutchless change into second.
With a few tries, 0-60 mph came up in 3.26 seconds. This is kind of close to the optimum.
If you are handy at launching, you can mostly expect 3.5 to 3.6 seconds mark, but the best riders out there will be quicker. The best 0-100 km/h time for the Z900R is 3.38 seconds.
The Z900RS is pretty dramarless and stable from there on as you feed her gears. If you change gear at around 9200 to 9300 rpm, you'll get the best ETs. Taking her right up to redline will hurt your times.
0-100 mph for the Z900RS arrives in 7.10 seconds – a time that has it biting the heels of many Supersport bikes.
Despite being heavier and having poor aero due to being a naked bike, as well as making a little less horsepower than a Supersport bike, the Z900RS impressively manages low elevens for the standing quarter mile clocking a time of 11.35 seconds with a terminal speed of 120.7 mph.
It's not over there but once we hit speeds of 120 mph acceleration starts to taper off as we change into top gear.
If you had hope of keeping up with your 600cc sportbike friends from this point you'll be disappointed as they'll accelerate away quite quickly.
That's nothing to be ashamed of though as if you are a Z900RS owner you probably won't be playing with the kids. But if you are a then the Z900RS will go on to a top speed of 139 mph if you are willing to commit to a full race tuck.
There might be a fraction more in it, possibly a 141-142 mph but you'd need perfect conditions.
Kawasaki Z900RS Acceleration

Speed

Time

0-10 mph

0.44

0-20 mph

0.98

0-30 mph

1.41

0-40 mph

2.00

0-50 mph

2.54

0-60 mph

3.26

0-70 mph

3.89

0-80 mph

4.81

0-90 mph

5.75

0-100 mph

7.10

0-110 mph

8.95

0-120 mph

11.13

0-130 mph

16.30

SS/QM

11.35/120.7 mph

SS/KM

21.71/135 mph

SS/Mile

31.47/138.8 mph

Top Speed

139 mph