We are on a roll testing scooters, with the Honda ADV350 taking its place as the second scooter that we have put to the test to date, following the Yamaha XMax 300 that was put through its paces a while back.
The Honda ADV350 is a bit of a weird scooter because it allegedly has some off-road capability thanks to its twin rear shocks and longer travel USD front forks.
Wheels are also slightly larger than the average scooter at 15 inches.
Tyres are all-terrain, pointing to the Honda ADV350's off-road ability.
Furthermore, the ADV350 has handlebars that will be much more familiar to an adventure motorcycle rider than a scooter rider.
In fact, the whole cockpit feels much more like an adventure motorcycle than a scooter. So it's quite weird.
Riders who have ridden the Asia market-only Honda ADV150 will feel right at home. Everyone else might be a little confused.
---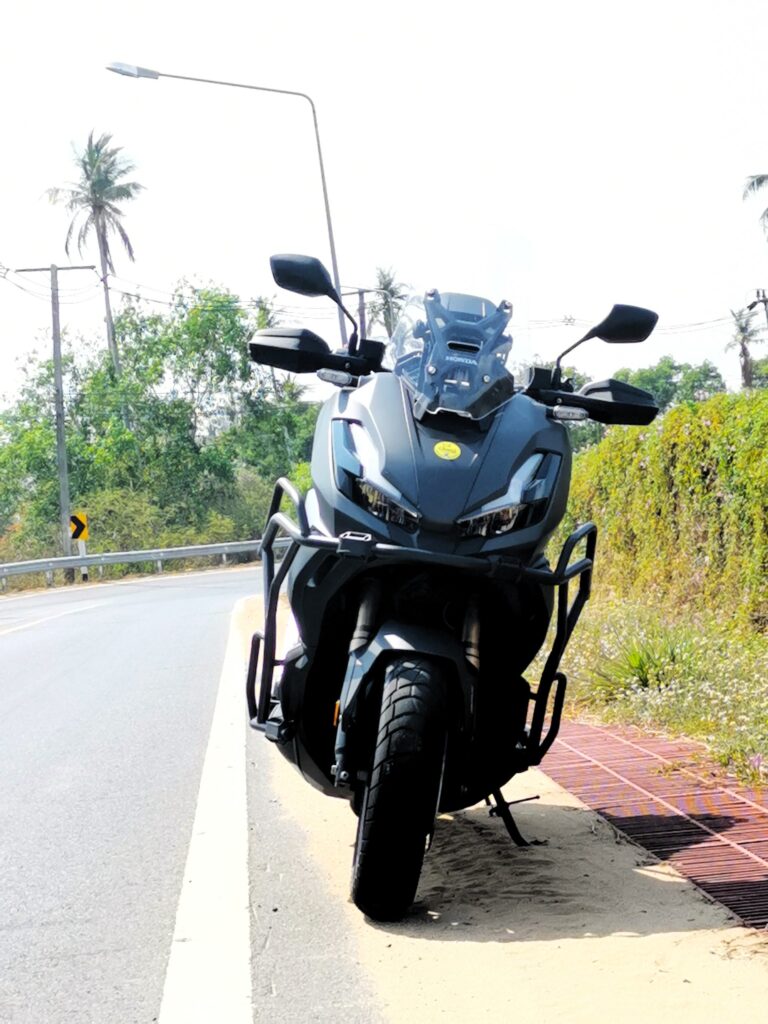 Underneath the adventure dress, it's still a scooter and comes equipped with a 29bhp, 330cc single-cylinder engine.
The engine is similar to what you'll find in Honda's maxi scooter-style Forza 350 and pizza delivery-shaped SH350i.
Peak power is delivered at a very sensible 7500 rpm, and the peak torque figure is 23 ft/lb at 5250 rpm.
Honda claims this engine offers a smooth, quiet, and user-friendly experience.
I can agree; this is certainly the case for the Honda ADV350, and for pretty much any other scooter too.
It's quite difficult to differentiate between their engines, thanks to the very predictable and non-performance-focused CVT gearboxes that scooters use, not to mention the modest amounts of power that they have.
Engine Performance
The Honda ADV350 has a lively performance that is definitely more akin to that of a large-capacity maxi-scooter rather than an oversized 125cc scooter.
So that's a good start.
After jumping directly off the XMax 300, I kind of had high hopes for the Honda ADV350, in the sense that I expected it to be noticeably quicker, thanks to that larger capacity engine that produces a couple more horsepower.
But when looking at the specs, they are actually quite close, with a 2.5 horsepower advantage going to the Honda ADV350.
So maybe my expectations were unfounded.
The Honda ADV350 is also slightly heavier, so that could perhaps slightly dampen that power advantage.
At walking pace and when pulling away, the Honda ADV350 is surprisingly vibey, though it quickly clears up, and we get that mentioned "smooth, quiet, and user-friendly experience" that all scooters promise.
Around the mean streets, the Honda ADV350 is just like many 250cc plus scooters, and it is quite effective.
It definitely picks up a little quicker from a roll compared to, say, our reference, the Yamaha XMax.
That would be that extra 40cc!
On bigger, faster roads, there is enough power and acceleration on hand to overtake, but as the speeds get higher, the Honda ADV350's overtaking ability becomes less effective.
If you are really trying to get a move on, overtaking anything at a real 70 mph (not indicated) will require a little bit of planning and some space; otherwise, you'll not get it done in time.
Surprisingly, two-up with a light passenger, performance does not seem to be negatively affected from the saddle.
Thankfully, it can be turned off too because it behaves in exactly the same way as Yamaha's system, cutting power when trying to launch from a stop.
It is hard to imagine a thirty-horsepower scooter with a rear weight bias breaking traction from a dig when it's 30-plus degrees celsius.
But the TCS system says so; so power is cut, and it feels like it's running out of fuel.
I can only see this TCS system making sense off-road, and it worked much better with that task after a couple of off-road excursions on gravel.
As for performance numbers, again being a scooter, it is just a case of floor the throttle, tuck, and getting your head, elbows, and knees out of the wind. Rinse and repeat until you nail down your best times.
The Honda ADV350 is very roomy, even for tall people, so it was easy to get one's body completely out of the elements.
Conditions again were not ideal for speed testing. There was no wind, but heat and humidity will certainly dampen engine performance.
Honda ADV350 can accelerate from 0-60 mph in 9.30 seconds
Zero to 60 mph times are a little less relevant for scooters than they are for motorcycles.
That's because scooters spend most of their time in and around town, and because of their lack of power, their performance above 50 mph comparatively is not as good as their sub 50 mph performance.
Acceleration and Top Speed: The Honda ADV350 is a decent performer. It can accelerate from 0-30 mph in under three seconds with a time of 2.86 seconds.
This is more than sufficient to get you off the lights and up to speed.
For comparison, most big bikes, 100 horsepower plus, will range between 1.50 and 1.80 seconds, but achieving those times would need some skill and effort.
0-50 mph is a more interesting time for a mid-level scooter, whereas the Honda ADV350 lays down a time of 6.57 seconds, which is pretty respectable.
The one we have all been waiting for…
The Honda ADV350's 0-60 mph is achieved in 9.30 seconds, making it about as accelerative as a regular car at full whack. The 0-100 km/h time is 9.91 seconds
I'll emphasize again, in better conditions, we could expect better times. Definitely mid-8s I would bet are possible
It takes the Honda ADV350 an additional 2.70 seconds to reach 60 mph from 50 mph.
From 60 mph, it appears that the Honda ADV350's very bulky faring starts to hurt its acceleration more than the 29 horsepower would suggest.
This is not helped by the accessory protective bar our example is equipped with.
This results in the Honda ADV350 being a little less accelerative than the slightly lower-power Yamaha XMax 300.
Either way, The Honda ADV350 still beats out the XMax to the quarter-mile with a time of 17.09 seconds, clocking a terminal speed of 74 mph.
From then on, it seems like an eternity for the Honda ADV350 to hit its top speed of 84 mph as it struggles to even top 80 mph after multiple speed runs in both directions.
You will hear lots of talk of 95 mph top speed for these machines, but no hope with our example on this particular day unfortunately.
I would guess that in cooler, and less humid conditions, and perhaps without the bull bar, a real 90 mph would be possible but 95 mph is a stretch perhaps too far.
Honda ADV350 Top Speed And Acceleration
Honda ADV350

Speed

Time

0-10 mph

0.89

0-20 mph

1.79

0-30 mph

2.86

0-40 mph

4.30

0-50 mph

6.57

0-60 mph

9.30

0-70 mph

14.28

0-80 mph

25.52

SS/QM

17.09 @ 74mph

SS/KM

N/A

Top Speed

84 mph